Killing Them Argentina Doves.. Again!
2014 was the fourth year that I was lucky enough to make it to Argentina. That's four in a row.. Damn, this stuff is addicting.. And I often think about all the things that have to fall into place that make this trip possible.
Most of all I am thankful that I have been given the opportunity to go these years.. Thankful for an understanding family.. Thankful to God for giving me the ability and means to still go at it hard.. And thankful for the friends and outfitter that make this trip such a pleasure.
It's damn sure gonna be hard when I have to stop..
This year, just like any other, was filled with anticipation and the agony of waiting.. Which I am not very good at.. And not with the eyes of a first timer; but thru the eyes of a guy who has been there and done that.. And can't wait to get there and do that again..
It does get a hold on you. On me anyway.. A hold that I can't shake off.. And a lot of folks I know seem to have the same addiction..
I know that shooting thousands of birds is not everyone's sip of whisky.. Or cup of tea. But it does something to me on a primal level.. My wife often says I could be a Neanderthal.. Point taken.
We always go to Argentina the first week in August because down there it is the middle of winter and right in the middle of corn harvest.. And escaping continual days of 105° for some forties and seventies always sounds like a good idea.. And feels like an even better one.
Well that and the fact that the doves like to hang around those freshly picked cornfields by the thousands Millions.. And I am not bullshitting you either.. Until you stand there and see the spectacle it is hard to comprehend what I am talking about.. And we had a few newbies this year that got their hymens busted..
We had seven fellers in our group, and five of them had never been there before.
Of course there was me, and my perennial buddy Dave Krantz from Albany, Georgia. He's the one that got me to going in the first place. This was his eleventh year in a row hunting Argentina, all with the same outfitter. And I believe he has made a great choice.
And I have to agree that the service at Inti Malal Lodge is incredible, and so say all the folks I have referred there.
"Inti Malal" translates to 'Corral of the Sun.' And all I can say is that when you are there, the sun is shining on your ass.. Cause it just don't get no better than this..
The Lodge is run by long time outfitter Gustavo Olsen and his hand picked staff. Some of which have been there for 26 years.. One of the birdboys has been there for seventeen years.. Lots of them over ten.. It is a family run business and all the people there know what service is and they provide it with all the zeal that is imaginable. More on the lodging, equipment, and food later. Lets talk about hunting.
Well pretty soon..
This year a few of my customers/friends decided that I might not be lying to them and decided to come along. And if you ask them I believe that they will readily admit that I had not.
I'll leave off the last names to protect the innocent.
We had Doyle and Terry, and his son Jess, who frequent Falcon and we have gotten to know over the years. And like with many they have become friends, not just customers. They are from around Brenham, the place with the happy cows where they make Blue Bell..
And we also had Jim, who lives in Zapata in the winter, and Missouri in the summer.. Sounds like a good idea. We have known him for years and he is also a good friend and customer. And he brought a buddy of his from Missouri that we had not met before.. That would be Roger.. Roger was a dyed in the wool democrat and we had some interesting and spirited conversations in the evenings.. More on that later.. And we're not holding it against Jim for bringing him along.. Honest..
All of these guys know me pretty well, and were a bit antsy about traveling with me given my shitty luck with airlines and airports. But we all met up in Houston, except for Dave, who was flying from Atlanta to Buenos Aires. Terry, Jess and Doyle drove to IAH, while Jim and Roger flew there from Kansas City. I flew there from the worlds greatest airport in Laredo, Texas..
Once you're past security, your past security.. And in Laredo you can get to the airport forty five minutes before wheels up and you got no problems.. Ain't it great..
Anyway we all met up in H town in terminal E, which conveniently has a Pappadeaux right beside the normal gate to Buenos Aires Flights. And after the introductions were made and steaks were ordered, the bullshit commenced.. And it did not stop till we were back in the same terminal six days later..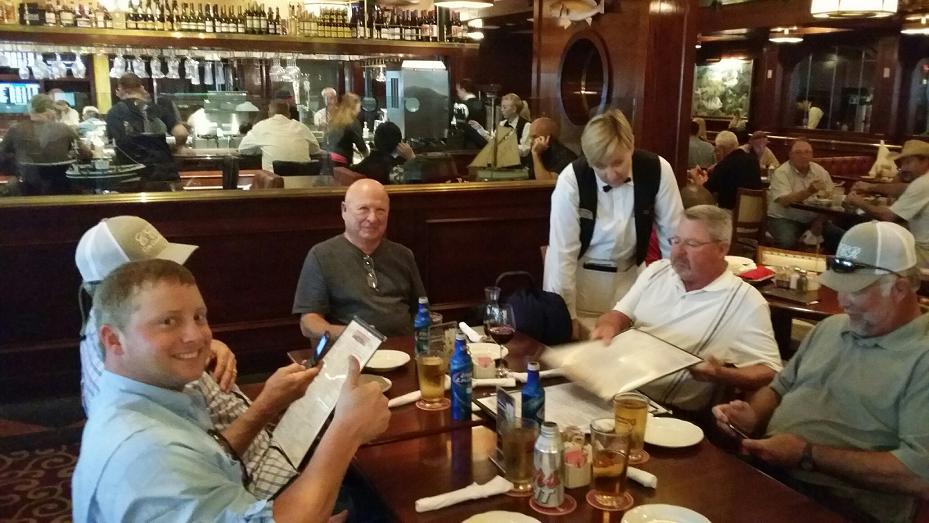 About the time the food was delivered I got a text saying we had a gate change. But it came in plenty of time for us to finish up our groceries and beers and still get to our plane one concourse over. And on it we got and we settled in for the overnight ten hour flight to Buenos Aires.
They tried to feed us again with some Chinese food made by Michelin.. I did taste it.. But I had to pass. That's why the stop at Pappadeaux is mandatory.. I watched a movie, had a couple of Jack and Cokes, took a small white pill.. And I woke up somewhere south of Bolivia.. About a hour and a half out of BA..
That flight is the worst part of the the trip. Well maybe the second worst part.. The flight coming home is no better.. And this is the only time I recommend Alcohol and Pills.. Works for me...
So I try and go to sleep with George Strait's "Argentina By Morning" song in my head..
When we hit town, the well oiled machine went into motion.. Sandra was there to pick us up like always, and ferry us across town to the municipal airport where we would catch our last flight to Tucuman, and then 50 minutes by van to Santiago del Estero, and the lodge. She already had Dave under wing and introductions were made all around.. Life was good..
So we hit the road and all the newbies were checking out the city.. The sheer size of Buenos Aires is mind boggling, and we hear that there are about thirteen to fourteen million people living there.. Most of it is not what you would call luxury living.. Multistory tenements that often have no windows.. And sky scrapers.. And everything in between..
I have talked about BA in other stories so I'll just leave it at that.. It is not looking any better..
So we got across town just fine, got our boarding passes, checked our luggage, got thru security, and headed to the bar.. Slash restaurant.. Waiting on a 1:20 flight..
Oh, I know what you are thinking.. Is this a hunting trip or a drinking trip.. Well it certainly had some of both components.. But all things in moderation I always say.. So I introduced the boys to some south American beer, that they were none too fond of it I might say, but they did not die of thirst.. We were doing all right and I think it kinda grew on them..
So time came to cozy up to the gate where we were supposed to board and there weren't no plane there.. So naturally we inquired about its location and were informed that it would just be about a fifteen minute delay.. And then another.. Bastards..
Then the inevitable announcement came.. The flight had been canceled.. I asked why, and the girl there told me it was due to bad weather.. Horseshit.. I showed her my cell phone radar screen of the entire country of Argentina.. Not a cloud in the freakin sky..
That did not make a plane appear..
So we rushed to the ticket counter and tried to get on the 6:00 PM flight.. But we were not the first ones.. And we could not get on the plane..
All the guys were looking at me and saying it was the Bendele airport curse.. Man I have had some shitty luck with flights the last couple of years..
Well as luck would have it, (not sure whether it was good or bad) there was room on the 9:30 flight.. So of course we booked it and had another seven freakin airport hours to kill.. Boredom replaced excitement and for the rest of the afternoon and evening we entertained ourselves with alcohol, conversation, sleep, cell phones, and grading women.. One outta five ain't bad..
I think we also had a counting homosexuals contest in there too.. Or maybe that was last year.. We were in there a long time..
When boarding time finally rolled around they actually had a 737 sitting there, and they damn near filled it up. I do believe the airline decided it would be much more profitable to fly one full plane instead of two lightly loaded.. But our baggage did make the Six O'clock.. And we were glad to see it when we got to Tucuman..
Gustavo already had it loaded and he loaded us into the van and handed us a cold beer.. And off to the lodge we went.. We got there at 1:00 am.. Only about nine hours late.. But at least we were there and were not going to miss a day of hunting.. We all had a highball, hors d' oeuvres (which are even served in the middle of the night, evidently) and hit the sack.. For about four hours..
It was a pretty short night but the adrenaline kicked in after breakfast and we were fine. We would share the lodge with four other hunters for the first day and a half, and we all got in the van together for the first of our groups nine hunts..
And so it began..
Driving out of the ranch and on to the highway pre-dawn, it was a period of anticipation for all of us.. Of course I knew what was coming. And as we approached the cornfield we were going to hunt, the birds were swarming the skies.. And I had as much fun listening to the newbies as they had pointing out huge flocks of birds.
It did not take long till they had all of us dispersed along a couple of brush lines that faced a cornfield. And these are not your typical Texas cornfields.. This one was probably a couple of thousand acres. And not unusual at all. And it did not take long till the shooting reached almost nonstop levels. There was rarely a second when someone in the group was not pulling a trigger.. I was in a decent spot (hell we all were) and I shot twenty nine boxes of shells and killed 684 birds.. In about two hours and a bit..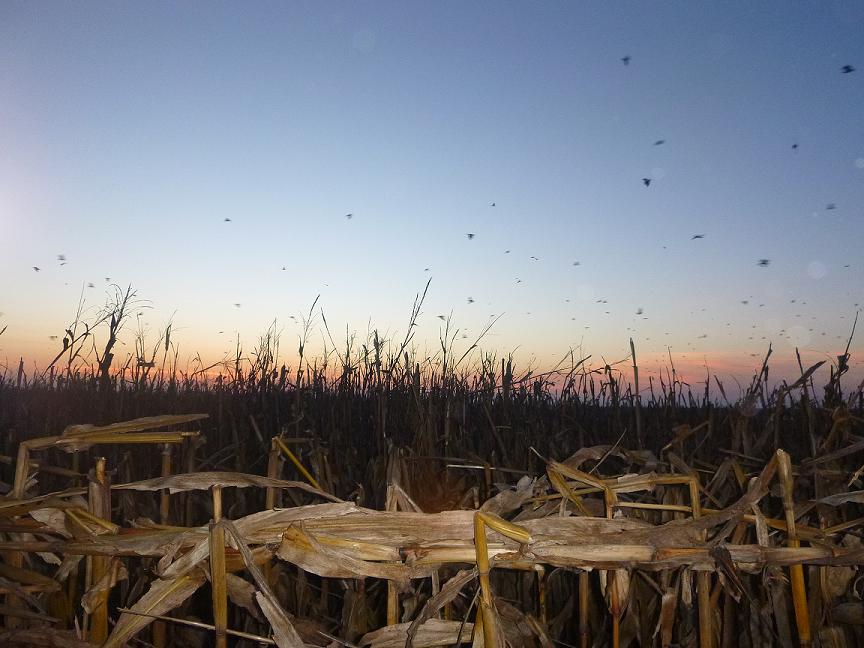 I was shooting a Beretta 391 auto in 20 ga and that thing is a bird killer.. The birds were a little high and plenty fast. But I got tuned in pretty quick. I could have shot a lot more but this was a good warm up hunt.. I knew there would be plenty more to come.
Back in the van on the way to the lodge for brunch, the chatter was nonstop.. The guys could not believe the bird numbers we had seen.. I yawned and said, "It was OK boys.. But you ain't seen nothing yet.."
Somehow I don't think they believed me..
Anyway we got back to the lodge and as usual they had a spread of hors d' oeuvres eight feet long and two feet wide on the bar. You can't eat it all.. And after you have all of that, you are reminded that in 45 minutes lunch will be served.. Jesus.. You just can't believe all the food..
Of course most of us had a beer or two on the way in, and a glass of wine or highball (or Two) with the snacks.. And talking about all them damn birds..
We ate lunch and all of our group headed to our rooms for a nap.. And I am not a person who takes naps.. But I sure as hell did this day.. And I woke up feeling like I was stuck in a jar of peanut butter.. It took me thirty minutes to get moving and we were all a bit groggy.. Till we got back in the van for the trip out to the fields.
We were set up against a line of brush looking pretty much east, so the sun was at our backs and in the birds eyes.. And holy shit were they coming across the corn patch headed back to the roosts.. They started out a little high but got lower as the afternoon went on and we shot the crap out of em.. They were coming in flocks of twenty and thirty and occasionally smaller.. But a single you would never see.. And I was stacking them bastards up.. I hit 938 out of a thousand and that is about as good as I can do it.. There were a few doubles mixed in there and that does help the average. But not over ten or so..
Here's a typical blind that the bird boys build twice a day.. And usually with only a machete.. These guys are good..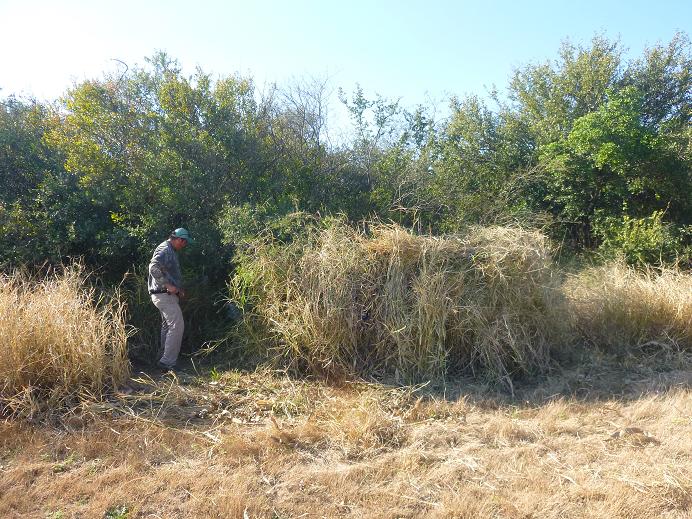 So this time when we got back in the van and headed to the house the "Holy Shit" factor was really in play. And the fellows were going on and on about the bird numbers.. And I said "That was good.. But you ain't seen it all just yet.." The beer flowed as we went down the road..
It was a fantastic hunt and no one could ever say it wasn't..
When we got back it was highball and snack time again and the variety of hors d' oeuvres was unbelievable.. These folks can make more things out of doves than you can imagine. And none of them taste like doves and they are all awesome. Not to mention the mini pizzas, pastries, picked vegetables, olives, dried meats, cheeses, dips, guacamole and.. And well you name it.. And it happens twice a freakin day..
I now take an ice pick with me on each trip so I can make a new hole in my belt as needed.. The food is fabulous.. And unending..
Most all of us got a shower and it was suppertime.. And then happy hour.. Or happy hours.. I don't think we made it past 10:00 but the bull session ranged from fishing, to politics, to hunting, to women.. And I'll leave it at that.. But there were no holds barred when you sat down in the pit... It was on.. And that happened every night.. And that's a lot of the fun of the trip.. Talking about all our conquests.. On things that swim, fly, run, walk, live in the woods or laid on the sheets of a king sized bed..
We talked about nailing it all.. Yeah.. A lot of it was bragging.. But what the hell..
The older we get the better we were..
The second morning we were lined out on a winding creek in the middle of a cornfield. And this was the same place that I had really killed them the year before. And my anticipation was high. But there just were not that many birds right where I was.. It was still good.. And I coulda shot more.. But I stopped at twenty three boxes and killed 508 birds.. And I was still shooting the 20 ga.. But I shot good and was getting real comfy with that Beretta..
We headed back to the lodge and a repeat of food and naps were the order of the day.. We had about caught up on our sleep and we were becoming a bird killing machine.. And a beer killing machine.. Hey.. Machinery needs lubrication..
On the way in we saw a trap in one of the fields that the locals use to catch doves, or better yet, the tasty and noisy Chachalaca.. The locals love to eat them.. But getting a shot at them takes some luck. I see em and hear em.. But I ain't got a shot at one yet.. They won't get far from the brush.. And fly sparingly.. We usually see them when we are driving.. I have assured Gustavo that I am a very experienced road hunter, but he has not yet let me demonstrate my shooting while driving capabilities.. Maybe next year..
Some pretty neat workmanship..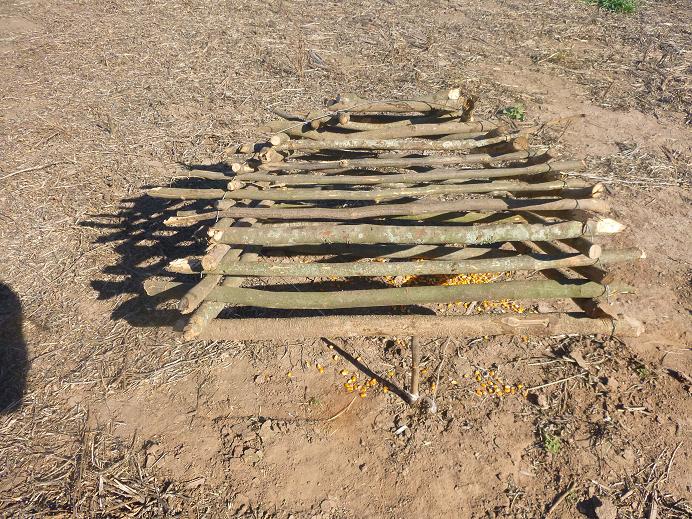 That afternoon the other party at the lodge had headed out, and it was down to us seven.. And we went to another cornfield and I was going to shoot the 28 ga.. They have some beautiful guns and I was shooting a Beretta Silver Pigeon II.. I really gotta get me one of these.. The are the quickest and best shooting O/U's I have ever shot.. (Not that I have shot them all.)
It was an unusually hot day for an Argentine winter.. But like I said they are on the same parallel as we are here in Zapata.. Cept on the other side of the equator.. And it got up to 95°.. Damn good beer drinking weather and I shot only a case of shells (20 boxes) and took some video and pics of the other guys shooting. And maybe the heat and the beer and the wind got to me as I only killed 384 birds.. Slacker..
But it was good and I knew the next morning we were going to the motherload of dove fields..
We got back to the ranch and it was Cabrito night.. And they cooked two of em. And we shined every bone.. Man they can cook some cabrito and I don't know what they put on it but it is like giving Opra a camping shovel and a drum of Blue Bell.. I just cain't quit eating it..
They kind of crucify them on a metal frame and stick it in the ground in the fire pit.. And they turn it around and around.. Freakin Fabulous.. Sorry for the crappy pic.. Look close and you'll see him spread eagle.. Or spread goat..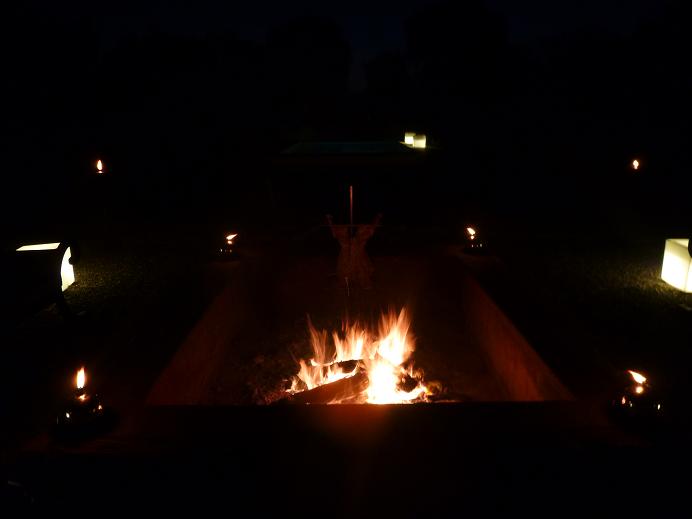 .
And to top it all off we had Pancakee de Leche Dulce for desert. It just may be the best thing that was ever prepared to eat on the entire earth. I have talked about these things in past reports.. But here it goes again.
They take a crepe.. Gently grilled.. Then they fill it like a taco.. With Leche de Dulce Chocolate and Vanilla.. Then they roll it up and cover it with about three kinds of sugar and then they blast it with a propane torch.. Holy Shit.. I can't believe nobody in the states makes these things.. I'm Jonesing for one now.. Incredible.. And I don't eat sweets..
Anyway after eating like a hog and having a few drinks, and defending my honor at the circle of bullshit, I went to bed early cause I knew we were going to whack em in the morning..
And I was right..
My buddy Jim and I decided to hunt together in the same blind. There is always plenty of birds to shoot at and you often need someone to watch your back.. And this morning it was one of those where it was every man for himself.. I have been to Argentina four years in a row but I don't think I ever saw birds like I did this morning.. At least this many right in front of you.. Holy shit.. We were in the middle of an unpicked corn patch where the birds were actually roosting in the corn..
Somebody came on the radio and yelled, "Save the last bullet for yourself!"
Jim was shooting a 20 auto and I was shooting a 28 O/U.. And the birds were falling like rain. We had shots so close you could have swatted some of them with a tennis racket. I know you have heard that before.. But we could have actually swatted some of them with a tennis racket..
It was incredible..
About the time Jim was getting to the end of his first case of shells, I noticed that I had four boxes left.. So I shot up the last four boxes and switched to the 20 auto in an effort to catch up.
And after some serious shooting I caught up with him in the shell department and we both ran through 1000 rounds within thirty seconds of each other.
We looked at the counters and Jim had killed 930.. I had killed 928.. What a mountain of birds we had laying in front of us.. Now that was some fun shit.. I hope we get recognition from PETA.. People Eating Tasty Animals..
And on many occasions when shooting the birds at fairly close range, the shot would tear their craws open, and you would actually see the corn falling back to the ground.. I had only seen that a time or two before, but I must have seen it a dozen times on this hunt.. Like I said.. We was whacking them..
After that mornings hunt, it would be hard to improve the location or performance of the shooters involved. And we knew that. But it wasn't like were weren't going..
But of course that was after gorging ourselves once again with food of incredible proportions. Which again led to a nap..
But at 2:30 we were up and at em en route to another destination near a big water hole.. That was surrounded by trees and a mountain of corn. The waterhole is in the distance just behind those trees. In Texas I think they would consider this baiting. Maybe..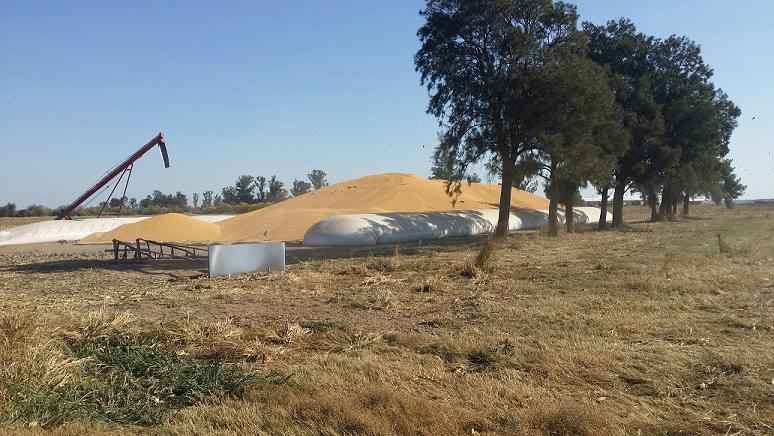 And when you were not looking those doves would turn this pile black..
But anyway Dave and I were going to hunt the same blind and we were setup in a great spot in the shade with the tank and the sun at our backs and we were facing the cornfield. And these birds flew in droves.. Constantly.. Swirling from every direction and the choices were as varied as the degrees on the compass..
And we gave em another direction to fly.. Straight down. It was dirtnap for the doves..
It is always fun shooting with a buddy, as there is no time when you don't have something to shoot at. And of course complimenting or insulting your partners shooting is always a part of the game. And we did plenty of it and we piled em up pretty good.
It was a great location and similar to what we hunt in Texas.. Well plus about a million more birds..
I killed 604 birds with 29 boxes of shells.. Decent, but not stellar.. Could have shot a lot more but I was starting to think about my shell bill.. They were still swarming and the sun was still high when we checked it in for the day.
All the dinners are a blur to me now as I did not write down what was served each day, but I think this evening we had dove stroganoff.. And while that might sound a bit strange to you, I think we all had seconds and thirds.. It was awesome..
This was day three with one to go and by now we all had each other pretty much figured out. And the evening drinking/story telling/lying/debating session ran for an extended period and there were a few slow movers in the morning.. I may have been included in that group.. I think that was the night that we locked up when it was all over.. There is always one of those on this trip..
The next day dawned a bit cooler and we were out early.. And passed through a town called Garamendia.. A small village that is closest to the lodge. And there on a piss-ant road some idiots that were mad because they were not getting enough money from the government due to the most recent rapid inflation decided to set up a roadblock.. Are you kidding me? In a town with more mules than cars we are going to have a sit in.. I recommended high speed and horn but my suggestion was not approved..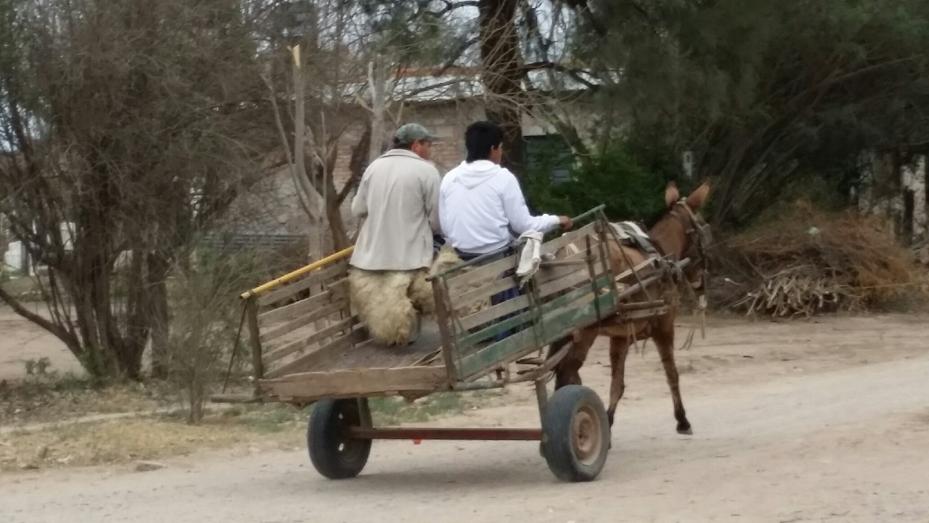 Anyway, we were right beside the ranch we were going to hunt and we climbed over the fence and got on trucks that the birdboys already had inside the field.. It was no big deal, we just thought it was funny.. There is always a protest going on somewhere in Argentina.. Sounds like America..
But socialism is the style in Argentina, and I see us headed in that direction.. And I don't like what I see..
We got where we were going about fifteen minutes late, but it did not matter. A ditch ran thru the middle of a cornpatch that was not yet picked, and we scattered out along it for a half mile. Some spots were better than others, but all were good. I went easy and just shot a case of shells and downed 395 high flying son of a bitches. And then I sat in the truck and talked with Gustavo about the bird populations and what he thought of the future of dove hunting in Argentina. And drank some beer..
And while Argentina does have issues, as do we, it is still a stable and safe place to go, and we should be hunting doves there long after I am gone.. The hunting will surely outlast my generation.. I just hope I can continue to go there for the foreseeable future..
After the consumption of mass quantities at lunch and a nap of course, we headed back out for our final afternoon session. And it was a place that we hunted last year near a feedlot, with a big pond off the back corner.
Doyle and I decided to team up on em and the birdboys had built us a two man blind right off the back corner of the pond. And here they came, from every direction. Mostly high but we were yellin and hollering at each other and watching each others backs. And of course shooting the birds we were sure the other was aiming at.. It was a blast.. Literally..
We have hunted around a lot of feedlots over the years, and there are always a lot of parakeets around them. They feed a lot of ground corn there, so it is my theory that they like the leftovers and the cowcrap.. Not scientific, but my theory..
And this feedlot had a shitload of keets around it.. And me and Doyle took em to the woodshed.. Here is a pic of a few that landed close..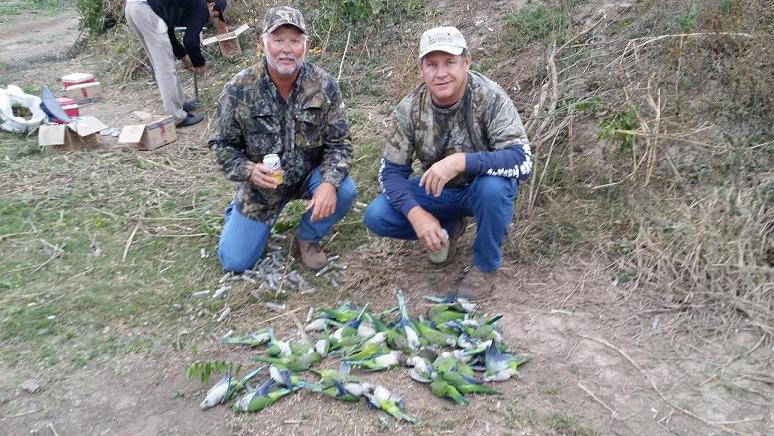 Now before you get all mad at me for shooting these beautiful little birds, lets remember that these things are everywhere, and they do more damage to the standing crops than any other bird around there. Matter of fact these are the only birds that will peel the shuck off the corn and and eat it before it is harvested.. So the farmers love us to shoot em, and believe me, we ain't hurting the population.. So if you can't find a pet for little Sally don't blame me.. Cause we left plenty.. I did get five in one shot.. They fly about a foot apart.. More squeekys bite the dust..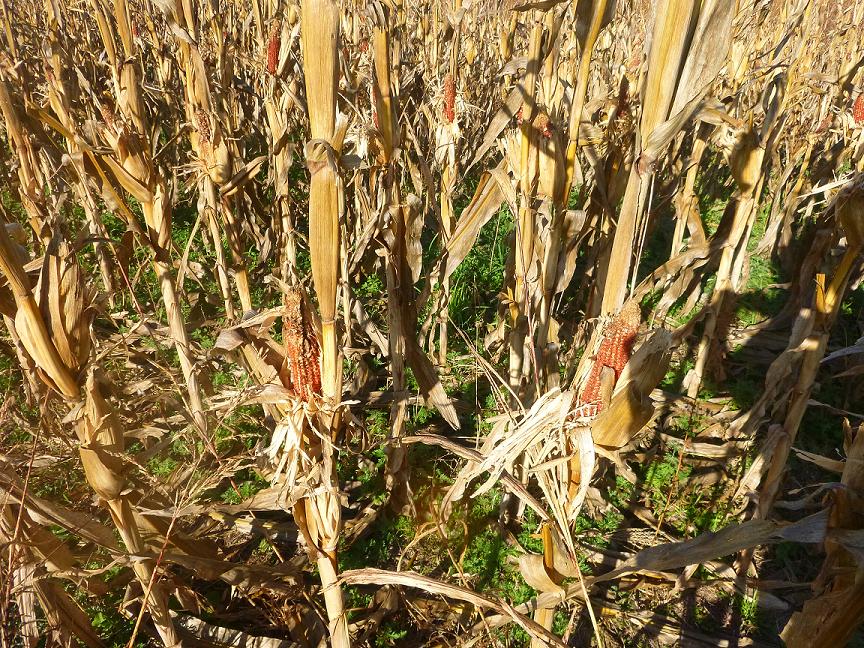 We had a lot of fun shooting that afternoon and bullshitted as much as we shot.. I shot poorly but managed to kill 354 out of 500 shells.. That's a 71% average and the worst of the trip for me.. But a fun hunt indeed.. It was also the hunt where the most beer was consumed.. Those often go hand in hand on these kind of deals..
We headed in a bit early, and we knew we had a bonus early hunt in the morning before we had to head to the airport about 11:00.
Back to the lodge for appetizers and then dinner.. And the food kept getting better every night..
And of course we all attended the ritual bull session on the back porch. And the shit had earned its PhD by this final night.. That's piled higher, and deeper.. There were also a few corks pulled and I stumbled off to bed about.. Hell if I know..
The next morning we knew we would have a quick hunt, as we had to get back to the lodge, clean up, do a final packing job, and settle up with Gustavo, and be out of there by 11:00. So we got out real early.. So early that in fact we were shooting doves skylighting them against the dawn..
Here's a video Dave posted to you tube of that morning, just to give you an idea.
Dave and I hunted the same blind, and we were in the same cornfield where they were roosting a couple days earlier.. And if you can believe it they were closer and thicker than the previous trip. Good Gosh..
It was fun to watch the other guy shoot, and see his bird fall, and sometimes one or two more behind it fall as well.. They were low and slow and we "Hamburgessa'd" a bunch of them.
I shot 500 shells with a 28 ga O/U in a heartbeat, and shot about a box of 410's just for fun.. And they were so close I shot em good to middlin with it too.. I finished up with 436 for 500..
Here's Me and Dave with our "Birdmen." Cause these fellows ain't boys..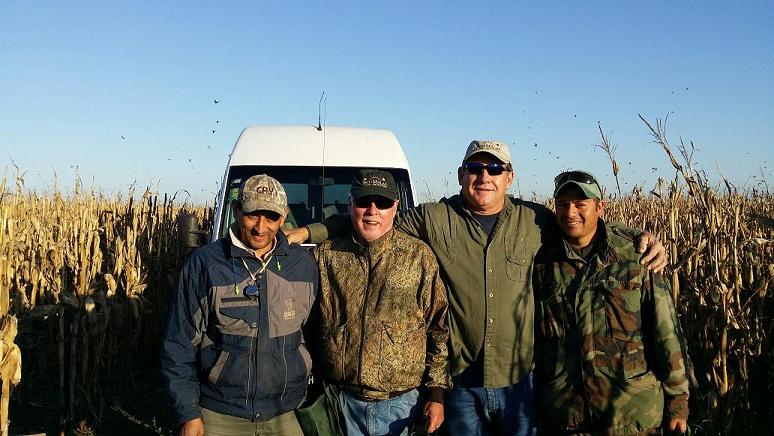 When the final tally was done, seven of us killed 27,458 birds. And that was no big deal. We actually went easy on them overall.
We shot 1,422 boxes of shells.. Do the math on that at $12.50 a box..
We ate and drank more in four and a half days than most of us do in a month.. Me anyway..
And we had more fun than a barrel of monkeys.. Honest Injun..
I personally shot shot 243 boxes of shells, and killed 5231 birds, for an average of 86.1%.. That's down about 1.25% from last year.. I must be getting old..
We made it to the airport right on time, the flight to Buenos Aires was right on time, and we got across town to the International airport in plenty of time. So we grabbed a fancy sandwich in the airport so we could turn our noses up at the rubber chicken on the plane.. I did eat the cookie..
The flight back to Houston went without a hitch, other than being longer than anyone likes, and ten hours and ten minutes later we made the rubber burn on the runway at IAH..
If you have any questions about hunting in Argentina, please do not hesitate to give me a call. I'll be glad to tell you what to expect, what it costs, and what you need to make the trip. And you cannot make a better choice than Inti Malal Lodge.
We got off the plane and picked up our baggage and had a little confab and said we'd all meet next year, same time same place..
We'll see if all the boys make it back, but I already have August One circled on my 2015 calendar.. And Lord willin', Argentina's where I'll be..
Copyright© James Bendele 2014
Argentina: Dove Hunters Paradise (2011)