View Current Tournament Report
TPWD Home TPWD Records-Lake Hunting Report Mexico Lakes Report TPWD Reports

FLT Flash Fishing Report!
Not your Daddy's fishing report...
July 27, 2016: Another day, another adventure.. That's the way it is around here..
Lotsa times there is not a lot to do.. This place is so efficient that it almost runs itself...
Right..
Between ordering stuff, stocking stuff, and selling stuff, there just ain't enough time to fish.
And then there is time spent sitting in front of this computer, wasting time so I can waste some of yours..
It's a vicious cycle.. But I kinda like it..
I would like to apologize to the Democrats whose feelings I hurt the other day, when I was on a rant about Hillary and I said that they were dumb asses..
My choice of words was poor, and I would like to withdraw the dumbass part and just say that they are ignorant.
Saying that someone is ignorant is not a slight on them, it just means that they are not informed. Which could possibly be no fault of their own. It's not likely, but it is possible.
With so many people being so loose on what their definition of truth is, I can see how some folks may be confused, or otherwise disinformed of actual situations about real life happenings.
It is easy to believe what makes you happy.
But to quote Jules in Pulp Fiction, "That shit ain't the truth.."
Of course when you have a president of the United States of America, say that a blowjob is not sex, I can see how some folks, maybe those that are ignorant, or disinformed, could get confused.
My wife certainly thinks that a blowjob is sex.. Barbara Bush thought a blowjob was sex.. Hell I think a blowjob is sex too.. So do the people who make Listerine.
It is just a shame that shit like that has to make it to light. And truth be told, Hillary probably had a hand on the back of Monica's head..
And the blowjob itself ain't what is pissing me off.. It's the continual lying about everything, that goes on in politics..
And if she's nothing else, she's a liar.. She has a couple of good teachers, including her last boss..
I want to offer an olive branch to you closet readers of the Flash Report. I am not mad at you, even if you are mad at me. But I do want you to inform yourselves with the truth, and when you do and your ignorance fades, you will leave the Democrat party quicker than a cat can lick his ass.
I am not a fan of the new school Republican party either.. I have not left the Republicans. They have left me..
I find it funny that the old school Republicans can't figure out why many from their party are supporting Trump. And it is also a fact that many of their party are leaning more and more Libertarian..
I love Libertarian thinking.. But I am not sure that most people who are so supportive of it could handle it if a true Libertarian got elected..
"We want drugs to be legalized!" And for the most part I could care less if they were.. But don't be dragging your sorry ass up to the hospital lookin for free care when your dumb ass OD's..
That's what personal responsibility is..
And personal liberty to run about and do as you wish, without harming other people, is the basis of Libertarianism..
But that also includes you not harming my pocket book..
Man, I love the theory..
Enough of that.. I really signed on to tell you that it was cool and cloudy and a light breeze was blowing today, and I went to the Salado this morning and caught fish till I was tired of catching fish..
Most of them were undersized, but not all. When you go in, stay to the right side of the channel.. Those hardwoods are starting to pop out and I am sure there are a lot of them that are right under the water.
Just about a half mile in, there are gravel bars and gravel points and gravel humps and gravel ridges everywhere..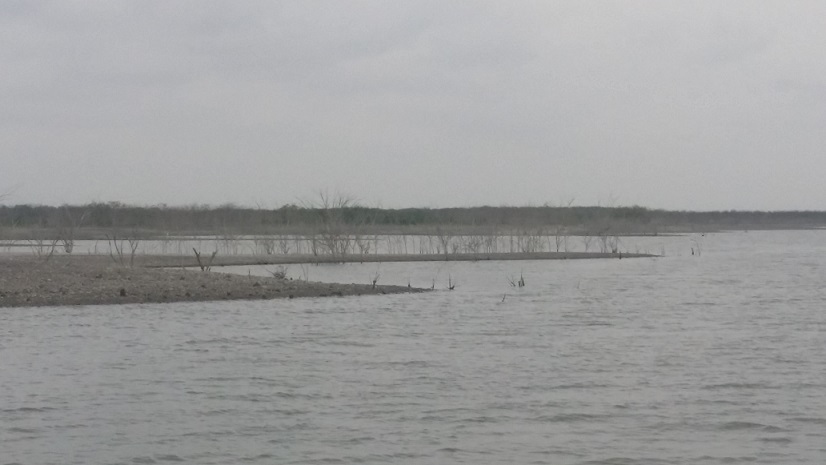 With the wind on them, and just on the leeward side of the points, the little fish are stacked like cordwood. I do not know how many I caught, but a shitload would not an over-estimation..
Good clean fun, clear of political preference..
And do throw your bait right up on the bank. Keep your eyes open for chasing fish as they are all over.. If you see em, you can probably catch em..
Great place to take the kids.
Looks like I am going to be stuck in here for a few days, so you'll have to catch em for me..
Come get em while they're biting boys!
July 26, 2016: It's been a pretty nice stretch of weather around here, if you don't mind hot..
And at least the wind has allowed movement on the lake.. I ain't saying it has been flat out there.. But it has been manageable. It will still foam up your Big Red when you are running..
I fished the last two mornings and have had really good luck.. And so have a bunch of other folks that have been on the water..
I got on a pile of fish on Sunday morning, and I am not sure I could have caught them all.. And I mean shallow.. The best one was a 6-11 that I caught on a square bill in about one foot of water.. But I may be exaggerating.. The water might not have been that deep..
My son was in town and I took him out yesterday morning, and we caught em pretty good as well in the same areas. Not as good as Sunday, but I did beat on em pretty hard the day before.
We did not catch anything over four pounds, but we caught some nice, mean, chunky fish.
I guess that is one of the few sentences where you can properly use nice and mean in the same line of adjectives.
In any case it has been good fishing down here.. And if we don't catch some water pretty soon, we'll be able to just get em out with dip nets.. With short handles..
A squarebill with chartreuse and black has been putting a lot of fish in the boat for me.. And so has a tiny bait that Strike King makes called the Rage Menace.. If you are having trouble getting bit then put one of these on and get ready to set the hook.. It catches big fish too. But it kills the little ones..
Now that I said that, there are several guys who will tell you to throw a different bait and you can do the same thing.. And I believe em..
There are a lot of fish in the hardwoods. And you can flip up a passel of fish from em, and I do on a regular basis. But the last couple of trips I have been back to fishing rocks.. Ledges in particular and point terminations..
Where points actually flatten out to the level bottom.. I don't really care what depth they are in..
Old houses are holding a lot of fish. If you find some with six or more feet of water on them it is likely that you will catch fish there..
A lot of old houses are already dry in the marker ten and nine areas.
So many people like to say that they are fishing the old foundations.. Fact is that they are actually fishing the house walls that have collapsed over the years..
I know.. I'm such a purist.. That's what my Old Lady says..
Give this old picture a look.. Anything look familiar to you?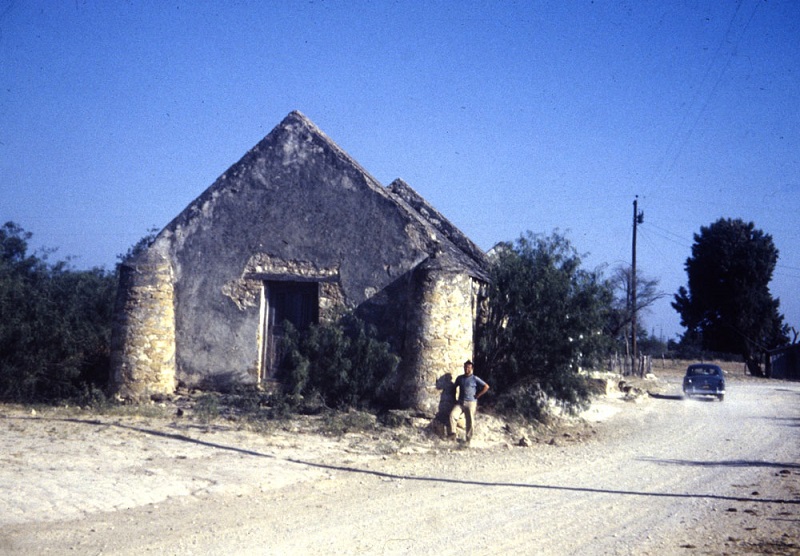 Note the Pilelasters on the corners.. I have no idea if this is the building just south of marker nine that everybody calls Tits.. Or Dolly Parton.. Or the Bakery.. But it could be.
Those old corners were not ovens. If the water gets a bit lower, and I am sure it will, you will be able to see the corners inside these rock structures where the walls came together in the corners. Pretty neat piece of architecture..
I found this old picture in some old archives from this area on the web years ago..
The first time I saw these out of the water was back around 1995 or so.. And they still had stucco caps on top and all four were prominent.. The ones on the south end are more decayed than the ones on the north end..
I took this picture around 2002 when the lake was really low.. This is looking north..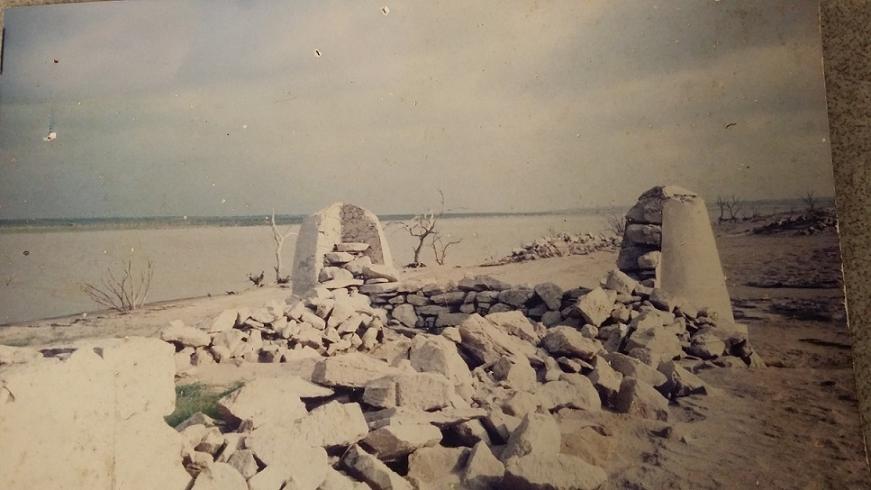 And you can see that there has been a shitload of sediment and siltation up against the old buildings.. Which is only natural..
And look at the insides of the corners.. You can see where the walls intersected.. Pretty neat old shit..
If we don't get some water pretty soon, we going to see all this stuff again..
I don't need to..
In any case you better get down here and get you some pretty soon.. We are kicking their ass at present, but I have no idea what the future is going to bring.. But if the water keeps dropping, I don't think it is going to be good.
You can catch em your way.. All you gotta do is get here..
July 22, 2016: Well I swanny.. The daytime winds have been fishable for three days.. And all the folks that have been holed up for the last two weeks have come out of hiding.. At least a lot of em
But when that big wind picks up, most of us scurry to the boat ramp, like cockroaches when the lights come on.. And in that group I have certainly assimilated.. I live here.. I ain't gotta fish in that shit..
Yesterday evening we held our third Working Mans outing. And we had eleven teams fish. And you could not have asked for a nicer wind at launch time. But just like every evening it seems, when six o'clock rolls around, so does the wind.. And it was blowing twenty a lot with gusts..
Dammit..
There were still some good sacks weighed in yesterday, and three teams had a fish over eight pounds. The Pena father and son duo once again brought in the heavy sack, and it weighed 16.83. That's a five and a half pound average. Granted three fish.. But a great sack..
In second was Adami and Griffin, with 16.52, and they had the big bass with an 8.44..
Gonzales and Chapa had 14.81 for third..
So you can see that some damn nice fish are being caught in a four hour window..
My partner and I caught thirty plus fish, but they were all two to three pound fish. In case you are wondering..
It's a great way to kill an evening if you are in Z-Town.. Keep an eye on the site for future events..
Fish are being caught about any way you want to catch em.. Deep cranking caught fish for a few folks yesterday evening. We caught ours shallow on squarebills and flipping baits.. The hardwoods across from the Veleno all the way to Beacon are loaded with fish.. That's where we ended up because you could get out of the wind a bit.
Water color on top of the lake is pretty crappy.. But the fish are still there.. Water on the south end is awesome from the dam to Pierces cove.
Lots of fish are being caught lately on deep rocks near the dam.. Yeah a lot of the community holes are putting out fish.. They're community holes for a reason..
Fishing the rocks along the river channel between marker two and four can get you bit. We are seeing a lot of deep cranking fish down there, and a lot of jig fish. Something with some chartreuse on it if you are cranking.. Light brown and green on the jigs are best..
BTW.. I was throwing a chartreuse, black back squarebill yesterday evening on the rocks.. And they were hammering it..
Long story short. The fish are biting.. Get your ass down here..
Well it is official.. Donald Trump is the Republican presidential nominee.. No news there.. But it was interesting to see the goings on of the convention..
There wadn't much love for Hillary was there.. But we knew that was coming.. Wait till next week when the Dimocrats get their turn. I'm sure it'll be just as nasty..
I will have to say that I am really disappointed with the crowd control..
You know the convention itself is a bunch of bullshit, with speeches that are mostly bullshit. Followed by a lot of promises that are a bunch of bullshit.. You can't find more cliches if you are interviewing Tony Romo.
It's mostly bullshit..
But dammit I wanted to see some skulltumpin' and ass kickin' in the streets.
These law enforcement officers did a stellar job with crowd control, from what I saw.
Kudos to the city of Cleveland and all the enforcement officers that were there from across the country..
And to law enforcement everywhere.. I got your back anytime, anywhere.. You know where to find me..
I wonder if there will be any protestors at the Dimocrat convention next week. I do not know what there could possibly be to protest..
Listen.. I am not the biggest Trump fan on the planet..
But I am probably the biggest Hillary hater on the planet..
Naw.. I am sure that is not true.. There are bound to be a lot of women who hate her worse than me..
From when Bill had joined that book of the month club. I mean, nook of the month club..
In any case, if any person with half a brain, that gives a shit about right and wrong, has any common sense, and is remotely a self thinker, that has studied anything about the Clinton's, and still votes for Hillary....
Wait a minute. That can't happen..
Oh shit I guess I've just figured out what a Democrat is.. A dumbass that doesn't give a damn..
You can say what you want about Trump.. And they will next week..
But if you take all the bad that they can drag up on him, it ain't scratched the surface on Hillary's career..
Come and see us if you can.. The lake won't disappoint.. And you better get here while we still got water..
July 18, 2016: There is a rumor that the wind will die down a bit starting tomorrow.. But till I see a leaf just lying on the ground, I am not going to believe it..
I went out yesterday after being duped into thinking that the wind would not blow very hard.. I also went to see Elvis in Laredo yesterday.. Dammit.. O for two..
We caught a few fish.. With a five being about the best.. But we were hampered by the wind, everywhere we went..
We also ran into a school of white bass.. I coulda loaded the livewells..
We fished main lake rocks.. Mostly.. And while we caught em here and there, we did not whack em anywhere.. We did find a couple of places where we caught a few decent fish. But nothing to write home about.. I had the boat tarped by 11:30.. This wind is giving me a case of the redass..
I hope the rumor of its demise is accurate..
We will be holding our Thursday Workin' Mans tourney again this Thursday. That's July 21st.. Call for more info but know that you have to register here at FLT before you fish.. Five till nine..
If you happen to be in town, come join us.. Cheap entertainment...
Come see us.. The fish are biting.. And hopefully you can keep your feet dry..
July 15, 2016: The beat, and the heat goes on... And on and on..
Yesterday was 107° with a nice cooling south wind at about twenty five.. With gusts of course.. But if you didn't have those gusts, how in the world would you keep cool?
I have seen wind spells around here like this before, but it has certainly been awhile. Several years in fact.
When this big high pressure sits on us like a cluck hen, we are in for some heat.. And some wind.. And this bitch won't even get up for a drink.. Sooner or later those eggs have got to crack.. Or I'm going to..
I haven't been on the lake for two weeks and five days..
Well that's a lie.. Tom Haralson and I went out metal detecting at some old ruins one day this week.. But we never wet a line..
We did drive by this boat killer I have talked about many times. And here's a pic of how it looks a couple of days ago..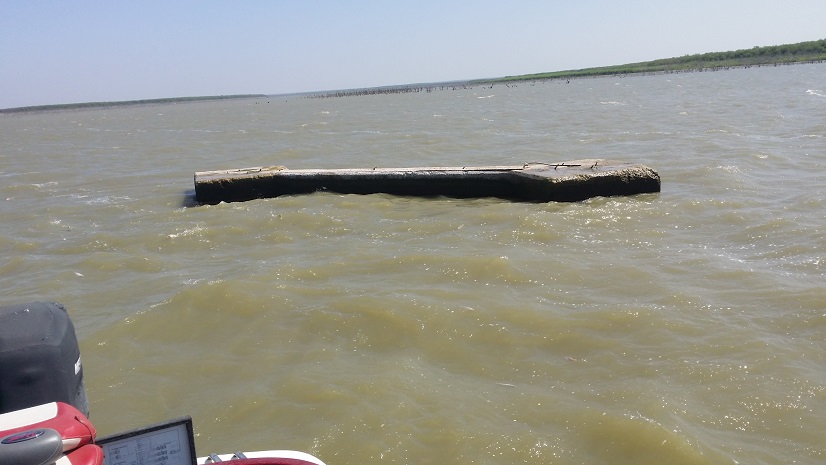 Of course this thing has been photographed more times than Marilyn Monroe.. But the only thing that they have in common is that they'll both break your heart.. And your wallet..
As you can see from the picture, the water in the river is all riled up and the visibility in it is about as long as a grasshopper dick..
We did run into the back of the Hedieona and the water looks good in there once you get about a hundred yards past the mouth.. We did not fish. Just went sight seeing.. It was loaded with nets..
Lots of the top of the lake is dirty.. With falling water levels and exposed muddy banks and winds higher than Lindsey Lohan, what can you expect.
What you can expect is areas that have a lot of rocky banks to be much clearer. Of course down lake in open water, the water color is good.. But good luck fishing that shit.. Put on your galoshes and make sure your bilge pumps are in good working order..
We have spoken to a few stalwarts that have toughed it out.. And they are all catching fish.. Some better than others.
Here's a pic of some good fishing.. Here's a double double that happened this week.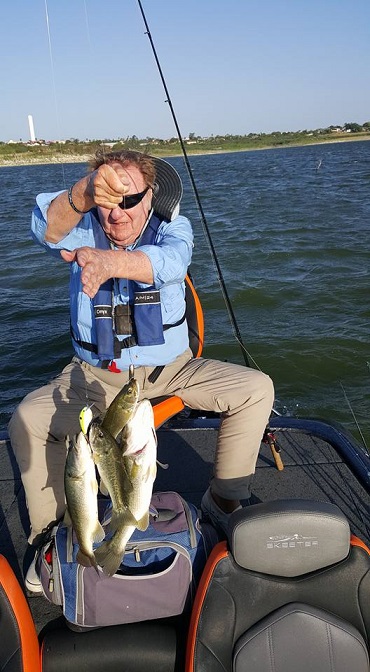 John Adami and Al Greene got ito a mess of schooling fish.. You might try chunking a shallow crank on some of those windblown rocks.
Wind and rocks.. Wind and rocks. Wind and rocks...
Yeah.. I know.
You can still catch some fish flippin' and pitchin'. If you don't mind gettin your Hogmaster scratched up a little bit.. Jigs and soft plastics will get er done.
We have not had many fishermen down the last ten days, minus the small tourneys that have come to town..
Boredom has overtaken me and I have been working on, and fixing all kinds of shit around here.. I even fixed a reel for someone and I had swore I wouldn't ever do it again.. There's only one nut you could put a socket on, on an entire reel.. And getting the handle off rarely gets you to the root of the problem..
My hands are more suited for strangling some son of a bitch than handling the tiny screws and springs inside a modern reel..
Although during my short stint at college some girls did refer to me as the clit master.. (Damn I'm sorry I wrote that and I apologize..)
Another week and another week of drama here on good old planet earth. I think that people have gone bat shit crazy..
Not just in the middle east, but that is certainly the biggest of the problems here on earth. I'd of liked to introduce Jim Jones to these Islamic bastards..
Today is supposed to be a day of protests and violence here in the USA. What a crock of shit.. Things are bad here, so lets make them worse..
Do people in inner city shitholes want no policing? Well that'd be a way to save some tax dollars..
Lets just air drop in more guns and ammo every night and let them take care of themselves.. That's sarcasm folks..
Come on people..
Folks, the only way we can cure any of these problems is with respect. And there is no doubt that it has to go both ways.
I have been arrested a few times in my life, and never once did I disrespect the officers.
I did not feel like I was being singled out for driving down the sidewalk on two wheels.. Even when everybody else was doing it..
Because I knew it was wrong, and if not wrong, I knew it was illegal..
The police have a tough job to do.. Extremely tough.. They deal with bonnafide assholes all the time..
But they deal with immensely more rational folks.
The difference being that the rational folks very rarely have a confrontation.. Or get shot..
I'm not saying that they never get arrested or go to jail..
No matter what race you are..
There is no doubt that the world has a problem with Islam.. All of the different sects of Islam can't even get along with each other.. They have been warring and killing each other for century's..
Century's.. And we want a quick fix..
Not gonna happen folks.. If you study any history, you'll find that this Islamic uprising is nothing new.. The world has had to give them a beat down every few decades or at least century's..
With today's modern communication platforms, it makes it easy for like minded and usually brainwashed and weak minded individuals to succumb to the idea that terrorism is a good way to to deal with western civilization. What they call infidels..
The challenge of preventing these attacks is enormous..
Globalization as led to much of what we are seeing today.. Mixing peoples of extremely different cultures and radically different views on religion and personal freedoms is a recipe for disaster..
And our current president seems all the merrier watching the the races and religions more and more divided against one another..
He has done what he said he'd do.. He has brought you change..
But that Hope shit has kinda faded into oblivion..
July 11, 2016: Seven come eleven. The gamblers holiday.. Time to bounce them bones off the back wall and and drag in your pile of jack.. Or put another stack out there..
Seven Eleven is not only the name of a convenience store.. It is also an acronym for the middle of summer down here in south Texas. And true to form, it is hot and windy as the giant high pressure that has camped out on top of us persists and continues to kick our ass..
And while a little breeze is a must this time of year.. This shit is ridiculous..
We closed early yesterday, which is our norm on Sunday, and about the time I did I stood there staring at the boat.. And at the flags in front of the shop..
I said screw it and went and took a nice early morning nap..
I must be getting old.. And there was less wind yesterday than there has been all week.. What a puss..
There were a lot of boats out yesterday though, as UCBC, SAPD, and the Laredo bass club were all in town.
I have not spoken to a lot of folks that fished yesterday, but on Saturday most everybody caught a shit load of fish..
Windblown rocky points, and there's not a lot of other kinds about now, held a lot of fish, and in those waters there were a lot of schooling fish. A crankbait and a spinnerbait were great choices to catch a bunch of fish.
Either of the baits needs to have some chartreuse on it.. I heard from several groups that they caught consecutive fish on consecutive casts. A bunch of em..
These fish are on the chomp..
Flipping the trees is also catching a lot of fish.. Standing timber in eight to ten feet of water was productive for a lot of folks.. Some used jigs, some used soft plastics..
It appears that a heavy jig was very good, as the fish seemed to prefer a quick moving bait.. So that one ounce or bigger jig might be a good choice..
I would think that if the wind lessened a bit, fishing would be about as good as it gets.. If you can stand the heat..
They are still pulling water.. I guess by now I am just gonna quit worrying about it. We are sitting at 271.41, or 29.61 feet low.. A far cry from where we were just a few months ago..
If you head up the river towards the Hedieona, be aware that the big concrete block in the river is out of the water about a foot.. Run just to the left (west) of it as you pass.. Do not run to the right side of it as there is more bad shit not too deep below the surface..
The ramps are still working fine on both ends of the lake. When you run the main lake from Zapata to marker seven, run the river channel on your machine. There is not a lot of stuff to hurt you out there, but if you skirt the Mexican side, there are a lot of big hardwoods that are on the river channel edge and they are hard and solid as a rock.. You don't want to hit any of em, trust me..
But there is still no problem navigating the lake at this time.. Like always, if you have any questions, don't hesitate to give us a call..
There have been a bunch of good fish caught lately, including a few tens. Sixes and sevens are real common. Hell if I know where these fish were the last year.. Besides just being hard to get to..
Our Thursday night tourney last week was won by a couple of guys that had been down here fishing all week, and they had zeroed in on some good fish. Despite crazy windy conditions, we still had ten teams fish. The team of Dowis and Hammond caught a seventeen plus pound stringer and won the big money.. That's a good sack for three fish, I don't care where you go.
We'll probably do it again in a couple of weeks.. And hopefully the wind will subside, and we'll have a few more folks come out and fish it.. We certainly had a lot of interest and phone calls last week.. But the wind kept a lot of folks away, I know for a fact..
I'll post on here for sure before that time.. But the probable date would be 21st..
In any case, if you have already taken the kids to Disney, been to Schliterbahn, gone to see grandpa and grandma, and you need a little time off for Daddy, you could do a lot worse than coming to Falcon.
And if you are the adventurous type, a trip to Sugar might be fun.. That lake is on fire as well..
As always I will say for the record that you personally need to decide if your up for it or not. If you decide to go I would recommend that you hire a local guide that knows the ropes over there.. Especially if you have never been before. It is worth every penny, especially for newbies..
I have been convinced that it is time for me to make a trip to the Amazon and go catch some Peacock Bass. I ain't getting an younger and I am skipping Argentina this year, much to my disappointment.. So I figure I'll spend a few bucks on chasing a different quarry..
I have got to admit that I have always wanted to go.. And I'll be heading down there in mid September, if the world has not burnt down by then.. That'll be just a couple weeks after the olympics..
I'm going with Ron Speed Adventures of course.. The same folks that I go to Mexico with so I know it will be a first class operation.. And I am sure I will have to write a novella about the trip when I get back.. I'm already starting to get a bit excited.. Although the trip is still a couple of months away..
I'm saving my allowance for some topwater baits as we speak..
Well get your ass down here if you can.. Bring your drift socks and a few cases of water.. Some sunblock, a floppy hat with a chin strap, and some heavy weights.. Of course you can get all the above here at FLT.. Well maybe not the drift socks..
Come see us!
July 7, 2016: Well it's hot.. And windy.. And hot.. You get the picture..
But it is July Seventh.. So whaddya expect..
I really could care less how hot it is. But this wind is a Mother****er..
Our afternoon tourney is about two hours away.. At least right now.. We'll see if the wind scares a few off.. I now it is scaring one team off..
I retired from tournament fishing years ago.. Unless conditions are really right.. And they ain't today..
Those that have manned up and faced the elements are catching fish.. I'm just not that mad at em.. But just let that damn wind stop blowing a bit and I am gonna get out there and... Well I'm gonna show it to em for sure.
Not a lot has changed as of late.. The fish are still biting pretty strong.. They like the dropping water and they are biting. And if you are new to this site just read below a bit and you'll see what is going on..
But in a nutshell, fish water ten feet deep and in, and throw a good flippin bait or a jig. Spinner baits and squarebill's shallow between the stickups.. Flip them big standing hardwoods..
You'll catch em.. Fish the windblown points if you can..
I have been talking with PAW about the pipe under the service road alongside the Veleno bridge the last couple of days. My concern is that the water is dropping, and getting hotter most every day. Water temps are mid to high eighties.. And I am afraid that we could have a fish kill on the east side of the bridge, if these two water bodies don't get reconnected. These fish need a way out.
I know the water can't be eight feet deep on the back side..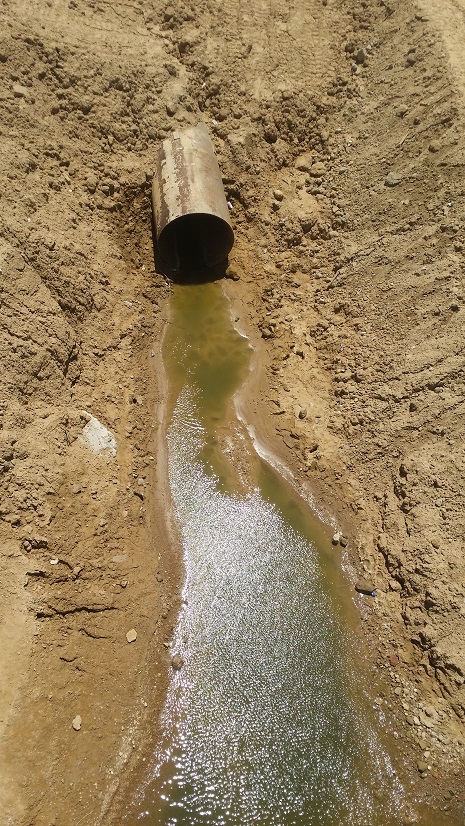 PAW is working on it as we speak..
I guess by now you have heard that it is official.. Hillary will not face any charges for the way she used her e-mail and set up her own unprotected server. And for sending highly classified info over it.. And she knew it was going on.. And she lied about it in front of everybody.. Of course that is what she does.
If you asked her if she uses cream in her coffee she'd probably lie about if just out of habit..
But any of you that thought she would have any charges filed against her are not paying attention. The fix was in from the get go. There is no doubt that there is a different set of laws for the Clinton's. Been that way for years..
Do I think it is right.. Fuck no.. But do I think it's true.. Fuck yeah..
The FBI director stated all the laws she broke.. But then he said she did not do it on purpose.. I guess she didn't know any better..
She was only the Secretary of State.. It's not like she was the president..
That's different..
Officer.. I did not know it was a 60 MPH speed limit in this area.. Tell it to the judge, boy..
Mr. Warden.. I did not know the limit on crappie was twenty five.. Tell it to the judge boy..
I did not know the girl was fifteen.. Tell it to the judge, boy..
Has anyone out there ever heard, that "Ignorance is no excuse for breaking the law.."
Have you ever had a law enforcement officer or a judge tell you, "Son.. Ignorance of the law is no excuse for breaking it.."
I'll bet you the farm that Hillary has never heard that..
Laws are for the common folk.. Not royalty..
This afternoon the president commented that he was glad that the justice department will be looking into a police shooting of a man in New Orleans..
And I have no idea what happened there..
But to quote him, he said, "I have full confidence in their professionalism and their ability conduct a thoughtful, thorough, and fair inquiry.."
What he did not say was, "And then they'll call me and I'll tell em what to do about it.."
This is the crookedest, lyingest, plottingest, triangulatingist, manipulatingist, hateingest, non-transparent United States Government that I have ever seen in my years of cognition..
Heaven help us if this woman gets elected.. We might not even have seen the tip of the iceberg..
And that's a damn fine analogy of Hilary Clinton..
A freaking Iceberg..
July 5, 2016: Well Independence Day, aka the Fourth Of July, has come and gone, and nobody I know lost any fingers.. Least of all me.. We went to the Zapata International fireworks show.. It was twenty four minutes long and pretty damn good..
It even started on time.. And in all the years I have been here, this is the only thing in Zapata that starts on time.. Every year..
I call it the International Show, because it could surely be seen from Mexico..
It was a hot and windy weekend, but those who ventured out were mostly rewarded for their efforts. Lots of good fish were caught over the weekend.. Lots of em..
Flipping is still the shit, and if anything has changed, it might be that the fish are just a bit deeper.. If you put your boat in six to eight feet of water, and flip big woods on creek or the river cannel, you are going to hook up with some good fish.
And while most any bait you can flip in there will catch some fish, a jig will catch more big fish.. And it will cull out a few of the little ones as well.. If that is your intention..
There are still some fish to be caught off the rocks.. And you can square bill em, or throw a spinner bait up there, especially where there are some smaller stickups.. Chartruse and white is best..
Speaking of spinnerbaits, the Jo Baby Green Shad bait is back in production.. If you are hankerin for some..
Look for those wind blown points and rocky banks.. In all of the above look for mini points and isolated hardwoods and jut outs.. Anything different.. If there is one tree sticking out of the line of trees a bit there is a fish on it.. Or two.. Fish it slow.. They is in there..
I was saying last time I wrote that I would let you know whether or not we were going to have the Workin' Man's tourney this Thursday.. And the answer is YES.
It's gonna be hot and windy, so put that in your back pocket before you decide what you want to do.. But we'll be at the ramp to weigh your fish at 9:00 or just slightly thereafter..
We talked about having it at the State Park.. But due to high winds we will fish the upper end of the lake and weigh in at the County Dock.. We'll do the State Park on a calm day.. Maybe in 2019..
Register at FLT before fishing.. Scroll down the page for rules.. Same as last time.. First cast at Five.. Fish till Nine.. Call if you have questions..
They are still pulling water, and while it is good for the fishing, I sure hate it.. We are at 272.28, or 28.92 feet low..
Not sure what is going on.. But I never am..
I talked to some guys last week that were here from Mississippi.. They caught the fish good off the rocks on the dam.. Throwing big crankbaits at it.. I think they did mention that they lost a few baits.. So it is not for the weak of heart..
But they caught some nice fish..
So the fishing report is this.. If you can stand the heat and can fish in the wind, the fishing is good.. Awesome in some stretches..
You know when summer rolls around I have to come up with something to keep me from getting bored.. And after watching the news about Britain and Brexit, I have come up with a T-Shirt for Texans that have had enough of imperial rule.. It might not get us out of the Union, but at least you can wear your opinion on your chest..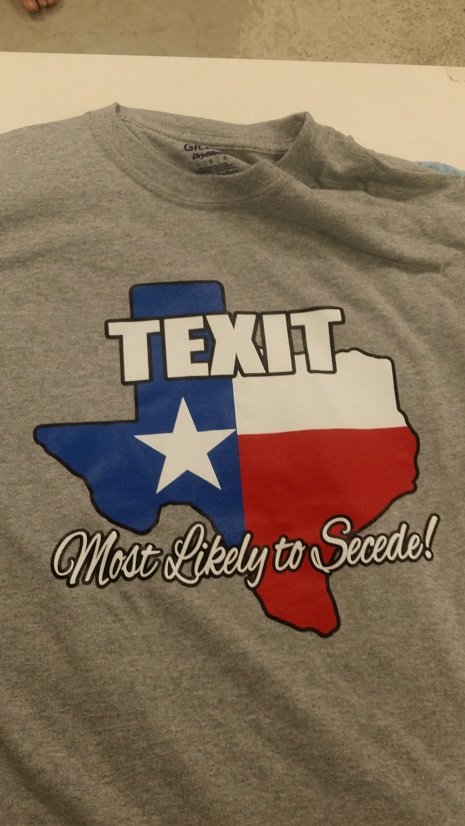 They have been selling like hotcake's and I am a little low on XL's already.. But holler at us if you want one and we'll put it in your mailbox for $27.50.. I have gray, powder blue, and red.
I hope you took the time out over the weekend to think about our Country and the people who got us to this point in time. And the sacrifices that were made by so many so that we can live in a reasonably free society, and in a reasonably safe society..
Let me ask you a question.. Do you think our political leaders have the same mettle today that the people who founded this country had?
Let me ask you another.. If the democrats in DC had a clean slate to start all over with, and they could start a country anew, what do you think it would look like?
If the republicans had the same opportunity, what do you think it would look like?
Do you think you could live in either? Or neither?
Why are we letting our country be overrun by people who know nothing about it, and mostly hate our way of life and our freedoms? Why would we invite divisiveness, and dangerous peoples to our shores?
Why would some one running our country, if they loved it, import nothing but burdens and problems for our somewhat peaceful society? At least between the peaceful inhabitants of it..
Purely out of compassion? A compassion that supercedes the will of the people, living in, protecting, funding, and actually being the country..
Because he, Barrack Hussien Obamma, a virtual newcomer to our country, has a totally different opinion of what America should be?
A country is not a piece of land.. A country is the people in it..
And when you change the people in it, you change the country..
You need to think long and hard about what you want for America.. Do you have fond memories of the way it was? Or do you hate the way it was? Are you liking it better right now than ten years go? Twenty years ago?
What do you think it will look like in ten years?
Do you think that in ten years we are going to be a better adjusted more peaceful society than today?
Or do you think things are turning to shit?
Ponder on that for a while.. And choose your candidates carefully...
Your grandkids lives depend on it..
June 30, 2016: Well half a year shot to shit.. I'm aging faster than a glass of milk at room temperature..
I still get a lick in every now and then.. And I certainly screw up now and then..
Like I just erased what I had typed for thirty minutes.. Dumbass.. And then I erased my entire local copy of this page.. And had to go to the server to retrieve it..
You'd think I'd have it figured out by now..
So let me rewrite what I so meticulously typed and hour ago.. Maybe not verbatim..
The fishing on Falcon is good.. Very good.. And a lot of the good stuff is shallow.. Very shallow.. Flipping hardwoods in two feet of water can catch you some fish.. And some good ones..
They have started pulling water again and these fish seem to sense it and for whatever reason they seem to really strap on the feedbag. I guess the current that is generated gets em turned on..
I have no idea what they are doing with this water.. Maybe just heavy generation.. Maybe they are watering some truck crops.. Hell if I know.. Maybe alien ships are coming down at night and hauling it off..
I crossed the bridge in Roma yesterday and the river is running. Big time.. More on that later..
This has been a tough year on Falcon water wise.. We have been dehydrated.. I just hope we can get some water back in here before things turn to shit..
It would be nice if Amistad gave us a few feet.. They have not shared in the water burden at all.. They have been almost static for a year..
Just hearing myself talk..
Last weekend San Antonio Bass Club was in town, and they smacked the fish pretty good. They fish a three fish format, and it took over eighteen pounds on Saturday to be in the lead. I heard that it took over thirty five pounds for six fish for the win.. I have not seen the complete final results but if I get em I'll pass em along..
I have heard of a lot of nice fish caught lately. Lots of six pounders, a few eight pounders, and several tens.. The big fish have been pretty active..
We had tentatively scheduled another Workin' Mans tourney for next Thursday, but several factors seem to be working against us.. The Fourth of July will use up a few kitchen passes, and next week it is supposed to be a Lewinsky again..
I will make an announcement on this page by Tuesday whether we are going to fish or not..
You can also catch some fish right now on a crankbait. You can throw a squarebill on the rocks.. Or a middle-runner between the trees. The latter is not for the squeamish.. You are gonna hang up some and some of them you are not going to get back..
But that's why we're here..
We are also holding classes for the fish to teach them the art of bait launching. Throwing your soft plastic from your line.. We call em tackle store fish.. There's a lot of em out there..
The super fluke is a good bait, as is the JuneBug or June Bug Red lizard.. Some of those darker colors are working well in this off colored water. Beavers and Bugs are good choices to flip as well..
Old house rock piles are also holding some fish.. Some get loaded up.. Check em out if you know where some are..
Basically, if you go fish hard, you will catch fish..
We got a thunderstorm right on top of us yesterday afternoon.. 1.65" in forty five minutes.. It was rainin! First real rain we have had here at the shop in a long time..
Speaking of catching fish, I was at Sugar for the last two days. And I had not been there in a few months. But I did spend some time there in the spring. A lot of it.. And it is fishing off the hook as well.
Jay had invited me to go with him and his web man Danny, with the intention of doing some filming, fishing, and flying.. Drone flying anyway..
We did all three.. And while they were screwing with the hi-tech gadgetry, I was going old school on the fish..
Sugar is a place you need to get to before to long if you are into close proximity Mexico fishing.. That son of a bitch is on fire..
I'll be doing a report in the Mexican Lakes section in the near future.. As soon as my ribs heal up..
Jay's spots are better than mine right now.. We caught so many three to five pound fish that it would be a full time job just counting.. I bet I caught a hundred myself in the two days.. When they made me quit I had five fish on in a row..
Like I said.. It was stupid.
Falcon ain't far behind.. So get your self down here and get you some..
Be prepared for the heat though. It's gonna be a hot one!
June 24, 2016: The weekend is here and so are a few folks.. We have a bass club or two in town, and the wind is supposed to welcome them here.. I think it already has.
The afternoons and evenings have been really breezy.. So keep it in mind when you haul ass down the lake.. You still gotta get back..
Yesterday evening we had our debut edition of the Falcon Workin' Mans tourney.. And we had twelve teams fish, which I figure ain't too bad for the first shot out of the barrel.
Of course we do not have a big population center to draw from.. But I think this thing may get some wheels under it..
We will be doing this again in two weeks on the evening of the 7th.. Of July.. So don't burn your fingers with your fireworks and come out and join us if you are in the neighborhood.. It is open to anyone who wants to fish.. Call me if you want more details..
Last night it took a pretty good stringer to win, as the team of of Pena and Pena brought in three fish for 17.91 pounds. That included the big bass of the night that went 10.07. Congrats!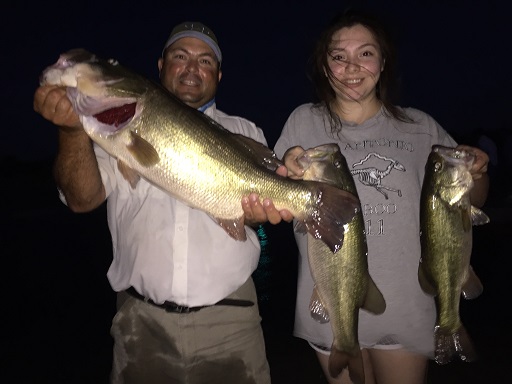 In second was Tom Haralson and Pancho Benavides with 15.48, and in third was Robert and Susan from Amigo Inn with 13.84.
There were a few other nice fish weighed, but not a lot to go with em.. Story of my life..
TPWD finished up our Florida LMB stocking this week, with another load of over 200,000 fingerlings that were stocked around the state park. I has been a few years since the babies made it that far south.. At least by truck..
I wish we had more thick vegetation to free them in.. But it is what it is.. Thanks TPWD for the fishies..
Otherwise everything around here is good.. But it is summer and it has been hot and windy.. Seems like it happens every year..
On another note..
Zapata might just well be the last bastion for freedom loving folks and people who just don't want to be messed with. There is no animosity between the races here, and maybe some of that has to do with the fact that there is not a lot of diversity.. Maybe that is a lot of it..
Basically one people living together, without too much outside influence, with a population that is similar in beliefs, with strong family ties..
Yes you can say that we are a bit backwards.. And slow moving.. So be it.. I like it..
Zapata is one of few towns in Texas that has not been affected by the influx of people moving to Texas, to escape the tax burdens of other states, and Texas provides many opportunities for employment that other regions can't offer..
And all the Mexican immigrants crossing the border.. They ain't staying here..
Texas is a right to work state. We know that unions suck.. For the most part..
(Save your E-mails.. You are not gonna change my mind..)
We are a common sense people, and a friendly people.. Till you piss us off..
And I can assure you that a lot of us are getting pretty pissed off..
I talk to people from all over the state.. And the country. It is one of the good things about my job.
And I realize that in this group of visitors, most of them are conservative folks..
They like to fish and hunt, and are some of the most passionate about taking care of the planet and the things that live on it.
From big game to big bass.. From grass to glaciers..
Nobody I know wants to see oil covered ducks.. We might want to see em' covered in gravy..
Nobody I know wants to tell you how to live.. We might not agree with your choice of lifestyles.. But it is your choice. And don't hold it against us for having an opinion.. And speaking it..
You jackasses certainly let us know yours..
We're not depriving you of the right of doing the same thing..
And don't hold me responsible as a gun owner for the actions of other idiots who do bad things with guns.
The gun never killed anybody.
And don't tell me that a gun with a big magazine is any worse than a single shot.
If we want to get on that level of stupidity, maybe we need to make busses with only one or two seats. Amtrack can only carry five passengers. Airlines could only fly piper clubs.. And owning more than two hammers should be a felony..
If you really are serious about cutting down the possibilities of mass mortum..
You know what people hate.. People hate having someone telling them what to do.. And having to do it.. That's why America has been America.. Cause we don't like putting up with shit from someone else.. And that is why the resistance is so strong to the globalization pushes of the far left..
Something that Obamma doesn't and can't understand because he does not love America, and he has no understanding of what being an American is. He and his family have no skin in the game.. He did not grow up watching Howdy Doody, Sky King, Combat, Gunsmoke, Mickey Mouse, and Rawhide..
He did not grow up riding bikes, playing baseball, kick the can, and hide and go seek.. He has no idea of what it is to be the product of America..
He does not have family that have given their lives for the country, or family that settled and tamed it.
He just came here as a carpetbagger telling us how guilty we should feel because of what we did to build this nation.
I will resist till my dying breath the notion that we need to be drug down to the level of other countries. I reject the idea of the euro invasion of Muslims that Obamma is shoving up our ass.. This shit has to stop..
The cult of Islam cannot survive in a free country. Or the free country cannot survive with Islam.. It is about time to decide which it is gonna be.
Which side are you on?
Peaceful multiculturalism is a myth that has brought nothing but a shit storm everywhere it has occurred.
Birds of a feather flock together.. For a reason.. It is a law of nature..
How bout the Brits.. And Brexit.. I think it is awesome.. That the working class, for the most part, have decided they have had enough of foreign rule.. That they are different than the rest of Europe.. And that they want their independence.. Instead of being part of the rest of the shithole that is Europe, and dragging them down..
Don't forget who has stood shoulder to shoulder with America and Americans when the shit has hit the fan..
Best of luck GB and I hope before long you have your country back..
I love Brexit.. Now I think it is time for Texit...
Nothing could be worse to me that some son of a bitch in the United Nations from some shithole country, who would have to be upgraded to make it to third world status, making a law telling me how I have to live in Texas..
I won't stand for it..
And taking orders from Washington lawmakers ain't much better..
TEXIT.. Coming to a county near you!!
June 20, 2016: Well the longest day of the year is here and the full moon with it to boot.. That'll bring the crazies out.. If they ain't already..
I just wanted to remind you, in case you forgot.. Or hadn't heard.. That we're having a evening tourney this Thursday.. Five till Nine.. County Ramp.. Register at FLT before fishing..
Must be in weigh line by 9:30.. Or your fish won't be weighed.. No bullshit.. Being in weigh line don't mean getting your fish out of the live well.. Or in the cove.. Just so we're clear..
Team tourney.. Must have two men in boat.. Not three.. NO one man boats!
$30 entry fee.. All paid back..
The killer heat has backed off a bit round here.. And the wind ain't too bad either.. But it is summer.. It's hot..
Fishing is still good, but not as good as when they were really pulling water.. But it is still good.
Yesterday we caught about fifteen fish and missed as many in about four hours.. Best was a 4-9.. Had a few other nice ones..
I am not a fan of early morning fishing when the moon is full.. And I heard that the midday to afternoon was better.. But around here I go when I can..
Same old methods are doing the same old things..
Come get um..
June 17, 2016: Well I certainly meant to write before now.. But I got detained.. Some work.. Some pleasure..
But I'll get to that in a minute..
Meanwhile the fishing here on Falcon has remained very good.. If you have a thirty foot Hogmaster boat with a 96 volt trolling motor.. The south wind has been blowing so hard that all the cormorants are now up at lake Fork..
I have not been on the lake here in almost two weeks. But I have talked to a decent number of folks that have. And most all of them are catching fish, although the wind has limited them to where they can go and fish.
And I have said it a thousand times as of late. Fish some rocks, and you'll catch fish. Flipping the trees is also a good way to get your line stretched, but fishing a jungle of hardwoods has been a bit hard to do this week. Without washing up on another one.
Small plastics and shallow running crankbaits are still catching a bunch of fish on gravel banks. Don't be afraid to throw it up on the rocks and drag it back in the water.. A lot of these fish are shallow.. Very shallow..
A row of hardwoods most anywhere that is close to a creek channel, or the river channel can hold a lot of fish.. And some good ones as well. Fish the trees thoroughly.. Sometimes it takes several pitches to the same tree to get em to bite.. Let it soak.. If you think that there should be a fish in there then there probably is..
The top of the lake is slightly off color, and baits a bit darker in color are producing better than your basic watermelon red. Try some black/red, or Junebug red baits.. Once you get south of School Bus the water color lightens up and the more translucent baits are fine.. It still don't hurt to put some chartreuse on the tip of those light colored baits..
Jig sales are still brisk.. And the color doesn't seem to matter that much.. We are selling them all.. Get it in front of a hungry fish and they'll bite it..
I'm gonna rate the fishing at a 7.5 or 7.75.. Maybe an 8.. It has been good.. Very good..
The lake level is kinda fluctuating just a few inches.. Kinda half assed steady the last two weeks.. The US is releasing a bit of water.. Why I do not know.. There is still a lot of water in the creeks below Hedieona, but above that there is not a lot of water in most of the creeks.. If you venture up there you better know where you are going.. Stumps a plenty off the river channel..
I don't know what more I can tell you about the fishing.. Not a lot has changed.. Come to Falcon and catch fish.. It's pretty simple..
I hope to get out tomorrow and beat on some of em..
Last time I wrote I said I was going to drag the boat up to Medina and go see what it looks like at pool.. Something I have not seen in some ten plus years.. And if there is any lake I have fished more than Falcon in my life, it is Medina. But I reckon that I have caught up by now.. Before I PCS'd to Falcon I fished Medina at least a couple of days a week..
I sold a lot of houses while I was standing on the front deck and flipping docks and rocks.. Had a pattern going for a few years there..
In any case the lake looks a lot like I remember it.. With a few dozen new houses built on its shores.. And even these old eyes had to smile when I slid the boat off the trailer at Reds.. And heard the rare but familiar sound of water rushing over the spillway..
I took an old high school buddy with me, and it wasn't too hard to talk him into the little road trip that ensued.. Joey and I have been best of friends since the early seventies and we have been hunting and fishing all over the world, or at least a bunch of it, for the last forty years..
And the last time we were taking pictures together of water going over the spillway was in 1974, when we were taking senior class officers pictures for the Medina Valley yearbook.. See; The Panther.. 1974..
In any case I rolled up to his house unannounced, told him to pack his shit, and that were were going to hit the road for a hill country fishing trip.. And it wadn't too hard to talk him into..
So on Monday morning, we were the first ones on the ramp up at Red's cove. Which has a great ramp at this level.. A great improvement since I was there last..
We put the trolling motor in the water right at the dock and fished our way down to Joe's, with very limited results. We moved to the spillway and made a few casts when another boat pulled up and asked what kind of truck we were driving.. And of course I was immediately thinking about how much it was going to cost me to get my fender repaired.. And when they confirmed what we were driving, we were informed that we left the lights on..
This modern technology shit is beyond me.. Are they gonna stay on? Are they gonna go off?? Who the hell knows.. I only use two positions for sex.. Why in the hell do I need a freakin headlight switch with three??
In any case after we got the lights turned off, we headed around Masterson point and headed westward, and fished some mainlake pockets before you get to Sawmill cove.. And we started to catch em pretty good..
Here's a pic of my first Medina bass in over eight years..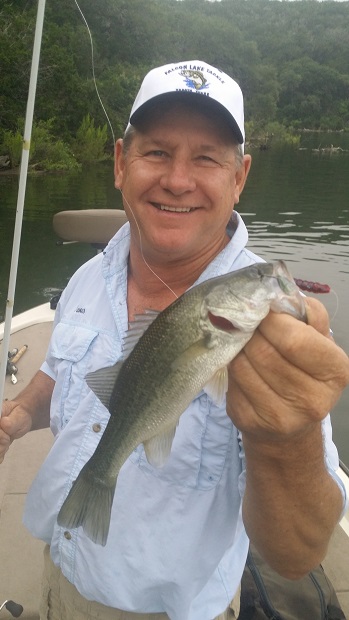 And Joey's..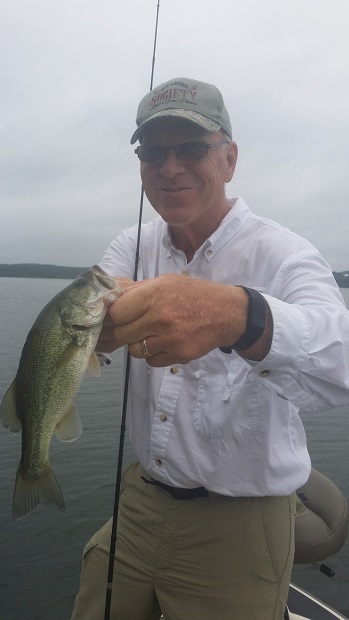 If you are headed up there and want to get bit a lot, rig you up a five inch skinny worm in a blue fleck or plum color and throw at rocks between trees.. It's a jerkfest.. Also caught a few on a Rapala minnow hard jerkbait.. You'll see a pic of in later in this story..
And they did not get much bigger than that. But we put the hammer on a bunch of em.. I do not believe that we caught a single keeper.. But it did not matter..
We fished till about one I guess and went in to have a burger at Red's.. And a beer.. Just like old times..
And while I had said I was going up to fish Medina, the trip kinda got expanded a little. And we kicked the Ford, with automatic headlights, right in the ass and headed for lake LBJ, in or about Marble Falls, Texas..
You know I am a bit anal about my shit, (that didn't sound right) and I like to be prepared with my equipment when I am hitting the road.. And before I left I checked all my tires, wheel bearings, and tools that might possibly be required in case of a roadside incident. And I found a tire with a separated tread and I put my brand new spare on the ground and bought a new used tire for a spare and had it mounted on the bad tires rim..
It was all good..
We were between Kerrville and Fredericksburg running somewhere around eighty when the explosion happened.. And as luck would have it the tire did not blow up my fender and we coasted into a farm and ranch store.. Complete with floor jacks and air wrenches.. My Daddy always said the Lord was watchin over me..
And as Willie would say, in ten minutes we were "On the Road Again.."
And as soon as we got her straightened out were were googling for the nearest Discount Tire with a set of trailer rubber..
The only thing I have had worse luck with than trailer tires is ex-girlfriends. With vendettas.. And that has been quite quite a while.. But some memory's are forever.. But I digress...We found some new trailer shoes in Marble Falls and they had us back up to speed in about an hour..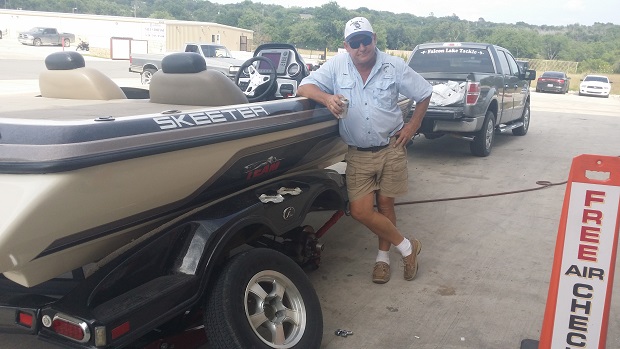 We found a waterfront fishing camp that had a room and we slid the Skeeter in the water on her second lake of the day..
Now neither Joey or I am a stranger to LBJ.. I have been going there since 1963.. We vacationed there every year with my family when we were kids.. And we did the same with my kids.. And Joey and I brought our kids up every summer for many consecutive years when they were young..
And while I had not been there in years, he still takes his kids and has both sides of his family up there every summer.. Of course they ski and wakeboard and cook and drink a lot more than they fish..
In any case I went right back the the docks that I have always caught fish on just up the Colorado above the Llano, and we started to whack the little fish, including some scrappy little smallmouths.. We caught a couple of keepers, and right at dark I caught this three pounder off the Llanorado Lodge boat ramp..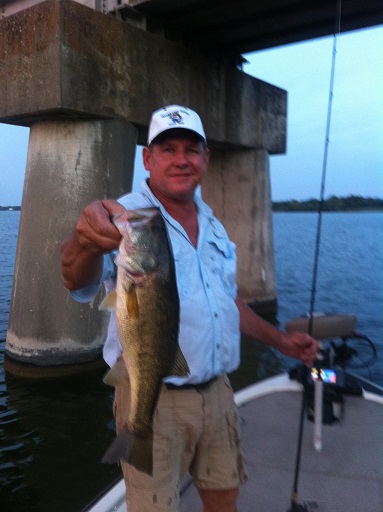 We caught a few more and by the time we got her on the trailer and got cleaned up all we could find was a Sonic burger for supper.. We washed it down with a couple of Cuervo Margaritas and called it a day.. And a good day it was..
Day two dawned and it was pretty daylight before we put the boat in the water.. And we headed for the opposite end of the lake, right near the dam, where the old Cottonwood camp used to be.. Of course it is long gone and a giant marina and boat storage place is there now. And speaking of development, LBJ has always been a popular lake with lavish homes and beautiful and expensive real estate.. But things have been taken to a new level..
Places I used to fish that were pristine shoreline are now almost completely covered with waterfront homes. And I ain't talking about no weekend cabins.. I'm talking mansions..
Yep it is easy to see that it has turned into a dick measuring contest when it comes to who can build the biggest house.. You gotta see it to believe it.. They is some money in Texas..
In any case, another addition to Lake LBJ since I fished it is Hydrilla.. And there is one fact that is undeniable..
Grass equals Bass.. No matter where you go..
And honestly I can't believe that LBJ being the recreational lake it is, and being surrounded by so many waterfront homes with ski boats and jet skis and wave runners and sailboats and water toys, that a giant push is not on to eradicate the grass..
And I hope it never happens.. But we have all heard of Lake Austin..
In any case it did not take me long to find a couple of creeks with a bunch of hydrilla that was grown up to about a foot from the surface. And I started throwing the Rapala on a spinning rod with five pound braid.. And whacked em pretty good.. Not a lot of big fish.. But fun two and a half pounders..
We also caught em on a Rage Menace flipped around rocks and docks.. It was a good day. Even if it started out a bit slow..
We slipped in a round of golf in the afternoon..
Day three dawned and we had the boat on the trailer, and at daylight thirty we were on Lake Buchanan..
I had not been on Buchanan in fifteen or eighteen years.. A long time ago..
It is chock full and the big body of the lake is off color quite a bit. I can imagine that the river might be a bit dirtier..
We fished the south end of the lake, west of the dam along the highway, for lack of a better description. And we worked our way back to the west from there. Toward the county ramp near Tow..
We caught a lot of fish, but none of them were keeper sized. We caught some close, and we caught a bunch of smallmouths as well. Being the water was so off color, we threw plum and chartreuse pepper baits. And we had a lot of fun whacking the fish off of big chunk rock. We lost a lot of hooks and weights in those rocks as well..
Tow is a small community on the west side of the lake.. And evidently some of the folks around there don't care much for national politics.. I had to take a pic of this old pickup.. You know I am into old cars..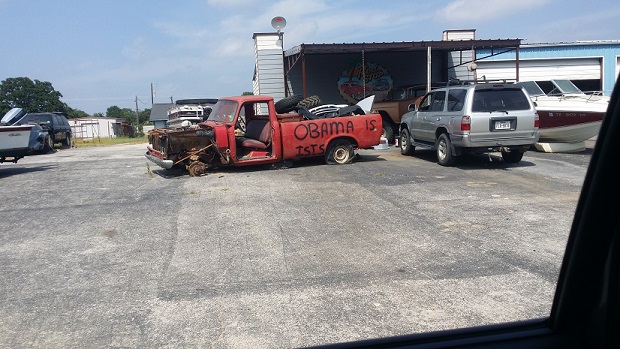 It was a fast paced road trip with a lot of fishing, driving, and bullshittin.. I think we'll do it again next year.. And maybe invite you along with us on a hill country roadie..
You best get down to Falcon pretty quick though.. I've tried em all and right now Falcon is the shit..
See you on the water!
June 11, 2016: Part Deaux: I just came from the second and final weigh in at the API tourney, and I'll have to say that I am seriously impressed.. Even though it was a windy son of a gun, a lot of the teams really put it on em again today.
There were two more fish over ten pounds I believe, and a scad of sevens and eights. I saw too many fish to keep an accurate count..
After all was said and done, two teams had two day stringers (six fish) over forty two pounds..
Lets see.. Naught from naught leaves naught.. Carry the three and add the second line to the first..
Holy Shit Batman!! That's over a seven pound average..
There were a several thirty eight pound sacks as well.. And a bunch of other good bags.. Lots of nice fish caught!
I'll post full results in a couple of days when they email them to me..
If you live in Zapata, or close to Zapata, or will be in Zapata on the twenty third, (23rd) of this month, and you would like to fish a little evening tourney, we are going to be having one. Here are the rules..
Fishing time will be from five PM till nine PM.. Honor start..
All fishermen must be in line, with fish in hand, by nine thirty! No exceptions..
Weigh-in will be at dock at county ramp. You must fish out of a boat with working livewells..
This is a team tourney. No one man boats! No exceptions! Three fish will be weighed.. If you catch three of course..
Entry fee will be $30 per team.. This ain't about money, it is about fun. And maybe some bragging rights..
Registration will be at Falcon Lake Tackle the day of the tourney, or anytime before then during regular business hours. No Pay-No Play!
This tourney is open to all.. No exceptions..
Any protests must be brought to the tournament directors before weigh in is over. Cheaters will be pummeled by the rest of the entrants.. But we are not going to have either of the aforementioned shit.. Are we..
Decision of tournament directors is final.. And for now, the directors are Me, and John Mireles from Roma.
Payment of your entry fee signifies that you are aware of the rules, and that you accept responsibility for your actions, and any and all damages to your equipment or person. And that you will hold Falcon Lake Tackle and The Directors harmless.
This notice will serve as official notice of same.
We'll see where this thing goes, and if we have decent participation, we may turn it into a bi-monthly thing.. Or whatever.. We'll see.
See you in a bit. I'm going to go fish Medina for a couple of days.. I'll let you know what happens..
June 11, 2016: What a beautiful stretch we have had the last few days. Low winds and biting fish.. And lots of em..
The API tourney is going on and the second and final day of competition is under way. And if yesterday is any kind of indication then they ought to whack em again today. Conditions can't be much better.. Although some might say that it is a bit warm..
Fifty teams took to the lake, and they caught em really good. There are two stringers over twenty two pounds.. That's three fish folks.. Then there is a twenty one, a twenty, and a boat load of eighteen pound plus stringers..
I am doing the weighing of the fish, and I gotta say that there were some beautiful fish brought to the scales. Big bass of the day was a fish just over twelve pounds. There was also a ten plus and a good number of eights and sixes and sevens were real common.
I'm hearing the same from a lot of fishermen that are not fishing the tourney.
Flipping the hardwoods is where most of the biggest fish are coming from. You're gonna get less bites than fishing the rocks, but at the end of the day I believe that you will catch bigger fish.
Of course there is no rule that says you can't catch a monster on any cast, anywhere..
A jig has been hard to beat in the trees.. Soft plastics will work as well but I am hearing a lot of good stuff about the mixture of woods and jigs.. You might want to try it..
All of this is hearsay as I have not been on the lake since last Sunday.. But that will be soon be remedied.. I hope.. It has been a busy week around here and I have been home alone. Uvalde bass club is also here this weekend, as is Helotes, and the Laredo bass club is holding a tourney here tomorrow as well.
I hear the motels are full as well. No wonder my feet hurt..
Despite what you have heard from me, you can come down here right now and catch the fish your way.. If you like crankin, or C-riggin, you can catch em that way as well..
Get down here and cure your hypovitaminosis D..
The Alligator Gar are also everywhere all of a sudden.. If you are a bow fisherman you might also want to make an appearance about now.. Some bigguns are starting to roll, and four footers are everywhere I hear.
Come get you some..
I'll put up a report on the final API results early next week.
Those guys are kicking their ass..
June 7, 2016: It's been a rainy week.. At least in some places.. We have seen our share of showers around, but have missed any major deluges around here.. The big low pressure that sat on Texas for a week has moved east, and our chances of rain have greatly dissipated..
And in place of the rain chances, we have been left with a beautiful week with low winds and decent temperatures, at least by our standards.. It could be a hunnert and five.. But it ain't..
I fished on Sunday, and we had a very unusual north wind.. At least it is unusual for this time of year.. And it was really a blowing.. As I said that low moved east, and we were on the western edge of it and the resulting rotational effect was a strong wind from the north.. And I hate fishing in a north wind.. Even if it is ninety degrees..
I had not been on the water in a full two weeks, and I was having some withdrawal pains, with the success of my last few trips burning in my mind. And If I can remember anything these days, that is a plus.. But I remembered that shit..
In any case I went with an old buddy that I had not fished with in years, and it was good catching up and catching fish..
Of course I had a hard on to hit the spots in the Salado where I had been crushing them the last few times I had been out. And when I got to where I wanted to fish there were a couple of boats in the immediate area, and it is likely that my favorite water was previously viewed. But my number two spot was not.
We started out throwing craws, squarebills and a jig.. And it was a bit slow at first.. But we managed to wake up a school of fish that maxed out at three and a half pounds. And we caught about a dozen to fifteen in a thirty minute stretch, and some of them were nice chunks. That pull well beyond their weight class..
A chartreuse and blue square bill caught em pretty good, but I could not get anything going on the jig.. And two weeks ago I absolutely tore them a new asshole on it..
Guess they had seen that game before..
But I switched to a Rage Craw and caught them pretty darn good.. I have also been fishing the Rage Menace, a little bitty cat turd shaped bait with a rage craw set of pinchers on it.. When fishing gets a little tough, this has been a good go-to bait for me.. It catches a lot of little fish, but it'll catch some bigguns as well.
Anyway we changed sides of the creek to some rocky points where I have been hammering em. And on the first cast I caught a five inch fish on a DD-22.. And then we went on an hour streak of not getting a bite..
We moved again to a spot where I always catch fish.. And we didn't..
We started down a rocky bank with trees on it and I caught a fat three pounder that tried to take my rod.. Even Ray Charles would have caught that fish..
Any way I flipped back in the same general area and caught another.. And then another.. And we either got on a place where the fish were.. Or we got on a place where the fish were biting.. And we proceeded to catch some more of those chunky three to four pounders that are just about the baddest son of a bitches you will ever reel in..
We finished the day about two thirty, with about twenty five or thirty fish, best guess.. And we missed some for sure.. We did not start till 0 nine thirty, so it was not a bad day.. But nothing like the days I was having before I left on my road trip..
Best baits were the square bill, (Spro) in chart/blue, a Mag-U vibe in W/M Candy, and the Menace I was talking about above..
I have been hearing that fishing has slowed a bit since the water quit falling, which is not unusual around here.. We have actually caught a few inches of water in the last week..
I will have to agree after one trip that it was not as good as it was.. But I don't think that is a fair test on a north wind day.. But the general consensus from locals it that it is still very decent, but not quite as hot as it was..
I have seen some big fish pics this week, so there are still a few gooduns being brought to the boat.
The API tourney is this weekend.. Competition days will be on Friday and Saturday. It is an open tourney so you can fish it if you want.. Contact information is on the tourney schedule page.. It is more than a bass tournament, with BBQ and a ladies catfish tourney, kids events, and a bunch of socialization with a band on Saturday night I believe..
Call em for more details..
There is also a Alligator Gar tournament coming up. It is a one dayer to be held on the 25th of June.. It will be HQ'd I believe at the state park. Entry fee is thirty dollars a person I hear. Fishing hours will be from 9:00 till 4:00.
Call Joe Cortez at 956-739-5751 for more info..
I am going to take the fish rating down from an all out get your ass down here alert, to a get down here as soon as you can alert.. There are still a lot of fish being caught. And the quality has been pretty decent as well.
You can catch fish the way you want to right now.. Flippin.. Draggin.. Casting.. Or cranking..
The lake has stabilized, and we are sitting at 274.19, or 27.01 feet low.. I have no idea what will happen in the near future..
We are supposed to get the rest of our stocking this week or early next.. But I don't have anything definitive as of yet..
I hope to get back on the water later this week and I'll give you a heads up on what changes if anything does.
Come see us, and catch a bunch of fish..
June 1, 2016: June is here and that means one thing.. Well that's bullshit it means lots of things..
But one of those things is that it's officially summer. At least in my book.. And it gets hot.. Just the way that I like it.
No more blue jeans or hoodies.. No wool socks.. No beanie hats and no damn giant jackets that make me look like the freakin Michelin Man.. Of course I kinda got that look goin' on anyway..
God I love summer..
And the fish like it too around these parts.. We must share a gene somewhere along the way. The "I hate cold gene.."
I have been out of town for a week or so, but I did spend all day yesterday in the store. And while I did not talk to a ton of bass fishermen, I did talk to a dozen or so. And to a man (and one woman) they all said they have been catching the shit outta fish.. And I also heard some bitching about the wind the last couple of days.. But that is also just a part of summer around here.. It can blow..
It has been raining perros and gatos around us and north of us.. But it has not rained much in our water shed, at least not enough to make the river run.. We are kinda holding our own when it comes to water levels, and we have not moved the needle either way very much. We are sitting at about 274, and that is not much change in the last ten days..
And with the lake stabilizing, sometimes it changes the fish's mood. But it appears that it hasn't bothered them too much.
I heard a lot about the crankbait bite yesterday. One of my buddies murdered them on a square bill, and another whacked em on a deep diver.. Both of them were throwing the bait on the rocks, or along the rocks.
I too, was catching some fish on a crankbait before I left. And I am not sure if there is a particular color you must have, but having a little chartreuse on it is a good thing..
Another thing that has not changed is that you will catch a lot more fish if you are around rock..
Duh..
As constant as the north star..
I'd like to be more specific, but I have heard that every bait in the store will catch fish right now.. A senko, a lizard, a jig, a worm.. Go find some rocks and fish some depth changes around em..
You like dragging a Carolina rig? Throw across a long gravel point and be ready to set the hook..
You like flipping trees? Get off the main river channel and flip them hardwoods.. Put a Pit Boss or a Beaver or a brush hog on there..
Fishing has been so good that even I can whack em.. So you know it is on..
Quit fucking around and get down here..
TPWD put about 250,000 Florida fingerlings in the lake last week, and they were stocked in the Veleno. There is another batch headed our way, and they are going to be put in down around the state park if all goes as planned. The last two years a lot of fish were put in around the Tigers.
And here's a bit of news that took me by surprise.. Some Giant Salvina was found in the Veleno creek here at the boat ramp. No doubt it was courtesy of someone that had it stuck on their boat trailer when launching here.
PAW is keeping an eye on it and I plan to do an inspection personally this evening or tomorrow as time permits. All of it that was seen last week was picked up, and from what I understand TPWD will do whatever is required to make sure it does not get a foothold here..
There is nothing with grass or greens in the water right now, and I will bet that the millions of grass carp here will probably take care of this problem for us. We'll see, and we will be watching. But if you happen to see any on the water here on Falcon please let me know, and I will pass the info along to PAW. That way when they are down here killing cormorants they can spray the salvina as well..
Do you think they will ever do anything about the Cormorant problem?
If you come here and decide to take a trip up the river, you need to be aware of the old bridge abutment that is in the river channel just below the Hedieona. I hear it got another victim while I was gone. Hitting this thing is like getting body slammed by Rosie.. It's gonna rock your world, and your pocketbook..
Here are the Coords on this monolith.. N 26°52,705 W 99°19,592
If you ever come to Falcon these are good umbers to keep in your machine. Put a skull and crossbones on em..
Stay just to the west side of this mark and you'll be fine.. To the Mexican side..
I got back to Zapata at straight up midnight on Monday night.. Guess that would be Tuesday morning.. And after about eight days on the road it was good to get back to the land of tacos actually made by Mexicans, which I was jonesing for pretty bad. Not to say that the food on the road wasn't pretty darn good.
I guess I had never heard of Shrimp and Grits before.. Check that off the list.. It's on every menu east of Alabama..
You cain't swing a dead cat without hitting a boiled peanut stand.. Them Sumbitches is everywhere..
You can see one to three Waffle Houses from the one you are eating in..
There's a Baptist church every hunnert yards.. Them Protestants is takin' over the south.. On second thought, I think they done dun it.. Praise the Lord!!
Forget Bar B Que'd brisket.. Once you cross the Mississippi it's all about the pig.. Had some great pork ribs at several stops.. Them boys can cook you some ribs..
We did eat at a place in Atlanta that was run by Texans.. Called Fox Brothers BBQ.. Their logo was modeled after the Lone Star Beer signs you see around.. Blue with the white star in the middle.. Cept theirs was red with the white star in the middle.. Texas style Bar B Que done right.. The place was full of Texas memorabilia and jammed with people and the food was writeous.. Make a Texas boy proud.. Even had Lone Star and Shiner Bock on draught..
If you think that the USA, home of the worlds most vibrant economy, is suffering from deforestation, I challenge you to drive from Asheville, North Carolina to Charleston, South Carolina.. If a man had to crap in the woods, he'd have to chop down a tree to have room to squat..
Have you ever been on the Blue Ridge Parkway? We drove from Cherokee to Asheville on a seventy seven mile stretch of it.. All I can say is that you need to put that on your bucket list.. It is beyond description.. Every turn is a photo op, one better than the last.. Incredible..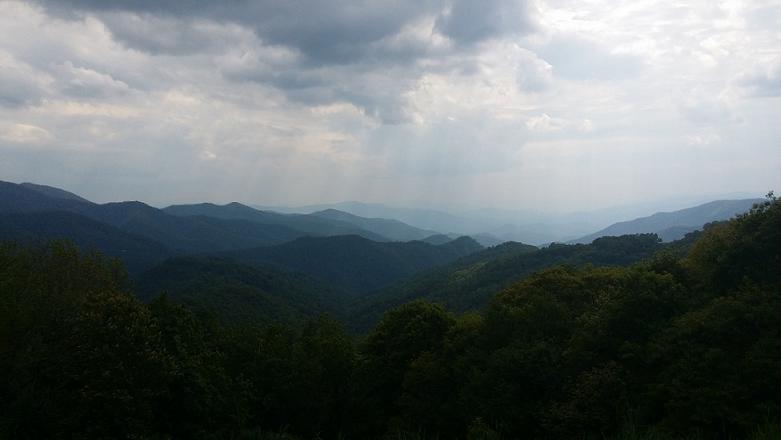 We ran into only friendly and helpful people everywhere we went.. I will have to say that downtown Atlanta is full of.. Well every kind of people you can imagine.. And some you can't.. My daughter would not let me take pictures of em.. Although I just wanted to submit them to Masters and Johnson..
We wadn't in Kansas anymore..
Here's a few snaps of mostly bullshit..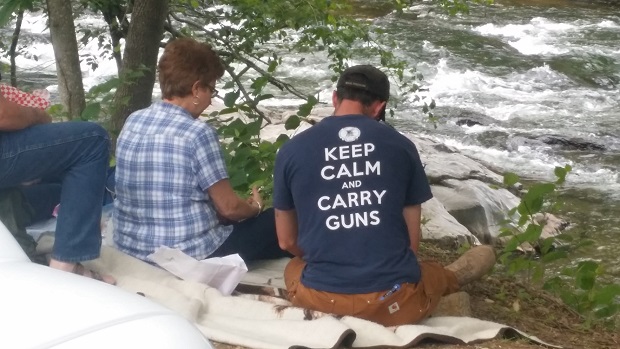 See.. It's not just me...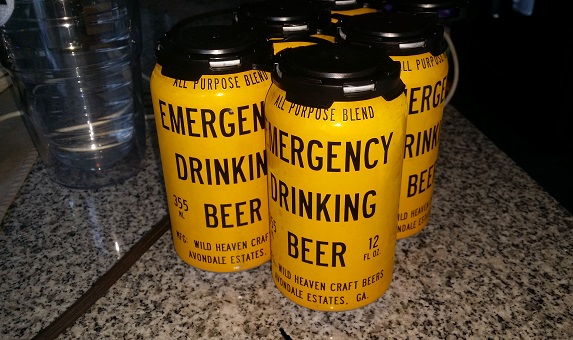 Is there any other kind of beer??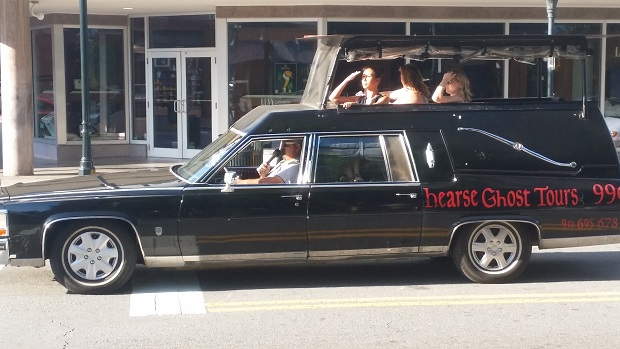 Death Takes A Holiday.. Literally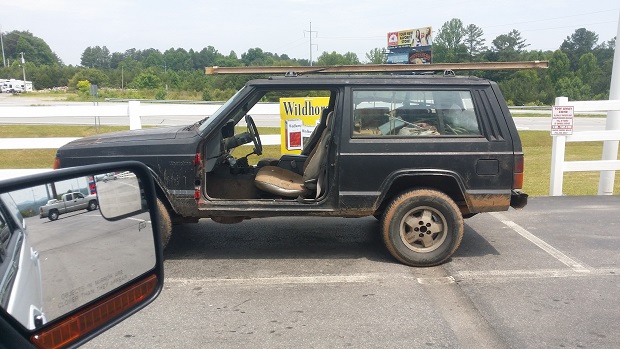 Suburban Assault Vehicle.. Notice shotgun in window..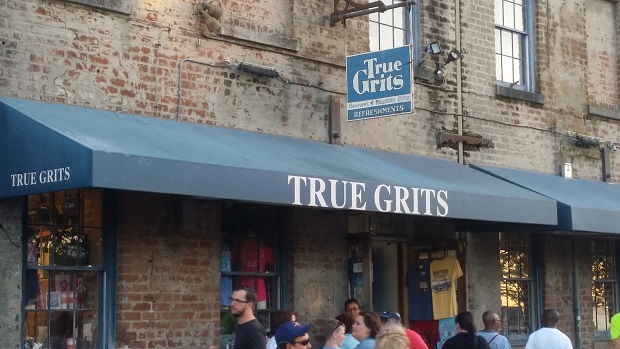 Did not see John Wayne..
It was a great trip.. But glad to be back in the land of Texas.. See you on the water!
May 21, 2016: It's Saturday and the fishermen around here have the day off.. And everyone of em that got a kitchen pass is out on the lake.. And they're whacking em'.. Big time..
OK.. Here it comes.. And it don't come too often..
Quit your job and get your ass down here.. If you're worth your salt, they'll hire you back when you get back home..
Or as Stephen Tyler and Aerosmith said.. "I got to take me on a Permanent Vacation!!"
The fishies ain't on vacation.. Them Sum Bitches is biting..
I talked to a bunch of fishermen this morning, and everyone I spoke with whacked the hell out of em yesterday..
What the hell am I doing in here.. Oh yeah.. I whacked the hell out of em yesterday too.. So I am trapped in here till tomorrow.. And then I am gone for a week.. Seems like the fish go crazy every time I am out of town..
I used a jig a lot yesterday.. But it don't really matter.. You might catch a few more big fish on the jig..
I got into a wolf pack of three to four pounders and my ribs are blue.. This shit is hard on an old man.. So I am telling you that if you can get down here, get here yesterday.. I'm never sure how long this stuff will last..
As far as location goes, I don't think one part of the lake is head and shoulders above any other. I am hearing of good fishing from top to bottom.. And everything in between.. Find you some rocky bottom with a depth change and and get ready..
Main lake river channel from Salado to Coyotes is producing fish. So fish those hardwoods on the channel edge.. Rocky drops in the Salado and the Salanaias are cranking out the fish.. Tigers area is also good..
If you get out there and do some poking around, you are gonna catch a bunch of fish..
TPWD is going to be stocking about 200,000 FLMB bass next week, and I wish we had more heavy cover to stock them in. We still have some woody areas, but nothing like we had a couple of months ago.. Survival will be so-so I am sure, and even on good years, it is doubtful that 5% will make it to sexual maturity.. It is a numbers game for sure..
Keep in mind, we do not stock to try and increase numbers of fish. We stock to influence the genetics of the pond.. And every little bit helps as we try to increase the influence of Florida genes.. And we all know that putting in 400,000 or 500,000 Pure Florida's is a miniscule number when compared to the natural spawn.
Instead of trying to stock Sharelunker fry, and scatter them around in extremely insignificant numbers, maybe it would be better for the program to try and grow them up to three pounds, and put a tag on them, identifying them as as a Sharelunker fish.
Because we all know that the odds of them making it in the wild as a fingerling are extremely low..
I am not talking about thousands of these fish.. Maybe a few hundred.. And scatter them across the lakes that have good conditions at the time.
Then they could offer a reward/prize to those that catch and release the fish on its way to giantness.. A date stamped pic of the fish being caught and released should suffice.. But I guess you could still take it to an official weigh station to document its length, girth, and weight..
The Sharelunker program could still have its promotional impact, and a whole lot of people would be catching Sharelunker fish.. Just at a different point in their life..
And you could make a special prize for every fifth fish or so..
You could still keep a program for the thirteens.. And maybe tweak it a little bit.. Or a lot..
You could have a contest for anglers that already turned in a thirteen pound SL.. And the first one to catch a tagged one would win a golf course or something.. There's all kinds of possibilities..
Then the fish would have a great chance at survival, and a great chance of being released, when and if she gets caught. And we could see and track these fish to see if they really are growing faster than Florida bass living in the same waters..
There's a real science project..
This is probably my last report till after Memorial day.. I'm going to take a week off and run thru the south a little bit and go visit some southern friends.. Some that I know.. And some that I don't..
I'm sure I will run into a few good rednecks on the way.. I'll tell em you said hello!
May 19, 2016: Guess what.. They finally put a plug in the dam.. At least for a little while..
I am not sure it would have happened if the valley hadn't got inundated with rain this week.. Still took em two days to shut it down..
In any case the lake has stabilized the last twenty four hours, and I was hoping to see a bit of water in the river.. But there ain't much there.. I'll try to stay optimistic..
The fish have gone stark raving mad, and everybody is catching them.. Well everybody that lives around here anyway.
We beat the crap out of em again yesterday, until the big black cloud swooped in from the northwest and ran us off the lake.. And we got off just in time.. It got wetter than a group of sorority girls at a Chippendales show..
Any craw imitator bait is catching the shit out of em, so pick your favorite and put it on your flippin stick and get after it.. I caught this one on a W/M Red jig yesterday..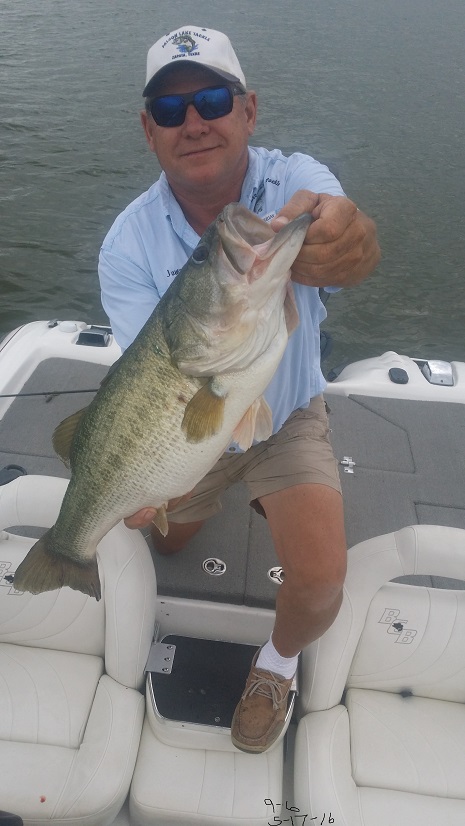 9-6
It's still all about rocks folks.. And I don't reckon it is going to change.. Whether you can see em or not, you need to be fishing em.
I have not personally been on the fish like this in a long while.. Now that I said that, I am sure I will loose my Mojo my next trip out..
Maybe not.. These bastards are biting..
We'll see if the water stabilizing affects the bite any, but I can't imagine that it will bother them too bad..
I forgot to tell you that I, and others, have been catching some fish on crankbaits as well.. I have been paralleling the the rocky banks and bouncing a DD-22 off the rocks.. I do not get bit quite as often, but I have caught some nice fish in the three and four pound class on the crankbait. And a lot of little ones as well..
Well we finished up the transgender bathroom down at the county park.. And we have a bathroom monitor there to keep everybody straight.. Well I guess straight ain't a good word to describe the situation..
Anyway he/she/it is hanging around there to help anyone that might be confused.. Now that I think about it, I am not sure if he/she/it has it hanging or not..
In any case look for the guy/gal with one big tit that needs a shave.. You figure it out..
May 16, 2016: It was a crazy weekend around here, with thunderstorms scattered all around, and fish that are going bat-shit crazy..
I have not seen the fishing here on Falcon this good since early 2012.. This weekend was nuts..
There were several clubs in town, and I heard good things from all of them. On Saturday evening I heard great reports from the back of the Salanaias to the back of Salado. And everywhere in between.
Lots of good quality fish are being caught, with the sudden appearance of a whole lot of four to seven pound fish. I don't know where they have been hiding.. Yeah.. I do..
They have been in the backs of these thickets, which are now bank decorations. As the lake continues to drop, despite of the ten foot drop we have already experienced.. And rains that have covered the valley on several occasions.. Including last night..
We got about .6 in the gage in the last twenty four, nothing like the rain in some places nearby.. I find myself praying for a flood. Hopefully above us..
I had some buddies from the home country in town over the weekend, and they fished Saturday in the Salado in a few spots we recommended. And they caught them pretty good till the rain/lightning ran em off the lake in the early PM. They had twenty something fish with a 8.75 biggun..
When they went back out in the evening they had boat problems.. Which turned me into a guide for the last two days..
We fished yesterday from 9:30 till four, and I can't tell you how many fish we caught. I had a great day and caught a seven, a six, and a few fives. Not to say that my buddies did not catch a bunch of nice fish. They caught a couple of sixes, and a plethora of fish from one half to five pounds.. It was awesome.. We found them stacked up on a couple of places and we hammered em..
And if yesterday was good, today was great.. We fished from eight thirty till noon, and we caught more fish than we did yesterday, to include a 7-12, a six-four, a six-two, and so many three to four pound fish that it was retarded..
And if we did not catch seventy fish this morning we did not catch a one.. We found a couple of hammer holes and just flat out kicked their ass.. It was the best day I have had on Falcon in three years.. No bullshit..
I caught a couple on a DD-22 and all the rest were caught on craw imitating baits, like the Rage Craw or similar.
Last weekend Jarrett Robinson caught this whopper on a topwater frog in the Tigers.. This one went 10-10.. He said he also caught several others on the frog..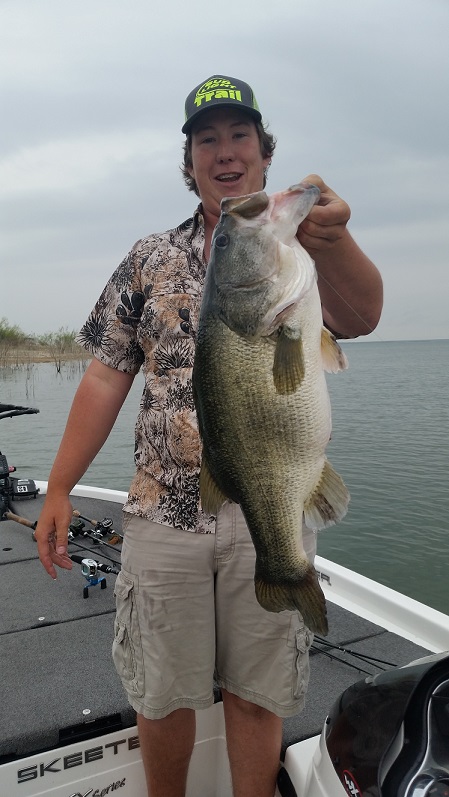 I do not know how long this shit is going to last.. If you have some time off and your itching to catch some fish, you might consider getting your ass down here..
I rarely say to quit your job and pack your shit, but if it stays like this, I just might. I will try em again on Wednesday morning if the weather permits. My last three or four trips have been awesome..
I'll let you know what happens!
May 13, 2016: Well some of you may be reading this today, if your triskaidekaphobia is not acting up..
I just wanted to pass along a piece of advice that may keep your Friday, and days to follow safe from hazard and what some might consider bad luck.. Good information triumphs over bad luck every time..
The lake has dropped to 274.54, and there is no end in sight.. I am beyond my ability to decipher what they are doing with all this water.. Maybe the chemtrails are finally getting to them..
In any case I want to tell you that the markers on the old bridge in the Veleno are starting to come out of the water.. The one on the eastern side is already out by a foot.. And I am not sure how many there are left on the bridge. There should be some more on the west end, but they have not surfaced just yet. These markers are attached to the old bridge with cables, and the markers themselves are wrapped by a cable.. So they are not something that you want to hit..
So what I am telling you is this.. Skirt the brush on the west side of the creek going out of the Veleno, and you will not have a problem.. If you do not know where the bridge is, ask..
Before too long we may be seeing it..
While I am writing, I'll tell you that the fish are biting like crazy. It ain't all bigguns.. But it is fun.. But some quality fish are being caught on deep crankbaits and jigs primarily.. Of course any given cast..
Think gravel and rocks..
I was out yesterday and saw two phenomena that were note worthy.. The lake is dropping and I saw an old bass bed that was out of the water..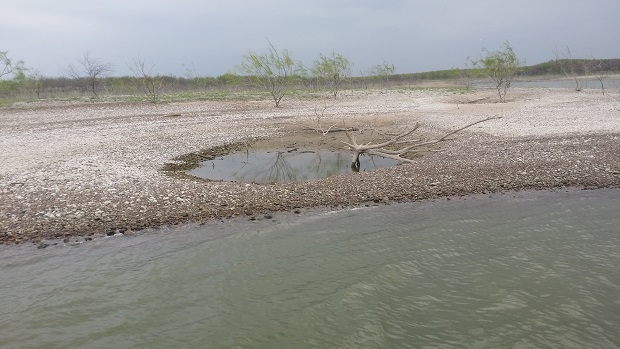 I also saw a sight that would almost bring a tear to your eye..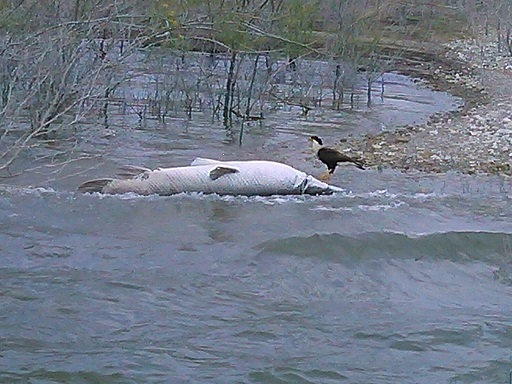 Well.. Maybe not...
There have been several gar hit as of late by boats on plane.. Not sure what caused this bastards demise but it did have a gash towards its tail..
Speaking of gar, if you are hunting them it appears that the better hunting is south of the Veleno.. Dropping water in the creeks up the river has them pulled out.. To where I do not know.. A few weeks ago you could walk on them up there..
Yesterday I whacked the holy crap out of the bass in the Salado.. I found a couple of schools of fish on rocky points.. All fish were on the windy sides.. Go figure.. I did not catch a bunch of giants.. Some other people tell me they are.. But I am a small fish expert..
I was throwing plastics.. I still hear the big fish are coming on jigs.. Shallow..
I'll be trapped in here all weekend.. Tommy has a grandbaby birthday party to go to..
Bring me some Miller Lite...
May 11, 2016: Summer is setting in around here it appears, with hot temps and some windy conditions the last few days. But I reckon that ain't nothing unusual.. This crap happens every year.
What is unusual, especially as of late, is the drastic water drawdown that has been going on since late February. I have seen them take water before, but never like this..
There is no way that they can use this much water.. And we're not even talking about what they have taken out of Sugar.. Which was at 95% in January, and is now at 64%.
We are 9.44 feet lower than we were less than two months ago.. Are you shitting me?
This is bullshit. And yes Mexico has taken the vast majority of water from Falcon.. With no replacement of water from Amistad or Don Martin..
I have absolutely no understanding of how this water "Partnership" works..
I can't even fathom how much water they have taken.. The human mind cannot even conceive that much water..
I am out of adjectives to describe my shock, amazement, bewilderment, helplessness, anger, disbelief, and utter exasperation with the situation..
But of all the words I can think of, bullshit is probably the best.
Because that is what this is..
Now with all this bitchin, I realize the fact that the lake was not put here with fishing in mind. But in today's world, the fishing on Falcon is all that is holding Zapata's economic nose above water, if you'll pardon the pun..
Quite frankly the best way to describe Zapata's economy is to say that it is a small group of folks passing a few dollars back and forth.. With an occasional influx of new money from fishermen who come to town for tournaments.
And of course the monthly influx of government dollars that appear in the form of Lone Star and EBT cards..
You get the picture..
For years the oil and gas industry was a mainstay for Zapata county. And it may be again.. But certainly not under the current administration..
So in the mean time, all we have is the lake.. Which is disappearing fast..
Well now that I have got that off my chest temporarily, let me tell you about the fish and the fishing.
The fish that were happily living in the jungle that covered the shores of Falcon, have been drawn out of the bushes, and are being fairly easily accessed by all..
That "all", includes fishermen, gar, and cormorants.
And while the beasts of nature do it in a natural way, fishermen are catching fish with every means known to man.
I am not sure there are any baits that stand out head and shoulders above the rest.
Simply put, you can catch fish on any bait we have in the store. If you are fishing in the right spot.
If there has been any big change lately it is that a jig is catching some larger fish.. And some days a bunch of larger fish. I have heard of some really big strings lately that have all come on a jig.
This is bad news for me.. Cause I hate fishing one.. But I am gonna throw one tomorrow..
And like I have said for the last century, fish are holding on or near rocks. Rocks that are near dropoffs, or ends of points and near decent depth changes. It is not rocket science..
As a matter of fact the fishing here is about as good as it has been in years. And yes a lot of it has to do with dropping and moving water.. And if you can stand a little heat, you should get down here and get you some..
Last weekend there was a little tourney in town, that comes to Falcon every other year or so.. And them boys caught em pretty good. As a matter of fact, there were a few really impressive stringers. They call it the Poor Boys tourney and they know how to have fun, and cook.. And catch fish.. This was the thirty eighth year they held this little Soiree
The big fish of the tourney was caught by Mike Flores, and it weighed 10.71 pounds.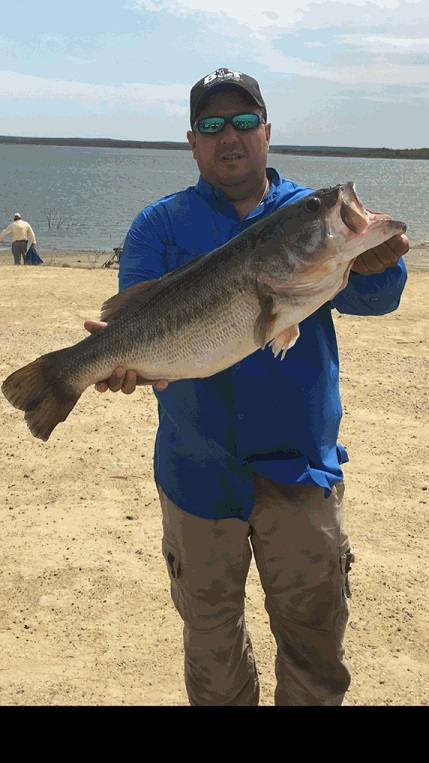 A bunch of other good quality fish were caught as well. Thanks for the inviting me to dinner boys..
The next tournament on Falcon that will be an open, will be on June 10th and 11th. Of course that is the annual API tourney. It used to be that only oilfield folks could fish the tourney, but in the last few years it has been opened to all who want to compete.. It is a fundraiser after all..
It will be hosted at Beacon Lodge, with registration and Calcutta to be held on the evening of the ninth..
You can call Christine at 918-392-9237 for more details.. It is always a good time.. A BBQ cookoff will be happening as well so there will be some good eats around as to boot..
I might have left you hanging on last weeks little cormorant excursion since I haven't written in a while. Had to do some work at the farm and it was Mothers day after all..
Me and three biologists from TPWD took a trip out on the lake to observe a flock of birds, and try to figure out what kind of birds they were. And while we watched a flock of several thousand roosting in the trees up around White House creek, it became evident to us that they were NeoTropical cormorants, not double crested.
Which don't really make a shit to me, because they are all big time fish eaters.. And I am not sure if all the birds on the lake are NeoTropicals, but I feel certain that these were..
In any case, to date, the feds have not allowed depredation permits on these birds.. Time to make some changes.. Hardest part will probably be getting PAW to take on the job.. We'll see..
I am going to South Carolina at the end of the month, and will talk to some of their DNR staff about the issues they had/have with the birds, and their groundbreaking bird reduction program.. I believe we can easily model one off of their plan..
We just need some folks with some chutzpah to take care of this Texas problem, here in Texas. And that job starts with TPWD getting the ball rolling.
It's your job to protect the fishing here in Texas.. Somebody's gotta do it and it is your turn to step up to the plate..
The folks at PAW know what damage these birds are doing to our fisheries, to our stocking programs, to the habitat, and to our water supplies..
It is time.. I am a patient man, and I have been waiting for years without a single sign from anyone in government making a move to control these birds.
We are already being held hostage by an antiquated water treaty. And it looks more and more like we are being held hostage by another outdated treaty that has long outlived it purpose.
I don't mean to exterminate the species, but how many do we really need to say that the population is healthy. Or is this treaty still in effect just to placate a few bird lovers.. That never come down here to watch birds anyway..
We ain't talking about the passenger pigeon here.. We're talking about a nasty predator, that has no predators.. That shits on everything in site, decimates our fisheries, and destroys the habitat that other species use.
It's time..
Well I got a lot of things going on.. Not the least of which is getting out there to whack some fish.
And I am volunteering to help build the transgender bathroom here at the county ramp..
That'll bring a whole new meaning to; "What's behind door number three??"
May 2, 2016: It's a windy sum bitch this morning as another cool front has made its way all the way to Zapata.. Not that it is too cool.. But it is cooler than it was yesterday. Given the two, yesterday was a much better day to fish..
I was on the water yesterday for a few hours with a buddy I rescued from yard work.. And we caught a good number of fish.. But not a lot of bigguns.. Our best fish was probably a three pounder.
The last stop we made was on a rocky point near deep water, and it was loaded with sub-keeper sized fish and a good number of fourteen to sixteen inchers.. And we could have stayed and caught all we wanted..
I guess we did.. They were still biting when we left..
Good numbers of fish have been reported by a good number of fishermen. And just like we did yesterday, you can land on a couple of rocky spots and really bump your numbers up..
These fish are not on every rocky bank, but they are on a lot of em..
But even if you are not fishing near the shore, you need to put some gravel in your travel.. Gravely humps and slopes with brush on or near em are holding a lot of fish. The Salado is full of them as are a lot of creeks like Tigers and Pierces..
You can catch em your way..
Crankbaits, worms, senkos, lizards, chatterbait's.. Whatever.. A Carolina rig is whacking them as well.. But I personally just hate throwing that contraption..
I am not hearing of any monster fish being caught, but I do hear about a bunch of six to eight pound fish.. The fact is that there just aren't that many ten pounders in the lake right now..
Some folks disagree with me.. But I think that if there were, we'd see a lot more of em.. It should be a short term problem, cause these fish are eating everything in sight.
The lake is still dropping, albeit not as bad as it was.. There is no way they could use all the water that was let out of our pond.. No freaking way.. We are sitting at 277.50 this morning, or 23.7 feet low. That is 7.8 feet lower than in February, a scant two and a half months ago..
In the short term, it has been good for the fishing.. We'll see about the long...
I have been talking with PAW about the cormorant situation down here the last couple of weeks. And I am not sure where it will lead, but I figure we have to start somewhere..
Three PAW biologists are supposed to be here tomorrow to take a look at the birds around here and determine their species.
I know they are a fish eating species..
I plan on showing them a few nesting colonies, as there are still a few babies in the nests. I know of three nesting colonies personally, and I have not even been looking for them. I am sure there are more.
Besides eating a shitload of fish, these birds also destroy a lot of the habitat that they hang out in, and pollute the water as well with their excrement.. And that same water is our drinking water around here.. I guess chlorine cures it all..
Man if I could convince the government that cormorants are causing global warming we could get this nipped in the bud real quick.
You know the problem is that the Feds have made these rules, and they are so scared of the environmentalists, that they are afraid to do what's right, and adjust the rules as needed to properly address the situation.
And the fact is that the feds have no fucking idea how many birds we have down here. Of course the US government is rarely proactive in taking care of problems.. And their reactive actions are rarely efficient, if even prudent..
Most of the time they miss the ball because they are trying to manage from thousands of miles away from the problem.. And they have no real idea of what is happening locally.. And when I say locally, I am talking about a lot more locations than just Zapata..
You would be hard pressed to find anyone in Washington that has ever heard of Zapata, much less know where it is..
"Isn't that a shoe store or something?"
In any case, we'll see what the future holds in store..
The Sharelunker season is over and I am sure the folks at Athens are resting up from.. Well nothing..
This is the second consecutive year when zero Sharelunker fry have been produced.
Only two thirteen's were tuned in this year. One was an Fx, and the other was caught in April. Even though it was a pure Florida, it was not put into the breeding program. Which is not unusual. The Sharelunker season was extended thru April a few years ago, if memory serves.
And I don't think they ever have tried to spawn a fish caught in month four.. It was always, and still is my belief that April was added just to get the numbers of fish that were turned in fluffed up..
And it worked this year as it helped the numbers by 100%..
I am not sure who could have ever expected the number of fish to be so low..
Oh shit, except for me.. Like I said, get ready for this to be the norm..
Oh I am sure we will see a slight increase here or there.. But it ain't gonna be much.. At least not for a while..
I have read on the internet that there were some fish caught that were not turned in.. I am sure there were a few, but I bet their numbers are down as well..
I do think that many folks perception of the Sharelunker program has evolved, as I, and a few, (but damn few) writers have encouraged some critical thinking on the part of fishermen when it comes to the SL program.
And I think that less folks are likely to turn in a big fish, given the history of the program today. Now that they have examined it..
In any case, no surprises.. Least not around here..
The catfish are going crazy around here as well, and we have seen some whoppers caught lately on jug and trot lines. Kevin Reissig caught this sixty two pound yellow about a week ago..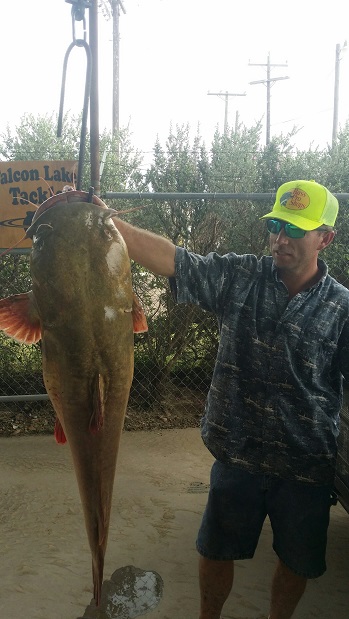 Where I come from the old Alsatians would say. "Look at the size of that big chubbelhead! That's about a big son of a bitch, yet.."
More big blues came on jugs this weekend as a group of our homeboys from LaCoste came down here and put the smackdown on em.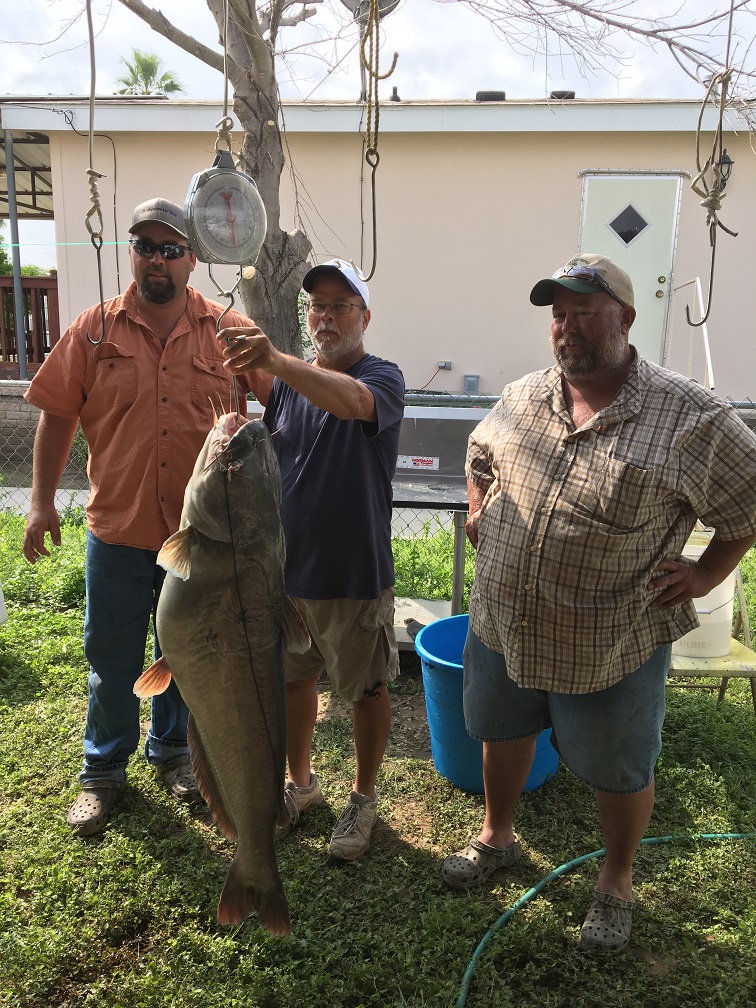 This one was a fifty three.. They also had a forty three, and twenty over twenty.. That's a lot of wiskerfish!
Well, I got plenty to keep me busy this week around here.. Being it is Cinco de Mayo on Thursday.. Hopefully UPS will show up with my case of Hornitos on time..
Ayyiiieee!!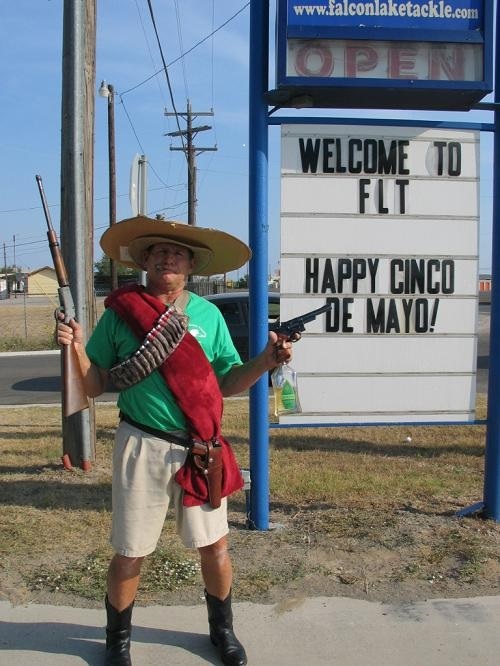 April 25, 2016: It would be a great day to be out on the lake.. But I chose to stay in and catch up on some stuff that needs doing. Which is questionable decision making at best.. Them fish are biting out there!
Mondays are always a work day around here, especially after we have a big tourney leave town. If I want stuff by next weekend I gotta get it coming my way today.
And I thank all of you who came in over the weekend and created all this work for me. We truly appreciate your business.. Thanks for coming down.
The Bass Champs tourney affirmed what I thought; that a lot of good stringers would be brought to the sales. And they were..
Thirty two stringers over twenty pounds were weighed in, and everybody that I talked to at weigh in said they caught a bunch of fish. Some folks told me that they caught fifty or sixty fish. Lots of little ones mixed in of course, but lots of fish nonetheless..
And it is hard to bitch with a mouthfull of food..
The weather turned out pretty good on Saturday, and no rain fell till Saturday night.. When we and a good portion of the valley get some nice rains.. Hopefully the valley's appetite for Falcon water has waned.. River levels below Falcon are falling, but I have not seen a current water report today to tell me what is happening for sure.. But it looks like they have slowed the releases considerably..
God I hope so..
If we can keep some water on this mess of fish we have in the lake right now, things are going to get interesting in a year or so. I am hoping we can get some water back in the next couple of months.. And Amistad is fuller than it should be.. They could share a couple of feet..
We have always taken the brunt of the irrigation cycle.. And so far nothing has changed..
Back to the fishing..
Most of the folks I talked to said they caught their fish in water less than ten feet deep during the tournament. A few caught some deeper fish off old house rock piles, and that has been going on for a good while.
But the common denominator for most was rocks..
Some fish were caught flipping hardwoods as well.. You can catch them doing most anything down here about now..
I will say that chatterbait's and spinnerbaits are catching a lot of fish. You also need a trap or Red Eye on the deck as well.. Be observant.. Lots of fish will tell you where they are right now..
And that is shallow fish of course..
I went out yesterday morning about ten, and I fished all the way till noon.. The wind started blowing and it actually rained on me. And Jimmy don't play that shit...
Of course bout the time I got the boat back home and covered up the sun came out.. I was tired anyway.. I caught a few fish with the biggest about a 3.5 on a Red Eye.. But it weren't nothing to write home about.. Tommy talked to several folks this morning that said they caught over sixty fish yesterday..
And I believe em..
The fishing here is good.. The catching is better.. The best it has been in three years..
Instead of just bitching, I have started a dialogue with the folks at TPWD, in regards to the cormorant population/problem we have down here in south Texas. If you have been around here much, you have had to noticed the ever burgeoning population of the birds. And it is a pretty much accepted fact that these birds eat fish.. A lot of fish..
Who knows for sure just how much.. At least around here.
It is a well known fact that south Texas is a bit of an outlier when it comes to norms of nature.. We have seven and eight foot rattlesnakes.. We have the fastest growing bass in the country.. We have the biggest and fastest growing Alligator Gar in the country.. And the biggest and baddest of most critters that are native to north America.
And it is the belief of many of us that the exploding population of cormorants is the biggest threat to our fisheries since the invention of the gill net..
I mean.. These birds eat fish.. And nothing else.. Ok.. Maybe a crawdad or two..
It seems that years back that these birds would migrate, and we would see some here during the winter and till the babies were old enough to fly.. But I guess they have decided that living in south Texas is easy, and they have adapted to the local environment.. Full time..
I have also been doing some research online.. And if it is on the internet, it has to be true..
The last study on the birds in Texas, at least that I can find out about, concluded in 1990.. And it was done by Texas A&M.. And that study did not include any research in any waters this far west.
That's 26 years ago.. And I do believe that populations could have grown and evolved since then..
Now before we go out and just kill several thousand of these birds, it would probably be a good idea to see what it is that they are eating. And I have requested that a study be commissioned to find out.. And in every other study, regardless of the date performed, it was found that cormorants will gladly eat what presents the easiest opportunity.
Just like an alligator gar..
And I do believe that a water body with a healthy and recovering small bass population could be adversely affected by a huge number of resident cormorants.
Even if the fish are eating primarily baitfish.. Making it harder for the bass to grow at a fast rate while competing for the food source..
We'll see what happens.. But biologists that I know will tell you that a group of ten cormorants can wipe out every trout that they stock in city ponds for their inner city fishing programs, in only a week or two..
What is happening on a lake that as several colonies of thousands? Think how good the fishing could be with a controlled population.
I think you get the picture..
I am sure there are a few folks that think that I am concerned only with Falcon Lake and Black Bass.. But it is not only Falcon that suffers at the beaks of this predator.. And here we go with that word again..
Predator..
Since the dawn of time, man has fought predators. Whether it a wolf, lion, coyote, bobcat, hyena, or alligator gar.. Or whatever..
And I am sure in some battles with nature, man had in mind to wipe out the species that was causing the problems. That is not the case here.. We are certainly a more progressive society.. With management in mind.. Not annihilation..
Just like with the gar..
A treaty was enacted in 1918 to protect the birds.. It served its purpose..
But like a lot of things it has become outdated.. And wouldn't an intelligent society modify things of it's own making to best suit it's evolving needs?
Just some food for thought.. We'll see what happens..
Well get your ass down here and beat on some fish. But treat em nice while you do..
However I cannot guarantee that they will do the same to you..
April 23, 2016: Bass Champs Report! Well the weighing is about done and from what I saw, I believe the winning weight is going to be 31 something.. And the big bass was a 10.7? something.. Tried t take a pic of their screen but it was too bright outside.. BC will have final, and official results posted in a little while I am sure..
But the big news is that there were a lot, a bunch, many, twenty something stringers weighed.. It is gonna be tight in the top twenty I believe..
One hundred forty six teams I heard.. Bout like a carbon copy of last year..
We'll discuss it next week.. But a shit ton of fish were caught.. Que te dije...
April 20, 2016: The story of the week is water.. Er... Fish.. Well one or the other.. Or both.. Hell I don't know which dominates the news cycle.. But both of them are being discussed by locals..
Dropping but stabilizing water levels.. And fish most everywhere..
Rains in the valley, in spots, and the fact that the ground down there can't possibly hold any more water after the way they have raped the water levels around here, have slowed the release rates a good bit..
And no one knows better than me that this lake was not built with the idea that fishing would be priority one.. Hell it is evident we are way down the list.. I get it.. But there has to be some sort of compromise..
We are 6.64 feet lower than we were two months ago.. Can someone please do the math for me and tell me what they can possibly do with all that water.. And this irrigation cycle started with a lake level that was better than we have seen in years.. Somewhere around sixteen feet low.. Now we are more than twenty two feet low..
If there is anything good about the receding water, it is temporary, I can assure you.. Right now we are enjoying fantastic fishing, also another cycle we have seen before..
What happens when you pull six feet of water off thousands of acres of brush filled water? After a couple of years of great recruitment of most all the game species?
I'll call it exposure..
The fish are exposed to predators.. The least of which is man.. At least down here..
Granted there is a ton of bait in the water.. And easy access to it by all forage species.. If you are a shad, and you live in Falcon lake, your ass is pretty low on the food chain..
But the the links in the chain get progressively bigger, and the hunter quickly becomes the hunted, as shad and baby bass are favorites of the thousands of cormorants that call Falcon home.. Of course when you get just a bit bigger, the alligator gar find your ass pretty tasty as well..
Speaking of Gar, there have been a good number of gar hunters on the water as of late.. And success rates have been pretty good.. The really big fish have been a bit elusive, but if you want to go out and whack some four footers, they are everywhere.. As the water warms, you will start to see big fish rolling all over the lake.. It's just a little early yet..
I fished yesterday morning for about four hours, and whacked the crap out of em. No giants in the mix, but I only caught four fish that were not legal.. That's out of thirty two fish, or maybe thirty four.. I will guess that I had about a twenty two pound stringer, with a few fat four pluses in the mix..
And news flash! These fish were caught shallow. I mean really shallow for the most part.. Oh, they were close to deep water.. Some of it must have been six feet feet deep just twenty yards away..
There was almost no wind yesterday morning, which does not help the pattern I was fishing. Or I think I would have caught fifty.. These fish have really been tuned in to shallow rocky, gravely banks.. It don't have to be a point.. But it sure as shit don' hurt if it is..
If there is no wind on these rocky areas, you can still bet that the fish are not far away.. Just back out a bit into the nearby trees and chunk a chatterbait or a crankbait you can get thru the trees.. Of course you can flip up a bunch of em if you want to as well..
I did not throw a soft bait yesterday.. But I talked to some folks that did.. And they caught fish on the same pattern that I did..
I meant to take a pic of the Red Eye shad I have been throwing for the last couple of weeks.. But I lost it yesterday.. It was down to about a half inch of chrome on both sides.. And then I lost another brand new one..
It's good to own a tackle store..
In any case, the fishing has been really good, if you like beating the banks.. The deep water fishermen are also doing pretty well, with some good sacks coming from isolated rock piles and points.. If you know where the good ones are..
Notice I keep talking about rocks..
Speaking of rocks, I have discovered a whole bunch of new rocky locations.. And they're all between the ears of Democrats.. Especially young ones.. Most of the old ones know better, but they are too embarrassed to admit that they are dumb asses and won't give up the party line for fear of being castigated by their own ilk..
I have never seen such a bunch of uneducated dumb ass kids in my life.. And I am talking about most big city kids in the age group from eighteen to twenty five.. How can they be this stupid.. What are we teaching them in High School.. Except acceptance.. Of anything..
If you take offense to this, then you must be one of them..
There are certainly exceptions to the rule. And we are lucky enough to meet a lot of them here in the store.. But we also meet a lot of lifetime government dependents here as well..
And neither side is hard to pick out..
The topic of Texas secession is back in the news, and I find it hard not to read about the subject when I see a headline about it.. But what is most interesting is reading the comments by readers when there is a comment section at the bottom of the page.
I am not sure what Texas has done to piss off so many people across the country.. Other than being freedom loving, tax paying Americans.
I think that freedom loving part really pisses a lot of them off.. That we have the belief that we have the right to make decisions for ourselves, and not have special interest groups and big government shove more and more rules, regulations, and taxes up our asses..
Most of these Assholes are just sore winners.. They have won on every front that liberalism represents, and still there is no appeasing them.. Yall can all kiss my ass..
Why do you give a shit about what we do and believe in Texas anyway.. Take your winnings and back away from the table.
Do you think that I give one damn about what you do in New York? Hell no..
But I have to put up with laws that are being decided for me by people in big population areas, that have no freaking idea what it means to live in country or rural areas..
Why in the hell are we putting up with this? Maybe succession is a good idea.. Texas is certainly bringing a lot more to the table than we are taking off of it..
If you are a liberal bastard then don't even think about moving to Texas.. There is nothing here you like..
So stay the fuck away..
I was reading on the TFF that fishing has been tough on Fork and a lot of north and east Texas lakes.. If you got time off and some gas money, get your ass over/down here.. I guarantee you can get your string pulled..
Bass Champs is three days away.. I think we're gonna see a lot of fish caught.. Hell I know we are.. We'll see how big.. In three days..
Come get you some..
And if you Yankees think yall can whip our asses.. You come get you some too..
April 15, 2016: Well the hot topic around here this week is water.. Disappearing water.. Lots of it.. The phone is busy with people calling, and people walking in and saying "WTF is going on with the lake level?"
In one word.. Irrigation..
Granted, wasteful irrigation..
If you take four feet off 60,000 acres of water, that's 24,000 acre feet of water..
They were even letting water out of the flood gates..
And that's not counting what they are taking out of Sugar lake.. Which is also crazy..
But we have seen this played out before.. I just hope it has an end in sight.. If there is any light at the end of the tunnel, the releases reduced about 10% yesterday.. Let's hope it becomes a trend..
There has been a lot of really good cover that has been taken out of the water.. There is still a lot of stemmy and woody cover in the water. But the really good thick stuff has been greatly reduced..
I am sure the cormorants are liking it..
On the brighter side, as far as fishing goes anyway, the fish are being pulled out of the cover, and a lot of the bait and the bass are way more accessible. And if you get on the right point or gravel bank, you can whack em..
You might have to wade through a load of little fish to get where you want to go..
There are also some reports of big sacks of fish being caught on occasion.. And some of the bigger fish are starting to show up in groups.. Not the one here, and one there, that we have been seeing for the last few months.
I fished the last two days and even I have noticed a few bigger fish in the batch.. No whoppers mind you, but solid chunky fish that pull like a mule..
Not a lot of info is being disseminated this week in advance of Bass Champs next week. But it sounds like a few folks are on some decent fish.. I still think we will see more twenty something sacks this go round than last time..
There were forty something rigs at the county ramp yesterday, which is double what we have been seeing the last two weeks.
On Wednesday I was headed to the west side of the bridge to check out the water flow thru the pipe from the back of the Veleno to the front, the pipe being under the road they built across the creek where they are building the new bridge..
On the way there I saw a gravel point on the north side of the creek with a bunch of egrets pickin shad.. So I stopped and whipped out my Red Eye shad in blue and chrome and I put the smackdown on em..
Only half of them were legal, but what they lacked in size they made up in fight.. But I am telling you that the gravel/birds/shad pattern is working on the entire lake.. You can throw most anything in there and get bit.. But a lipless or a square bill are best..
Anyway, when I got to the bridge, I was impressed with the amount of water coming thru the pipe.. And the amount of construction workers with fishing poles in their hands.. And the stringers of fish they pulled out of the water..
No wonder the bridge is taking so long..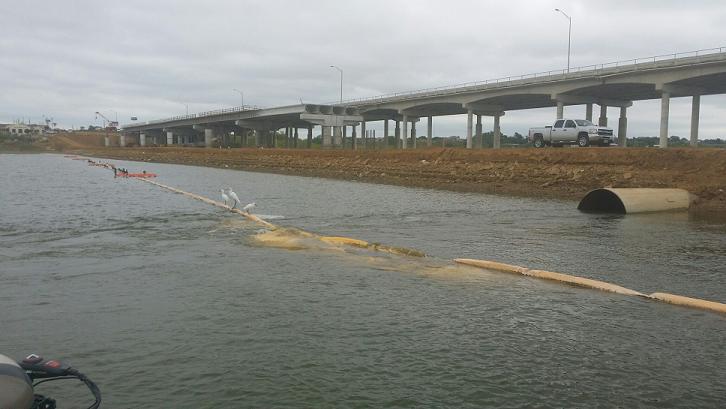 Every species is attracted to that current.. Bass, white bass, crappie, and drum, are all swimming around there in big numbers.. Put a shad on a gold hook and toss it in there.. Something is gonna happen.. I hear you can catch a limit of crappie in an hour.. The water there is teeming with bait.. Cain't see why they'd bite one with a hook in it..
But they do..
Lots of fish are showing up on outside edges.. That's kinda general, but I think you known what I mean.. Look for some brush lines with a break near them and flip the hell out of em..
Ol Monsters, lizards, and craws are working pretty well..
The falling water is bad for the lake in the long run, but it has been good for the fishing in the short term..
Pray for rain.. A lot of it..
I got a new computer a few months back and it came with Windows 8 on it.. Which I figured out after a bit, but I think it sucks compared to XP.. Or 3.1..
Well just about the time I got that shit figured out they forced me to "upgrade" to Windows 10.. They called it an upgrade.. I think the consumer should be allowed to decide whether it is an upgrade or not..
The only thing they upgraded was their ability to shove more commercials and ads up my ass.. It's like a daily digital colonoscopy..
I ought to be able to read an e-mail from my Mom without seeing ads for viagra and dress stores with clothes to fit giant women..
I mean really.. Is nothing sacred..
The other day I got an e-mail with some adult content in it.. By accident I am sure.. Everyone knows how pure and chaste I am..
Well I accidentally clicked on a hidden link and for the last week every time I open my browser, I get ads and popup's from some woman dressed in leather wanting to beat me with a cat-o-nine tails..
And another site that wants to sell me stretch mark cream..
There is only one part of my body where I have skin that stretches.. And it don't stretch like it used to..
This shit is ridiculous..
The next few days we have a slight chance of rain in the area, and maybe we will get lucky and get the ground wet..
And if we get really lucky, we can stop the bleeding going on around here..
April 9, 2016: Well the weekend is here and so is the wind.. And there ain't a lot we can do about it but bitch.. And a lot of folks were in the store doing just that this morning..
We had a line of showers go by this early AM but they managed to settle the dust only, here in Zapata.. Other areas to the east of us got a bit of rain.. But not in the valley.. Which is a damn good thing because they are already under water.. Water that came out of Falcon, of course..
They even have the flood gates open a bit.. Guess they can't get enough water through the generators.
The lake is dropping like there is a flood coming.. We are down to 281.93.. That's 19.27 feet low.. Down 3.71 feet since the middle of December! And dropping like a hookers knickers!!
I don't know when it will end but it is making me damn irritable.. Think I'll go kill some gar..
It certainly ain't the first time this has happened.. But I was hoping for better..
The fish are liking it though, as a lot of them are pulling out to brush lines close to creek edges or even the river channel. I also heard that some fish are piling up in front of the dam.. Probably swimming as hard as they can trying not to get sucked out of the lake..
Soft plastics are wreaking havoc on the fish.. Same old story on choices.. Your favorite will probably catch em.. Plum colors and Junebug are really coming on as well..
And here's a mathematical equation as constant as Pi..
Sunny day.. Low wind.. Hardwood with a big shadow.. Throw a Plum Ol MOnster.. It's the shiznit..
That ain't the only thing that'll get em.. But it is a good one..
People are always telling me, "Why you always talking about that freaking Plum Ol Monster?"
Cause that SOB catches fish.. When it quits.. I'll quit talkin' bout it..
The locals that are on the water a lot are really doing pretty darn good.. Some of them are smacking em.. If you'll follow the simple rules we spoke about above you can too..
There is no doubt that the falling water is moving the fish. Some don't have to move far.. Some have had to move a lot..
If you were a fish, and were comfortable living in six feet of water, where you gonna go if the water falls four feet? Within reason, to the nearest water that was similar to where you were living, long as there is a grocery store nearby.. That's my theory anyway..
There is no doubt that there are a lot of fish that have moved back offshore after the spawn wrapped up.. And we are hearing of more and more deep fish..
That should make Jay happy..
But a lot of these Falcon fish just do not live deep.. And I don't care how hot it gets.. They live in shallow water..
Last time I posted I made mention of the thought, that Bass Champs was coming later than usual.. And as some of you so astutely pointed out, it is not at all unusual for BC to come here this late in April..
I'd like to say, that I was trying to see if I could catch you believing that.. But not.. Guess old age is taking its toll on my memory.. And that ain't the only thing..
There is a story going around about two old men talking to each other.. One says to the other, "Would you rather have Parkinson's or Alzheimer's?"
The second man says, "Parkinson's of course.. Better to spill a little scotch than to forget where you put the bottle.."
I guess that make sense.. I'm not making fun of either disease.. But I love old folks with a sense of humor..
There are quite a few folks on the water today, as there are two clubs in town and the Olivares tournament that is being held down at the dam on the Mexican side of the lake.. I hear there are about fifty to sixty boats in that one.. We had a bunch of the Mexican Nationals in yesterday and they are a hoot.. And they love fishing..
I am sure the Salanaias is chock full of boats today.
There ain't a lot of stuff going on around here, other than some pretty good fishing.. We still ain't catching big numbers of giants, and don't let anybody tell you that we are.. There is always a chance to catch a whopper.. Any cast.. But it is not near as likely as it once was..
But it's coming..
But as far as catching fish, with some nice ones on occasion, I still think we are fishing as good as any lake in the state..
I don't know if we are going to see a bigger winning stringer at Bass Champs this go-round, but I think we will see more good stringers.. There should be a good many twenty something's weighed in.. Last time there were only five stringers over twenty pounds.. (I looked it up this time..)
The reason I believe that is because I am hearing about a lot of four and five pound fish being caught.. We'll see soon enough, I reckon..
I did not make it on the lake a single day this week.. But I plan on hitting it tomorrow.. Wind allowing.. It has been blowing every day this week, cept one, and I did not go out.. And yes, I do cherry pick the days I fish.. And getting worse all the time..
And with my recent proclivity for Gar killin', some of those sunny and still days tend to find me with a bow in my hands instead of a rod and reel.. I'm telling you that is some fun shit..
In any case, this place is a sportsman paradise right now.. Catchin it or killin it, it is hard to beat Zapata..
Yall come get ya some..
April 4, 2016: It is rare for a cool front to make it down here with any "uumphf" this time of year, but we had one do it last Friday. And we had cool temps and kinda big waves on Saturday, just enough to make you want a jacket in the early am.. Especially if you caught a little spray over the bow..
It did not get cold, but we had lows in the fifties even this morning.. I'm tired of wearing blue jeans..
The weather did not seem to bother the fish too much, as we have heard reports of big numbers of fish on most every day. Not everybody is catching scores of fish.. But some are..
Their secret is simple.. Find the right point or rockpile and stay there and hammer em..
It is all about rocks of course.. And when in the last year ain't it been?
You have heard me say a thousand times that you need to be around rocks.. Make that a thousand and one..
That being said, the old summer pattern of flipping fish off the bigger hardwoods is starting to kick in. There are usually a couple of things that need to be happening for that pattern to work well.. A light wind, and beat you down sunshine..
Falcon bass love shade, and they will cozy right up to trees that provide a bit of an ambush point. Much like Jack The Ripper.. They like to lurk in the shadows.. And then jump out and put a beat down on your ass..
If you are fishing sloping rocky banks or rockpiles, I recommend that you give a senko a try.. A five or six incher will get you bit.. A lot.. And dammit for the hundreth time put some chartreuse on the tip..
That ain't the only thing that will catch em.. Smaller plastics work better than big ones right now.. But it ain't rocket science..
You can also whack em on a lipless bait, in the right conditions..
There are also a lot of deeper fish to be caught on long points and and old foundations.. Or any deeper rocky structure.. Time to put that new side imaging to work.. That shit is money..
The lake is dropping at an alarming rate.. Something we have not seen in two years.. I was on the river below the dam yesterday and I can tell you that there is a ocean of water headed for the gulf.. You could surf in some rocky locations..
We fished the slack water below the floodgate floodway, that has been recently inundated by the big water releases.. It would remind one of fishing Okechobee.. Acres of flooded grass in four feet of water.. But the fish were not too tuned in to it just yet..
It's hard to get up to the dam from below.. Lots of rocks and rapids, but at this release rate, it can usually be done without adding any aluminum content to the water.. If you lost power in the middle of the river right now... Maybe we'd find you down about Harlingen..
We only hooked one good fish, between six and eight pounds, but it did not make it into the boat.. We caught a bunch of rats.. But it was fun to see a different part of the country..
The lake has dropped about a foot in the last week, and by the end of today, we will be eighteen feet low..
We still have a lot of cover in the water, and I hate to see it go..
Have you ever seen the film, "The Count of Monte Christo?" When Edmond Dantes gets his annual beating when he is in the Chateau D'if..
Well we're getting ours now...
The falling water has pulled some fish out the backs of the pockets, and like normal, it has moved them to some secondary points at creek mouths.. It don't hurt that a lot of shad are still up on the shallow points, finishing up their spawning..
This has been a great pattern as of late for numbers of fish.. The chrome or sexy shad colored shallow runners can kill them on certain days.. Give it a try..
In an unusually late appearance for Falcon, Bass Champs will be here later this month, on the 23rd. I don't recall a April tournament being that late around here.. Of course I can't remember much of anything these days..
But in any case, here we go with revisited redundancy..
Our water temps are above eighty degrees.. If you are going to be hauling a bunch of fish around please be prepared to deal with keeping them alive.. Keep that recirculator going and try to keep the water in your livewells cool..
Enough said..
The Alligator gar are everywhere right now.. I have never seen so many.. If you like whacking a bunch of these snaggletooth bastards then get down here.. We went out last Tuesday.. And saw fifty in the first hour..
I shit you not.. Then the trolling motor went south..
If you are here when the sun is shining and there's little wind.. It can be awesome..
Not a lot else going on around here. Just good fishing..
**The following editorial is intended for adult readers..
Are you keeping up with the shenanigans that are going on with the presidential primaries? I've never seen such a bunch of bullshit in my life.. And it's not just the candidates that are crazy.. The media and the party heads are crazy as well..
It would be funny if it wasn't so serious..
I know I am always amazed by the things that both sides have to say.. And there has been some real doosies out there this election cycle.. But more often than not, I am dismayed about what they don't say..
I think I am being disenfranchised..
The issue of abortion comes up in every election, whether for dog catcher or president. And of all the things I have heard said from either side, not once have I heard a candidate say, "When in the hell are you going to start taking personal responsibility for your actions and prevent yourself from getting pregnant in the first place?"
I understand that there are rare occurrences when someone gets pregnant when they don't want to and are doing everything they can to prevent it..
Short of abstinence..
And who really wants to have an abortion?
Do you think someone goes out and says, "I think I'm going to go have a bunch of unprotected sex so I can get pregnant so I can have an abortion.. I really love having an abortion performed on me.. It's awesome.."
I don't think so..
Ain't it easier to get on the pill, if you don't want to get pregnant.. Ain't it easier to slip on a freakin rubber than getting an abortion.. Ever heard of spermacides? Douches? Leaving that seed in places other than the Birth canal?
That still don't guarantee that the rabbit won't die..
And if you are a woman, being we are talking about "Women's Health", which has little to do with abortion, and you are sleeping around, don't you think it would be best to be on the pill?? And surely using a condom in today's world should be a prerequisite..
And you; young stud with the perpetual hardon.. They'll give you a rubber and a lollipop at the principals office..
Use It!
This is a societal problem, and unwanted pregnancy and the following abortions are just side effects of ignorance and people not giving a shit, for the most part.
Irresponsibility.. The plague that has taken over America..
I cain't help it.. I was drunk.. And horny..
I am not saying that abortion is not warranted in certain situations.. We all know what those are..
But the fight that this country is having is basically unnecessary.. If people had some sense of responsibility..
Do you think that there would be as many abortions performed if they were illegal? I can't answer that..
But it might give people pause before they had unprotected sex..
There are a lot of issues that are pressing on the minds of the American people right now. And overall abortion is probably a ways down the list.
But whether the issue is an unwanted pregnancy, or an angry neighbor because your dog always craps in his front yard, both problems can be prevented..
With a little personal responsibility..
Try some today.. It will change the world..
March 29, 2016: It's been a while since I sat in front of this computer.. But I still got plenty of exercise with my hands to keep my corporal tunnel working.. It sucks to get old..
But it might suck more not to..
Fishing here on Falcon continues to be pretty decent, with more and more offshore fish showing up.. At least that's what several folks who fished late last week said, that they caught a lot of fish on shallow rocky points, which has been going on for a couple of weeks, as there are a ton of shad up on the banks making more shad.. It is that time of year.
This lake is teeming with fish right now, and a lot of undersized fish are out there trying to eat a hole in the schools of shad.
TPWD was down here last week doing their spring shocking study, and from what I hear what they saw aligns with what we have been catching. Lots of juvenile fish, a decent number of keeper sized fish, and one between nine and ten pounds.. Overall numbers of fish are good, which we pretty much figured.
If we can keep them covered with water the future will bring some excellent fishing.
And speaking of water, which I talk about more than the fishing, they are sucking it out a lot faster than it is coming in. Something that hasn't happened in a couple of years. But it ain't like we ain't seen it before.
I was certainly hoping that the rains the last few weeks would have satisfied their appetite down south, but obviously they did not get all they wanted.. At least not everywhere..
But back to the fishing.. Lots of fish have been caught on the chrome and blue or chrome and black lipless crankbaits. The Red Eye shad is a good one and the Rattle Trap ain't bad either.. When you get around a mess of them little fish they are on a smash and grab run for the most part and sometimes you can catch a bunch of them quick.. Have your needle nose pliers handy..
Soft plastics always work around here, and again, small offerings are doing most of the catching.. If you have read this report more than once it might sound redundant but dammit if it works don't try and fix it. Lizards, senkos, baby brush hogs and super flukes are as good as it gets.. Not that there haven't been a lot of folks throwing the big brush hogs and flukes..
But more action on the small baits seems quite apparent.
Water temps are right around eighty, give or take depending on the last couple of days. The lake is dropping about an inch a day and this has also helped pull some fish out on the ends of some secondary points. It ain't rocket science.. But think rocks in whatever you do.. Like always..
I hope you had a great Easter, and got to spend some time with your family. It is the time of the year that I consider a period of rebirth.
I know many of you might be agnostic, or non practicing Christians, or might not even believe in God at all..
It's OK.. He still believes in you.. And he will be there for you when you change your mind.. Don't wait too long..
I got back Saturday evening from fishing four days down in Mexico at El Salto. And it was quite an experience. We stayed at Ron Speed Jr's camp there, and the accommodations and food were top notch.
And I didn't know it at the time, but the first day that I was there these little no see-um bugs thought I was top notch food as well.. After day one I learned to bathe in insect repellant, and the little bastards left me alone.
Let me say for the record that all bugs love me.. At least all blood sucking son of a bitches.. They did not seem to bother the other guys very much. But I have more bumps than an ear of corn..
A mosquito will fly across the county, and a flea will hop across the Rio Grande if they hear I am in town.. I must be one tasty white boy..
In any case, we caught the hell out of fish.. I did not catch a whopper, but other fellows in our five man camp did. But I guess what one might call a whopper another might just call a nice fish.. A six-twelve was my big fish, but I caught a shitload of four to sixes, especially the last day.
There was a ten, three nines, several eights, and a plethora of other nice fish caught. Most of the bigger fish came on small swimbait's like a skinny dipper on points and secondary points.
I caught the shit out of fish on the Plum Ol Monster.. That's a no brainer..
The last afternoon we got on a school of fish that was.. Well it was the type of school of fish that makes Mexico lakes legendary.
I was in the boat with Dave Krantz, and if that names sounds familiar it should. He is my Argentina dove hunting buddy from Georgia. And like usual, when we get together, something gets killed.. Or caught..
It was a windy afternoon and we headed up the river to get behind something. And there is plenty of something on Salto. Huge rock faces line the lake and you can be in fifty feet of water five feet from the rock face.. And you can fish in the shade pretty much all day if you want to..
Anyway we were in the river fishing a kinda dirt bank lined with big woods with the wind blowing on it, and the water was kinda dirty compared to the main lake, where visibility was nice, about three feet. Kinda Falcon colored water.
But up here in the river it was maybe one foot. It looked like perfect spinnerbait water to me and I tied on a big 3/4 oz chartreuse and white bait with a chartreuse trailer.. And a big trailer hook.. And I started whacking em..Dave was throwing a square bill and having similar success. I had about a six pounder jump off, but most of the fish we were catching were three to four pounds. Bad ass fish with a Mexico attitude..
We fished about two hundred yards of similar water, past a little creek, and down another row of hardwoods. And we continued to whack em every third cast or so.. I knew there were a lot of fish we did not catch, so when we got to the end of the stretch of hardwoods, I told the guide to turn the boat around and we'd fish them again.
After we went in the opposite direction, still catching fish, another boat came out of the creek we fished past, and was fishing towards us. The guide was thinking of pulling up stakes, but the other boat did before us.. And that turned out to be the best thing that happened of the whole trip.. For me anyway..
We fished back up towards the creek, and Dave had taken to throwing a deep diver in the trees, bouncing it off the woods. And he was catching a few and ended up hitting a tree and getting a little professional overrun.. Of course when you are down in Mexico you just don't pick out your own backlashes.
So our guide cleaned up the mess and chunked the bait out into the middle of the river for a cleansing cast. And damn if he didn't catch a twelve inch fish on the way back. And about the time he was going to pull the fish out of the water this giant mouth appeared and tried to eat the bass on his bait.
Well of course the big fish missed but I threw my spinnerbait right on top of her head.. And caught another fish about a foot long.. And Dave chunked his squarebill in there and caught another fish about three pounds..
And all of a sudden the river came alive with fish busting tilapia all over the place.. And it was on!!
We followed this school of fish up to the creek channel corner, and this wolf pack of fish had this giant school of three inch tilapia pinned to the bank..
And we commenced to kick their ass.. For an hour and a half..
The smallest fish in the school was about three pounds, the biggest about six.. But a shit load of fours and fives..
Every cast.. I put on a 8.0 square bill in Sexy Shad and they were murdering it.. I caught two doubles in ten minutes.. They were swarming..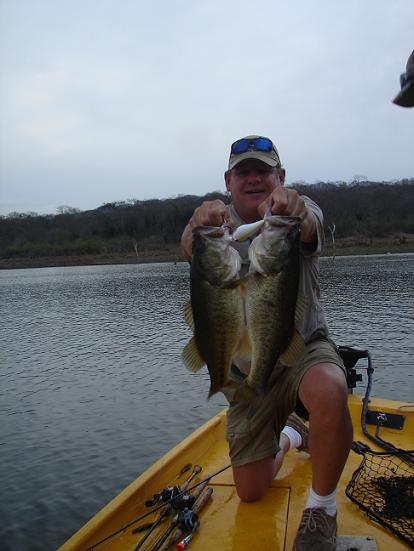 One of the best hours of fishin in my career.. If I have a career.. It was awesome..
They were still biting ten minutes after we should have left and reluctantly we headed for the camp.. With a big shit eatin' grin on our faces.. We had to hold up our cell phones for running lights..
I have no real idea how many fish we caught.. But it was a lot..
It was our last outing, and of course I wish we'd have found this area earlier in the trip.. But it was what it was..
Kind of like that last kiss of the night from that new girlfriend... Left a good taste in your mouth... And the longing to get back..
What I would describe as infatuation.. Not only big in relationships, but fishing as well..
And let me say that we flew American Airlines and everything went as scheduled.. Could have knocked me over with a Bloody Mary.. And they did.. Even got my bags on both ends.. There is hope for them yet..
Anyway, if you have any questions about El Salto, or Pichachos, give me a holler.. Our buddies that fished Pichachos also hit it out of the park.. I can get you hooked up with the right folks and you'll have a good time.. And catch a lot of fish..
I'm gonna hit Falcon as soon as the wind quits.. Whatever day that is..
I need to go Fishin!!
March 17, 2016: Spring break is in its death throws as the week winds down, but I hear that there are a few schools that still have it coming next week. But not many.. So we have seen a fair amount of kids thru the store, from ages one to eighty two..
Fishing this week has run the gamut from some folks struggling to catch fish and a whole lotta folks catching big numbers of fish. I did not say catching big numbers of big fish.. But there have been a few sixes and eights reported and my buddy sent me this pic of a DD from earlier this week..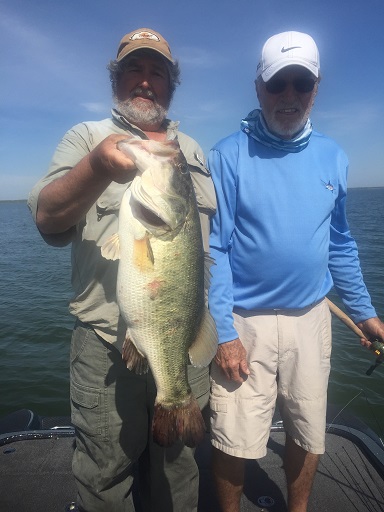 Jim Padgett.
And as you can see some of these fish are still full of eggs. But she does look a little like some rough foreplay is going on down there..
A lot of the rocky banks are littered with threadfin shad.. And everything that eats them is not far away. Including the bass.. And I will reiterate that if you see some white birds on the bank, namely egrets, they are there for a reason. The cormorants and bass are usually there as well.
There are not a lot of big fish in these groups, but on occasion you will you can catch a good one out of the pack.
I have heard from several groups this week that they have had hundred fish days. Most all of these fish are associated with rocks. Some deeper than others. Guide Jay Grieshaw told me this week that he was catching huge numbers off deep rocks.. Like thirty feet.. That's too deep for me.. But I know a lot of you like it..
We do have the numbers of fish in this lake where you can have hundred fish days.. If you find the right spot.. Lots of folks have told me that they have caught an easy fifty..
Bait selection is all over the board.. If you walk in the store, and I spin you in circles, and hand you a dart and let you throw it, you will hit a bait that someone told me they were catching a fish on..
Now don't get me wrong.. There are still areas that are not loaded with fish, big or small.. But if you come down here and put in a little time, you are gonna catch fish.. Or you need to take up golf..
Watermelon based baits are still best.. Some folks want W/M Pepper.. Some want Seed.. Red Magic and Candy are fine as well.. Put some chartreuse dip on the tail.. We have sold a train car load in the last months.. It works..
The water temps are right around eighty, and you know that Falcon fish like eighty like Charlie Sheen likes powder burns.. And they are pretty damn active.
We have rebounded a bit on water level and we are sitting at 284.6, which equals 16.6 feet low. Which is just about a foot lower than we were in January at this time. Releases from the dam are still below 500 CFS, and about 1200 CFS is coming down the river above us. The rise, if there is any, is hardly enough to chart, by the time Zapata and irrigators above the dam use water as needed..
In the last ten days I have bass fishing, catfishing, and bowfishing.. Hey.. Somebody has got to do it.. And I will have to say that I have had decent luck at all three.
David Benavides took me out bowfishing for gar on Monday afternoon, and I shot a personal best.. By a long shot..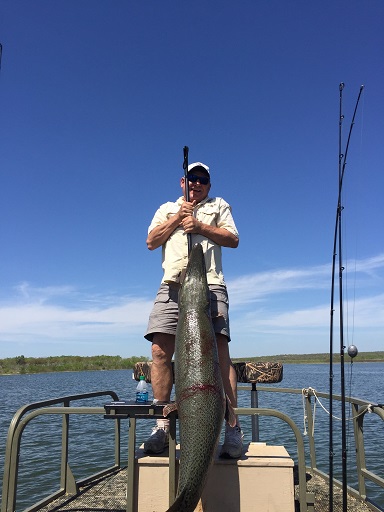 This one was six foot five inches long. We also got another that was six foot one, and seven others that were between three feet and four feet long.. And we could have loaded the boat with them.. It was a calm hot day and a lot of fish were sunning themselves in the bushes.. I am serious. We could have shot twenty easy..
I have never seen so many, and we were only out two and a half hours.. It was nuts..
I am a relatively newbie to bowfishing, but in the last two years I have really gotten to like it.. As I have said many times before, I am a natural born killer, and I like to shoot shit.. And I figure I am doing the lake and bass fishing a favor while I am having fun.. And that's a win-win..
If you'd like to give bowfishing a try, or already have the addiction, give David a call.. His info is on his website and you can find it under bowfishing guides on the link bar on my front page.
Next week I am making a pilgrimage back to the west coast of Mexico. I'm going fishing of course.. What else would I do on vacation..
I'll be spending four days on EL Salto, and I am kinda pumped up about going there as I have never fished the lake before. We were going to do a two days Pichachos and a two day Salto trip, but with the great reports from El Salto and a good number of big fish showing up we decided to put it all on red.. I am sure I will head back to Pichachos this fall..
Of course I am going with Ron Speed Jr's outfit so I already know the food and drink and service will be awesome.. And if I get to make love to Miss Piggie it will just be a bonus.. And trust me, I am going there loaded for bear..
If any of you have been there lately I am certainly not above taking some recommendations..
I'm taking so much tackle that the plane will probably be pulling a trailer..
You know better than that.. I just hope I can get there.. My luck with airplanes ain't that good.. Especially on American..
I will certainly post a story about the trip on my return..
It is quite possible that this will be my last post till I get back.. I got a lot of stuff to do and I have not touched a thing..
But I'm fixin to!
March 11, 2016: It has been a long dry spell around here.. Till the last couple of days. It had rained all around us and finally it rained on us last night. We have right at two inches in the gauge, and an inch and a half of it fell in the last twelve hours. And as I write the giant low that brought all this rain to Texas and Louisiana and beyond is centered in the heart of Texas. We'll see if we get any more when the low moves east, as it may swing one last giant rain band across us on the way out.
The best part of this rain event is that the valley has gotten hammered for the most part, and releases from Falcon dam are next to nothing as of yesterday morning. Release rates were starting to get serious early in the week before the rains started, with over 4000 CFS going out the chute.
And there is no doubt that these rains will save us at least a couple of feet of water. Thank you Lord!!
And what this rain means to the spawn is... Well it is spectacular..
We will be able to keep a lot of brush in the water and that my friends is what it is all about around here.. If we can keep these ten million cormorants off the baby fish for a while it will certainly give us a shot in the arm.
I am not sure how many cormorants we have down here.. Ten million might be a little strong.. But nobody else in the country has an idea of how many there are either.. So I reckon my guess is as good as theirs.. And their numbers are exploding.
And evidently nobody in position to do something gives a shit either.. The people who love the birds don't have an idea of what we have down here.. And they don't have any idea what damage they are doing to the fish populations.. And I guess they don't give a shit either..
But if you are a wildlife lover, as I am, you care about more than one species of animals. You care about all of them. And caring about them also means managing them.. For their good, and the good of their co-habitants.
God gave us dominion over the animals on the earth. And with that comes responsibility..
And some of you might think that I am a special interest party only caring about the Black Bass in the lake. That I hate alligator gar. That I hate anything that can have a negative impact on the bass..
It is true that I make a living selling fishing tackle, and eighty percent of it IS geared towards the pursuit of bass. But that is because eighty five percent of all money spent on freshwater fishing is by fishermen targeting largemouth bass.
It's a simple business equation. And Falcon is one of the best bass lakes in the country.. I'm just trying to help keep it that way. Yes because of self preservation, but a big hunk of it because I love Falcon Lake.
And I am telling you that the cormorants are out of control in south Texas and northern Mexico.. And that's first hand experience.. Not sitting behind a desk in Austin or Washington..
I see what's going on.. Too bad that nobody in power wants to..
Fishing has been a bit spotty the last few days.. High north winds, big waves, and cold rain have hampered most anglers efforts. And these fish just do not like a north wind..
So I believe that when the sun returns tomorrow things will quickly go back to last weeks results.. Good numbers of fish, with a few gooduns mixed in.
Uvalde bass club saw some sevens and eights caught last weekend. Some of the females were spawned out, some still carrying future wall hangers.. And we still have a good number of fish that have not spawned.
Running a business of any kind always involves getting requests for help, donations, sponsorships, and things of the sort, and we get asked for a lot of things around here. And we help out when we can.
Recently I was asked to help promote a cause that I have always had a weak spot for, and that is CAST. Which is an acronym for Catch A Special Thrill.
CAST is a 501 c3 non-profit charity that is celebrating its 25th anniversary this year. Their goal is to get disabled, special needs, and disadvantaged children some fishing and outdoor opportunities. Things that they could never experience in their normal existence. Some things that we all take for granted.
If you have been around Falcon much you probably met Jim Behnken, or at least heard of him. He was guiding here for several years but last year he became the western region director for CAST.
Anytime you are affiliated with these kinds of organizations you are always looking for funds. And here's a way you can have some fun and help out CAST for Kids. And go fishing of course.
Jim has put together an online auction of sorts and it is being held on the Texas Fishing Forum. And what you can bid on are some guided fishing trips, that have been generously donated by local guides on Falcon. All monies raised will go to the CAST organization to to help them continue to provide outdoor opportunities for the afore mentioned.
Guides participating in the auction are, in no particular order, are Jim Edwards on Falcon Lake, Carlos Olivares on Sugar Lake, Jay Grieshaw on Falcon Lake, Charles Whited on Central Texas Lakes.
And while I am not a practicing guide, I too am offering a trip on Falcon that I promise will be entertaining while we are reeling in fishes.. So if you have been looking for an opportunity to take me out and drown me, here it is..
You can make your bids on the TFF, and here is a link to the page which describes the the auction. You can also donate to CAST at any time by going to Castforkids.org. It'll make you feel good and in the big picture what's a few bucks to most of us.
I'm so happy it rained that I could just.... Well I don't know what but we are going to have good survival of the spawn again this year.. And that bodes well for the future.. Now if we can just gain some water.. The sky will be the limit..
Get down here if you ain't already, and get you some when you see some good weather coming. Next week looks great.. And hot! Should be awesome!
See you on the water!
March 7, 2016: It appears that spring has sprung around here.. And spring always includes some wind. And we are getting it.. A lot of it..More than we want of it.. I'm sick of it.. And we're getting more of it..
There is also some rain in our forecast, and it sounds like this time we may actually get some.. Well.. I can't believe I just typed that.. These guys don't know shit.. But a bunch of them are saying it.. We'll see..
But it couldn't come at a better time as we are dryer than a popcorn fart around here.. And so is the valley.. And they are sucking water out of us pretty hard at present.. I don't think that this possible rain event will run any water down the river to us.. But maybe they will get some rain in the valley and alleviate the need to take more water from us..
We have lost about fifteen or sixteen inches of water since the middle of January. And we have had no measurable rain since January first and second.
Meanwhile Amistad is holding steady as a rock.. Give me my water!!
There is nothing new in the way water is handled between the US and Mexico.. Mexico will still hold or pass water as they see fit. Maybe Trump will fix that too..
But right now it is not Mexico that is pulling water from Falcon; it is the US. Lots of irrigation going on in the valley..
The fishing was really good last week and into the first part of the weekend. Thursday and Friday we heard of a lot of fish and some nice fish as well. Six and seven pound fish were commonly reported on Friday, as there were a lot of folks in town and some of them know the lake well. Uvalde bass club was here and they slapped them around pretty good.
But yesterday the wind slapped them around pretty good I am sure.. It was blowing.. I don't have final results from them as of yet..
Soft plastics still dominated the the show, but a lot of folks have been catching them on crankbaits this last week. And down the lake a ways the egret pattern has kicked in.
If you see a bunch of white birds lined up on the bank, they are not there waiting in line to vote. Although the democrats are probably signing them up as we speak..
Yess sir the shad spawn has started and there are a lot of them on the bank in places and the egrets will tell you where they are stacked up. And where there is a lot of shad, there are a lot of bass.. Especially the schoolies that love to gangbang them in the shallows. And we are seeing more and more schooling fish as the water remains warm and the fish get more active.
I took a buddy out last week and we smacked em pretty good in creeks up the river. Some of the creeks are having themselves an algae bloom and the water is a green as the Emerald City. And we did not do as well in the green water. Maybe it was mental.. But I don't like it..
But we caught a lot of fish that we saw.. Not on beds.. But chasing bait.. Not any of these were in schools per se, but if you chunked something in their general direction odds were that you were going to catch em.
The square bill and the chatter bait were both catching fish last week. Shallow wind blown rocks is where these baits were working best, and should continue to do so. And you will have no problem finding wind blown rocks this week.. Take a koosie for your beer.. And one for your nuts..
There were several big fish caught last week, and here are a couple..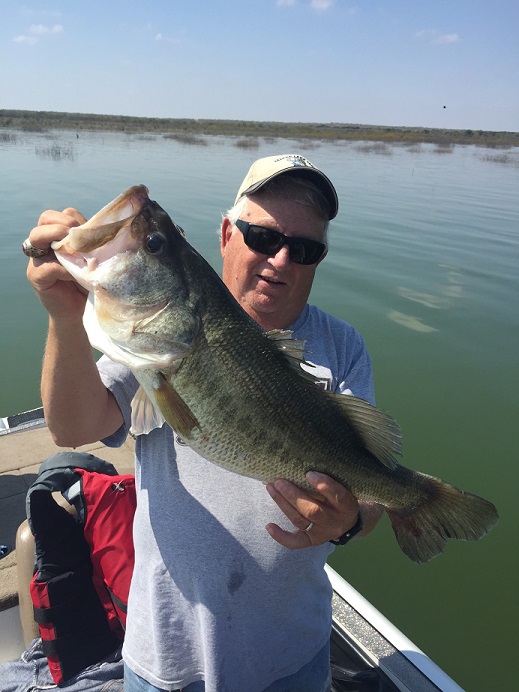 Jack Hollingsworth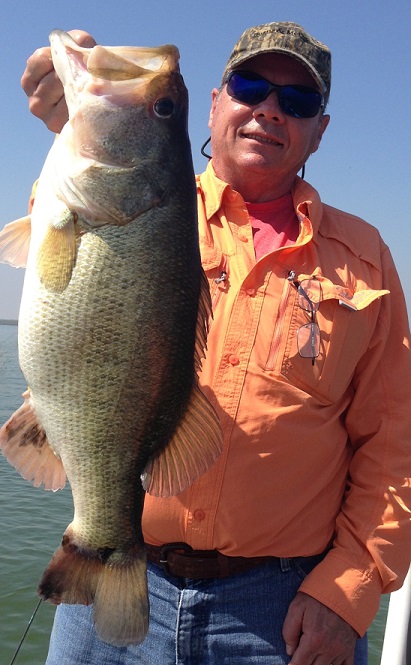 Steve Rowland
One spawned out.. The other not.. And that is what is going on around here.. A lot of it is done, but there is still some to come..
And although I ramble on about the hard baits and the moving baits, soft plastics are still the king of the hill. And chartreuse is still a trigger for more bites if you dip the tail, or in some cases the head of your bait.. When they will hit it but not eat it sometimes it makes a difference if you dip the top of the bait instead of the tail..
Probably just because they have the part of the bait in their mouth that has the hook in it.. That does help with the hookup ratio..
It cracks me up to see guys waiting to set the hook when they think they have a bite.. And sometimes it is a second or two before they pull the trigger.. I am not sure what they think is going on down there. Do they think the fish has it under his arm?
And if you are not on your toes around here right now, then you are going to miss a lot of fish. These fish are not eating it like a porn starlet, they're eating it more like a high school girl..
Damn, I shouldn't have written that...
In any case the fish are biting light and you may not receive a jarring blow when her lips bottom out on your worm.. So be ready and if you feel the slightest pressure on your line, set the hook.. Jerks are free..
Don't worry if you mess up a few baits on phantom bites.. We got plenty of em..
Our new gun/show room is about complete, and we are busy populating it with various adult toys and stuff you might find interesting. Of course guns are the main reason for this addition.. Well not really.. I have been wanting to build a T-shirt rack for years.. And I finally built one.. My brother said he could have got a T-shirt rack cheaper than 4K.. Oh well..
You will certainly notice a difference when you walk in the store.. If you have been here much before anyway..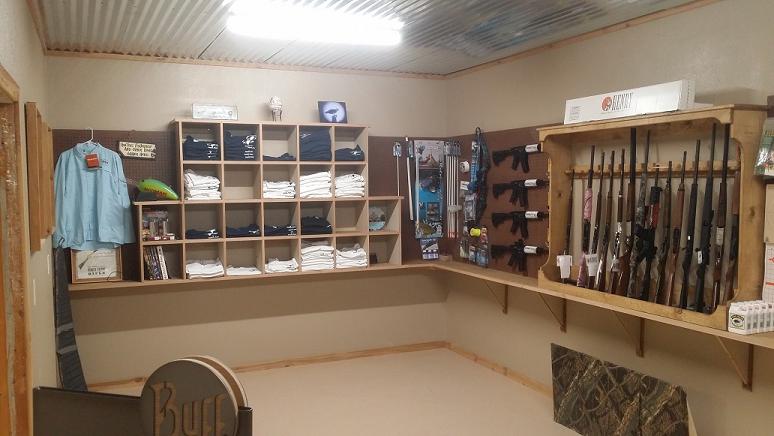 And don't worry.. Fishing tackle will always be the emphasis of our business.. And we now have more room for tackle than we ever had. And we are busy trying to fill up the newly reclaimed space..
Water temps are up in the low to mid seventies, and we are a few weeks ahead of schedule in that regard.. And so are the fish.. They are getting more active, which is the norm for these water temps. We are even seeing some offshore activity where fish are gathering on some deeper rocks. So we got a bit of everything going on..
Come see us if you get the chance.. And we'll see you on the water..
March 1, 2016: Two months of 2016 are already in the books, and I don't know about you but it seems that the year has cut an .01 light and is headed down the track at a record pace.. Even though we had to add a day in February to get the sun/earth/orbit thingy straightened out.. Happy Birthday Arnie..
Leap year only comes along about every four years, and when it does it always delays Texas Independence Day by twenty four hours.. Which will happen tomorrow if you are keeping up.. Or care..
I for one will be putting up New Texas flags in front of the store.. And probably raising a glass to the greatest state in the nation.. And don't try and argue that point with me cause I'll kick your ass just like we kicked the Mexicans..
Back in 1836.. But they sure seem to have the upper hand lately..
Texas independence only lasted about ten years, before we foolishly let ourselves get annexed by the United States.. I know at the time we thought it best because we were still fighting with Mexico to retain our independence and we were still arguing over the southern border of Texas. And we wanted the protection that the US could offer.. And the US wanted Texas and all the goodies that came with it..
Seemed like a good idea at the time..
Today Texas leads the nation in so many categories that I don't have the time to list em all.. And number one on that list is we have a lot of friendly.. So if you decide to visit Texas, or move here, leave anything that don't match that behind.
The divide in this country has never been bigger, and I know a lot of folks don't like anything about Texas or Southerners for that matter.. And I could really give a shit..
And to look at the polls and difference in opinion, and belief systems, it seems to me that it would only be natural that these two trains of thought need to be separated. If one belief is in power over the other, and it makes the subjugated party miserable, why on earth would you want to stay together.
No matter which party or belief is in charge at the time..
"When in the course of human events, it becomes necessary for one people to dissolve the political bands which have connected them with another..."
Sound familiar?
I know to a lot of people it don't.. A lot of em don't even know which planet we're on..
So in the interest of everyone in the country's happiness and well being, why don't we split the son of a bitch down the middle.. Hell I ain't particular on exactly where.. The Mason Dixon.. Route 66.. I-10.. Hell I reckon I-70 would be good.. Plenty of room on both sides..
And then all you pansy ass liberals can stay on your side of the line and we southerners will stay on ours.. And you can do whatever it is you like and we can do whatever it is we like and we will both be happy.. And neither side will need to try and control the other in the name of what's considered right..
If you believe that liberal values fit you then move north.. If you are a conservative then move south.. And by all means take your belief system with you when you go.. Whether you are headed north or south.
And we southerners will cede you all of California..
Of course both sides will have to pay for their own shit.. Which would present no problem for us down south..
Today is Super Tuesday.. Which is just some bullshit name somebody made up because a lot of states are holding their elections today.. Why in the hell don't we just hold em all at the same time.. This shit is ridiculous.. At least after today the political commercials in Texas will come to a stop.. For a while..
The political campaign season should a maximum of thirty days.. That will give em plenty of time to disseminate their bullshit and if you are a voter with any sense at all it should not take six months for you to decide who you are going to vote for.. If it takes that long then you are too stupid to vote..
Anyway, hopefully this crap will be over soon..
Fishing is doing pretty good, depending on who you ask.. Some deeper fish are starting to bite and I am not sure if they are going or coming.. Try some jigs on deeper rocks.. Or a fluke..
The Salanaias is still full of fish in the bushes.. Lots of small fish but fun fish.. I have seen a couple of tens that were caught this week.. But not a lot has changed..
Fishing has improved the last two days as we get away from the cold front that came thru last week. Water temps are back up to about 70 in the afternoons, and the fish are getting more active..
The crappie and catfish are in the shallows spawning, so if you can't find em, go shallower..
My construction project is nearly completed here at the shop, and it is down to restocking the rearranged front and moving some fixtures and building some displays and hanging up a bunch of stuff and decorating the new walls and holy shit I still have a lot of stuff to do.. But it is looking good and I have very little stuff to do that requires a ladder and a hammer..
I'm too old for this shit..
Get down here and get you some before it is illegal..
"That fish has rights too you know!"
February 26, 2016: The last week on Falcon featured a lot of folks on the water, a full moon, warm and cool temperatures, and a mixed bag of fishing, at least when it comes to really big fish.
It also featured the first real group of post spawn fish that we have seen, with eye witness reports and pics of big bass with big flabby bellies. Kinda like going to the Jenny Craig nude beach..
Spotty reports of fry in the water have been coming in as well, and these reports have come from both ends of the lake.
I have no doubt that a lot of this activity is going on back in the bush so deep that even John Holmes couldn't get there..
But that doesn't mean that people aren't trying..
Falcon is currently a lake that can make you look good.. Or leave you with a bad taste in your mouth.. At least if you only fish for a short time. Those that have fished a few days usually find a couple of spots that are loaded with fish.. And some of those fish are gooduns..
I was talking to a couple of fellows this morning that came here from Arkansas yesterday, that also have a place at Toledo. And at 1:30 yesterday afternoon they were ready to pull the boat out and head east.. And then they made one last stop and the magic happened. They caught three fish over seven pounds and a couple of fives in thirty minutes..
They decided it wasn't as bad as they thought.. This scenario has been played out over and over again the last few weeks. You can go from zero to hero in a short amount of time.. Of course it can work the other way as well..
Speaking of hero, or hero-ess, Victoria here caught this 9.88 pound fish last week.. It is my belief that this fish is probably an old one, and on her way down.. (That's what a lot of people say about me..)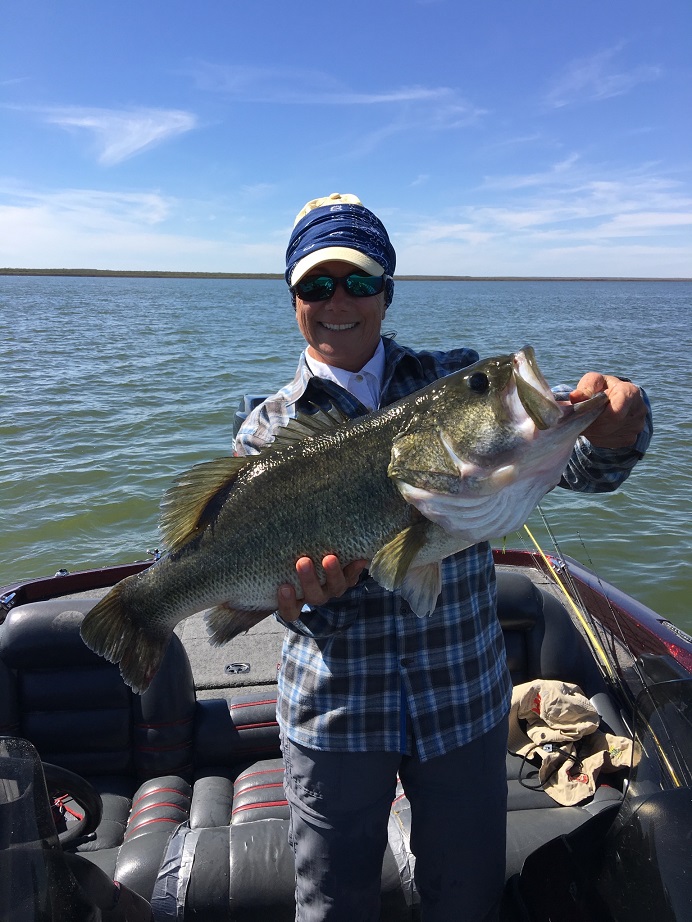 She said when that head came out of the water she used some words that are not normally in her repitwae.. That is a fourteen pound head if I ever saw one..
I do believe that there are still a few giants swimming around in Falcon, but I do not believe there are a lot of them. If there were, we'd have seen more of them in recent months. There have been a lot of hooks in the water..
A bunch of the eights and nines we are seeing are from the 2010 and 2011 spring spawns. And while there are not a lot of them that survived the low water conditions of two and a half years ago, there are a few.. Some of these over achievers may make us a few thirteens in a couple of years. But we have a bit of time to wait I believe..
That being said, we could see one at any time.. We have not seen a teenager in two years..
I am the ultimate optimist, but I also am a realist.. And when I see folks across the state of Texas talking about a new state record or a big year of Sharelunker fish going to be turned in I just have to laugh..
After the last eight to ten year period of drought, depending on where you live, one has to look at the facts and admit that conditions for growing giant bass have absolutely sucked.. For a long time.
And not until recently has there been some light at the end of the tunnel, especially in north and east Texas. But keep in mind that conditions need to remain favorable for eight to ten years and then maybe we will see another few years of big fish output.. Or Sharelunker output.. But that's a tall order..
If you are looking for double digit Sharelunker output in the next few years, you are dreaming..
One good thing that is going on is the lunker program on Toledo Bend.. And that consists of (basically) you catching a ten pound fish, bringing it in to one of the participating weigh stations, they certify it, you release it, and the organization gives you a replica of the fish..
What a great idea.. Somebody should have thought of that years ago.. Oh shit.. I did.. In 2011.. You may remember the Spare-A-Lunker program from 2011-12 here at FLT.. Or not..
If the state of Texas had a similar program it would certainly lead to bigger fish in our lakes..
TPWD's theory that genetics outweigh conditions don't cut it with me..
I don't have a problem with having good genetics in place, but just put me some Floridas in the lake and leave the science projects to the private sector.. The evidence is clear that big fish will appear. If Florida fish are present, and and conditions are right.. for the right amount of time
And quit killing all the grass in all the lakes while you're at it..
Falcon is falling about a half inch per day, and we are sitting at 284.95 this afternoon. Water temps that were in the low seventies early this week have fallen to about 67 or 8 in the last two days.. Courtesy of Mr. Coldfront.. It is still February.. Albeit not for long..
There is an algae bloom going on in some creeks up the river, which is not unusual at this time of year.. The fish are still there.. But the water appearance messes with a lot of fishermen's heads..
The south end of the lake still looks great.. Clear water has had a lot of fish in it.. For bait selections, see below.. Nothing has changed.. Except that maybe the spinnerbait is coming on some..
Don't forget your Spike-it..
I have been watching with muted interest the debates and primary results that are being held across the country. And I find it funny that the democrats have two such dunces in the race.. Bernie's only chance that he gets the nomination is if the Clinton woman is in irons.. And I don't think that is going to happen..
You know that Obamma would slap the hand of his newest female henchwoman, who is basically a female Holder, if she even thought about giving Hillary a speeding ticket..
The only burn you are feeling is the joint nearing its end.. Time to roll another.. Dude...
The fix is in for Clinton.. It's her turn.
The republicans are in quite a state of disrepair themselves, and I ask myself would it really matter to me if one of them got elected over the other.. I really doubt it..
But I do think it would be better than having Hillary..
I am a realist as previously stated. I don't think Trump can build a wall between us and Mexico.. And I know that Mexico won't pay for it.. And if you think Trump is a conservative you are crazy..
I hear Cruz telling us to add thousands more Border Patrol agents.. We don't need em.. Just let the ones we have do their jobs.. I talk to them most every day.. The people they catch are being released right back into our population with a court date set a year or so down the road.. What the chances of them turning up for that?
Your government is wasting so much money that it is unimaginable.. And all they want to do is spend more.. There will never be enough.. I promise..
Rubio has gotten some wind in his sails lately, but he does nothing to excite me.. He reminds me of Obamma.. Sorry..
I like you other two guys, but it is time to swallow your pride, and go enjoy your millions.. Maybe you can get appointed to some future cabinet job.. If you don't piss em all off..
Why don't you hear of any candidate saying that we are going to slash spending.. Get rid of a ton of social programs.. Balance the budget..
I could do it..
Or at least I got as good a chance as Trump does getting the Mexicans to build a wall between us..
And then maybe we could go to work on the defasite..
Never going to happen..
No, I am sure we will charge headlong into oblivion.. And when the shit hits the fan it is going to be ugly... Real ugly..
I am just not sure when it is going to happen..
Probably about the same time that free college education goes into effect...
February 18, 2016: OK so it has been a while since I have written.. But I have had my hands full around here.. With either a flipping stick or a hammer. And I can tell you that I prefer the former..
The fishing on Falcon has really come around, and when I say that I don't want you to think that we are catching ten pounders in every boat. But there have been some really nice fish caught, which include a bunch of six to nine pound fish, and yes Virginia, a few bonnafide ten pounders including this one.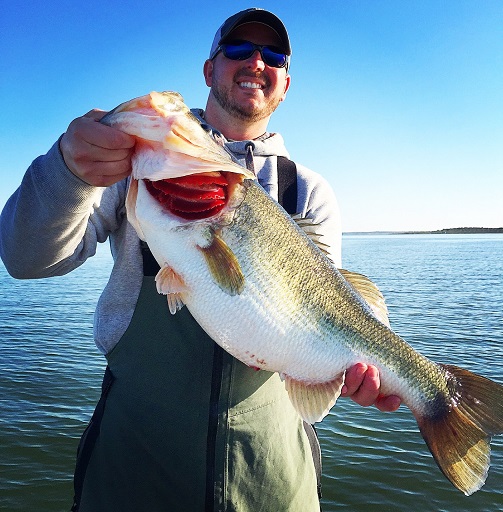 And then he followed it up with another one over ten as well..
I have been sent a shitload of pics of fish in the eight pound range, and a few bigger, but you get the drift..
Can you catch a true giant around here these days? Sure you can. But you are much more likely to catch a bunch of quality fish, with some rats mixed in, and maybe a Rosie or two if you get lucky.
And I know the reason you drive all the way to Falcon is not to catch some "quality fish."
You want to catch a 'Freakin Hog'.. I get it..
But you surely ain't going to catch one in the office or trimming back those red tip photinias in the back yard..
The Huisache's are starting to bust out their orange blooms, and that means one thing.. Get your ass back in the creeks cause the bass are on the beds.
Maybe you will or won't remember Galen Gilbreath from Beacon Lodge, aka El Indio or "The Chief." He had a way with words and with people.. And a way with fish..
And I used to stay over there before we built a place down here in the late eighties.. On one particular evening I pulled up to Bourbon Street with my boat about half filled with Huisache blooms.. Well the Chief came over to me to dispense his usual dose of bullshit, and upon noticing all the huisache flowers in my boat, he said, "Well, you might not be as stupid as I thought you were.."
I took it as a compliment..
The water temperature on Falcon is at seventy, and above, in some locations. Less in others but where you find stained water it will be a bit warmer. I am personally looking for the clearest water I can find. It don't mean the end of the world if the water is off colored a bit but I have been having good luck in water that I can see a couple of feet into..
I am not sight fishing the bass, but in a very few areas it is probably possible to see some fish on the beds. But it is certainly not the mainstay of our fishing down here. We are just not that clear in 99% of the lake.
Irrigation in the valley has commenced and they are starting to draw some water from the lake. They do not have it washing the banks out but we are releasing about 2000 CFS. We are getting about 1000 CFS..
We are down about six inches give or take from the high, and we are just about sixteen feet low.. And dropping about a half inch a day.
Senkos, brush hogs, lizards, and flukes have still been the best things going, and putting some spike it on the tail will certainly help.. We have sold an ocean of the stuff in the last month, and the fishermen that have used it have certainly validated it use as of late.. So whether you like it or not, use it. You can get those stains out later..
So get out there and fish shallow.. Or deep if you want.. But for me it is the flipping bite that trips my trigger..
The spinner bait will also get you a few fish.. It is becoming more productive as time goes by.. Try a double willow blade..
I know I have been mailing it in as of late when it comes to the fishing reports.. But I am like a sixteen year old virgin with a new girlfriend.. Who thinks he is going to get laid.. And until I (or she) can make this hard on go away I just can't promise I'll get much better.. These fish are making me crazy.. I'm infatuated..
I haven't felt this way in three years..
Besides, all the political shit going on has me stressed out.. How about this scenario.. It was one discussed in here this morning..
Hillary gets elected.. And to pay back Obamma for appointing her Secretary of State, she appoints him to the Supreme Court.. And with the pussies we have for Republicans, they would probably be glad to anoint him..
We'd be dealing with that till after I was dead.. That should scare the shit out of everyone..
I guess Obamma is going to play golf again this weekend and skip Scalia's funeral.. What a rat..
I gotta go.. I gotta get something pulling on my stick..
February 9, 2016: Word on the street says that a bunch of good fish are starting to show up around here.. And I'll have to admit that we are hearing and seeing more and more big fish. But not everybody is whacking a monster.
And there have been scattered tens and eights caught quite often as well.. There is no doubt that the big fish are on the move.. And we do not even have consistent water over sixty degrees around here..
This week should bring some more of the spawners up into the backs of creeks. If the freakin weather men are any kind of right.. Which is a fifty-fifty proposition at best..
Let me put it this way.. If a north wind is predicted, at about seven to twelve miles per hour, you better hang on to your ass.. There is no north wind that has ever crossed into Zapata county at nine miles per hour.. And I have no idea how anybody that has ever been in Zapata county could ever say that..
Problem is that none of the folks writing that shit on the internet have ever been to Texas.. Trust me on this one..
For the next five days, there is no north wind anticipated.. I'm still calling Dallas before I put it on the lake..
When you get here, you need to head for the backs of the creeks.. Pick one.. With clear water.. And don't be afraid to plow up some mud with the trolling motor. These fish are getting in the skinny water..
If you do not have a bunch of sticks and branches in your boat at the end of the day then you are fishing too deep..
I am not too sure what the best bait is right now.. Folks have been catching them on a plethora of soft plastics. But a small bait seems to be working pretty well..
If you get around them, odds are that you are going to catch em..
Senkos have still been one of the most popular baits, but a lizard and a fluke will also get you bit. Some whacky rigged fish have been reported, but a senko fished Texas rigged is hard to beat.
And I have been saying it for months, but if you are fishing a watermelon or pumpkin based bait you need to spike it and you will get more bites.. I promise..
The spinnerbait is catching more and more fish as time goes on. And it would stand to reason that as the water warms it will only get better. A square bill is also catching a few..
But for my money, I am fishing in the bushes, and the mostly weedless use of the soft plastics is by far the easiest, and for me, the most productive. It is a thicket up there, so put on your leggins, and get in them bushes.. Use some heavy line and rods and don't cut em any slack..
I have a few pictures to post and will do so in the near future.. I have seen some really nice fish porn as of late.
I have been getting a lot of calls and e-mails asking about the fishing and people wanting to know if I think the fishing is as good as years past.. I say hell yeah.. Depending on what years you are talking about..
Is it as good as 2010?
No..
Is it good? Yeah..
Can it suck? It can..
Can it be great.. Yes it can..
Some of that is up to the weather.. Some of it is up to the fisherman.. Some of it is up to the fish.. And the third has a lot to do with the first.. Warm water is everything right now.. And we just don't have much of it..
But I can tell you this.. You ain't gonna catch em on the couch. And if you're gonna catch em anywhere in the country, you chances are better here right now than anywhere else..
So if you have the opportunity then I think the next week might be a great time to come and give it a try..
My posts have been limited lately as I have been working/fishing my ass off.. And will be continuing to do so for the near future.. Holler at me if you have any questions I have not answered here.. It's all good. Come and see us..
February 5, 2016: Our busiest (normally) month of the year is underway, and we have seen a marked increase of fishermen in town. Nothing like years past, but there are a lot of folks down here enjoying being around some biting fish.
Of course the common complaint is that they are not catching a lot of big fish.. I ain't either.. But I am catching a lot of em..
I have been fishing quite a bit so my time at the keyboard has been limited. And we have a building project going on around here and you can guess who is doing the work.. Manual labor is still just like it was the last time I checked in on my previous life.. It sucks.. But it will all be worthwhile when I am done..
Water temps around here are hovering around 60 in the mornings, and if the conditions are right and you are in the right place, you may see temps get up to 64 in the afternoons.. On warm days.
We are approaching the new moon, which is on Monday, and it is likely that we will see a few more really big fish show up. I have been hearing of a few eight to ten pound fish here and there, but a lot more of the four to six pounders.
I have fished both ends of the lake this last week, and I feel that the upper part of the lake is fishing a bit better.. Which is a reversal of what I have been saying.. Some of the creeks on the north end are putting out big numbers of fun fish, if not a lot of monsters.
I have been told that the very back of the Salanaias is also putting out a shitload of fish. I have not been deeper than Krueger Creek, or Bulldozer creek, whichever you may know it as.. Of course I have rarely been known to hit bottom.. Yes the bulldozer is still there..
I have heard reports from all over the lake.. And I am not going to say that any one spot is head and shoulders above any other. You can catch fish in any creek you go into.. The key factor is finding clear shallow water.
I even caught fish on a spinner bait this week, something that I have not done in a long while.. Of course if you never pick it up, they're not biting good enough to jump into the boat to get it.. I even got watch a few eat it, and a few miss it..
But the best bait is still a soft plastic.. And man we have been asked for everything from a senko to a used condom.. We were out of stock on the senkos..
Just kidding.. We got plenty of em..
Your favorite flipping bait will catch em, I don't care what it is. As long as you put some chartreuse on it.. You don't have to. But trust me you will get more bites..
This week I have been pitching a super fluke in W/M Red Magic with some spike it on the tail.. And they have been eating it up. But any small soft plastic will catch em if you get around em..
I believe that some bigger fish are way back in the bushes.. Where you can't go..
I believe that some big fish are on the creek channel edges, wanting to go shallow..
And I believe that the vast majority of big fish that are going to spawn are still waiting.. Somewhere.. For the water to get to about 63 and stay there..
And that could happen next week or so, if the warmer weather that is coming hangs around.. We'll see..
But so far it has kinda been a trickle rut..
I have been trying to get to the computer and sit down and do a fishing report.. But I have been spending more time gathering information in person, which I am sure you would want me to do..
You better get down here and help me..
See you on the water!
January 26, 2016: Well what will probably be the biggest tourney weekend of the year has come and gone, and so have the fishermen and the folks from Bass Champs. And unless you were too weak to remove your rock, you already already know the outcome.
It took over thirty two pounds to win it, a weight that we have not seen in quite some time. The thirty pound threshold had been out of reach for a while, or at the least it had not been attained in recent memory. Or at least not in a tournament.
Thanks to the Bass Champs folks for bringing their event to Zapata. And I predict that in the not too distant future more folks are going to want to fish the BC tourneys at Falcon. Everybody likes nailing a fat girl now and then..
I had been hearing of a few thirty pound sacks on occasion. And you will be hearing of more of them from Falcon in the near future.
Thirty pounds is quite an accomplishment. That is a six pound average.. Duh.
A few years ago it was no big deal to whack a big sack, and I can remember when a Bass Champs championship tourney here paid the last team in the money for a weight in excess of 28 pounds..
I'm not saying that that will ever happen again, but in a year or two a thirty pound sack should be pretty common place. Barring any and all disasters..
There were a lot of quality fish caught during the tournament, with a bunch of four and five pound fish weighed in. And I find it interesting that the big stringer did not weigh a fish for big bass.. All chunky five and six pound fish..
Of course there were several DD's caught, and those fish looked like they were about to bust.. The spawn is imminent here on Falcon.
After talking to lots of fishermen at the weigh in, it appears that most of the fish were caught inside ten feet of water. Which makes perfect sense to me as these fish are on their way up, not out. And of the two biggest fish caught, one on a spinnerbait, and one on a Rage Craw, neither was over ten feet deep. (according to fishermen reports)
We have a cool front blowing on us right now, and it is supposed to be cool and damp today and tomorrow. But after that the forecast calls for much warmer, with eighties coming on Saturday thru Monday, and who really knows what will follow that.
One of the best baits of the last week or so has been a super fluke. Mostly in a watermelon based color of course. A little chartreuse on the tail won't hurt you either. Flip it or throw it on a Carolina rig with about a two foot leader..
A spinnerbait is starting to be a necessity on the deck, and it will become more in demand in the coming days I am sure.
Everybody has their favorite way to catch fish, and right now most all of them will still work. Yes I am glorifying the shallow bite, but there are still a lot of fish that are not in the mood to get shallow just yet. There are also schools of small fish deeper in places and you can catch a bunch of them in a hurry when you happen on a big wad of them.
Time on the water, like always, makes all the difference.
The spawn is the most unpredictable time of year to fish, and quite frankly, I don't know why a lot of us want to fish it so badly..
Well that's a lie.. Of course I know..
It's because them big egg laden fat sows are in the shallows and they're thought to be easier to catch.. You couldn't prove it by me lately..
What I like most is that they're in shallow water.. Fish I can get to with my limited supply of fishing line.. I hate having too much string on there.. Don't feel right.
Someone once asked me why I didn't try to hit the 25 point pail at the Bass Champs flippin contest.. It's cause I don't usually have that much line on my reel..
If I tell you that I'm catchin fish in reel deep water.. That means my reel won't get wet if I stick my rod in the water vertically.
You get the point..
Do you remember Jim Murray that was a guide down here some eight years ago that passed away? He was a heck of a nice fellow.. Did a lot for Falcon as well..
Anyway, his brother Dick still comes down a few times a year. And he whacked a 10-4 last weekend as well. That guy is always around big fish..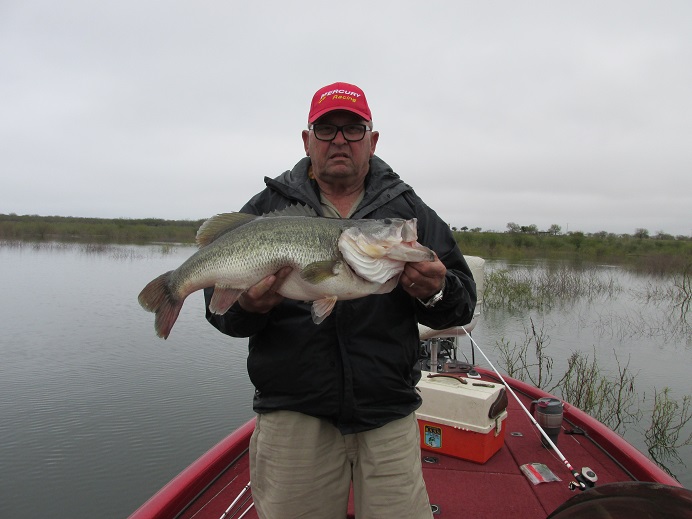 Last week I posted a picture of Terry Hoffman with an eleven something.. He caught a another big fish on Sunday afternoon.. It was an 8-2.. Not quite big enough to make the page but a great looking fish as well..
Starting to get the Picture?
I'm starting to get em..
Maybe you better get down here and get you a picture fish as well.
I'm about to start hitting Falcon hard, as it is that time of year. But I have also been fishing Sugar quite a bit as the last year or so it had been a better big fish lake.. And still might be for a little while..
And in that vein I have been over there doing a little scouting with Jay Grieshaw. Last week we took a trip that was planned to be a two dayer.. And after fishing day one, with a few cold beers and a fog so thick that Pamela Anderson could not have seen her nipples, we checked it in after seven innings.. Had to drive with the GPS till 2:30.. Not something I relish with all the net boats running around.. But I did not run over anybody and nobody ran over me..
In any case it was a so-so day, and I think we boated about fifteen ho-hum fish with the biggest about three and a half pounds.. Pretty crappy from my point of view.. But we did cull a lot of water..
So after having our asses handed to us, we decided to go Ricky Bobby yesterday and get back in the car with the fear.. And a box of band-aids.. (Hence the delayed fishing report.)
It turned out to be a beautiful day and we whacked the shit out of some really nice fish up to six pounds. Jay had one take more line than Charlie Brown's kite, and the fish, like charlie's kite, ended up in a tree, out of reach..
I have always held that the fish on Sugar are a month behind Falcon when it comes to the spawn, but there is no doubt in my mind that these fish were on beds, or certainly around em.. The water is not clear enough to see any fish, but they were on gravel in four to six feet of water.. And we caught some of the meanest three pound males you will ever tangle with. They pissed more than your neighbors dog at a used car lot..
We had a bunch of fish move the bait and drop it like right now.. You had to be on your toes.. And being that I have cougar like reaction times, I figured it out pretty quick and kicked their ass.. As did Jay..
But if you thought something was up with your line, or you couldn't find your weight, you better be setting the hook. I probably caught ten fish where there was absolutely no indication of a strike. Other than your bait did not seem to be the way you left it..
It's good when you're in the zone.. But most days, I don't even know where the zone is.. Least that is what my wife says..
In any case, if you are in the mood for a Mexican adventure to Sugar, now is a good time to go.. If you need a guide, call Jay or someone who knows the ropes, for your first trip anyway..
Speaking of Mexico, I am heading back to Pichachos and el Salto in March.. I hear the numbers at Pichachos are absolutely off the hook right now. If you want info on a trip there shoot me an e-mail and I'll tell you all I know.. And I'll give you a no bullshit report on El Salto when I get back..
If you want to take a youngster fishing, and fuel his/her addiction, then take them to Pichachos.. You won't get em to shut up for a week..
Going to Pichachos is pretty much a sure thing.. Kinda like going to a whore house with $200 and a hardon.. What you think is gonna happen, is gonna happen..
I am about as geeked up about the fishing in our neck of the woods as I have been in a couple of years. Good things are happening here on Falcon. I do not think you will be disappointed if you can get down here on a few decent weather days. It's not like picking the nuggets up off of the ground, but you might not have to dry pan too much either..
Come see us and we'll tell you all we know.. You'll still have plenty time to fish..
January 23, 2016: The Bass Champs weigh in is just wrapping up and there were some pretty good stringers weighed in. The team of Rodriguez and Harrington took top honors with a five fish bag that went 32.63 pounds. In second was Brown and Reynolds with 26.59, and in third was DeLaFuente and and Benoit with 22.63.
There were a lot of stringers in the high teens. Big bass was a 11.44 I believe, and I also saw a 10 something being weighed. Lots of nice fish were caught.
Most of the folks I talked to said that they caught their fish in the seven and eight foot range, but some folks caught them deeper.. Sounded like most off the best fish were caught in less than ten feet..
All the details will be on the Bass champs site within an hour I am sure.. And I will post a full report tomorrow or so..
January 19, 2015: It was a interesting weekend around here, with two days of weather. One nice and one not so nice..
On Saturday it blew out of the north about as hard as it can, and giant waves were the order of the day. I mean giants..
The wind was forecast to hit about eleven or twelve, but it made an early appearance at about nine o'clock and a lot of folks got caught with their panties down..
It got ugly..
On Sunday it was about as nice as you could ask for in January. Sunny and calm, with temps getting into the low seventies.. I went bowfishing..
Saturday was one of them made for disaster days.. Nature will often tempt you to stick your head of your shell a little to far.. And then she'll chop it off.. Fortunately no one was injured.. Physically...
There were a lot of folks in town prefishing for Bass Champs, and there were three bass clubs in town as well.
The best fish I heard of on Saturday was a seven something, and with the conditions I am surprised that any fish were caught at all. Sunday was a great day to fish but I don't have any results from the clubs, and the Bass Champs guys ain't saying much..
Water temps are on the rise, and I heard that some folks saw some sixty three and four degree water yesterday. Continued clear skies and highs in the seventies should raise the water temperature a bit more by the weekend.
And warming water is going to make something happen..
Yesterday Terry Hoffman showed up at Falcon for his annual trip and was immediately rewarded with this eleven pound, five ounce monster.. Awesome..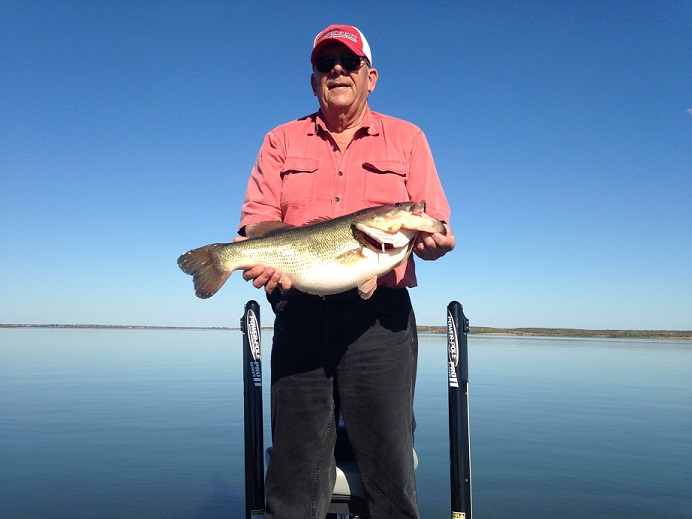 Next time maybe they won't have to take the pic from Starr county..
He caught it on a spinnerbait in eight feet of water.. I don't think that fish was on the way to deeper water..
I do believe that we could see a lot of fish on the way up in the next week.. Lord knows that some of the bigger fish we have seen look like they're going to pop.. They're ready if the water temperature holds up.. Saturday is the full moon, by the way.. In case you didn't notice..
Makes you wonder what is going to happen this weekend if we get some good conditions with a lot of folks on the lake. I will surely be at the BC weigh in to observe.. It could be a freak show..
A couple of years ago a fellow hauled in the second biggest bass ever caught on Falcon during a Bass champs event.. On a spinnerbait.. We'll see..
I haven't been talking about the spinnerbait much because nobody else has.. And I ain't caught squat on it.. Might be worth tying on..
Of course plastics are still king around here.. Your favorite will catch em if you get around the fish. I think creek channel edges and transition points will be where the fish will be found. They might not be up on the flats making love just yet.. But I think a lot of them are on their way there.. Staging areas as they say.. I call em highways..
Of course the smaller fish are on points and rocky ledges and edges in a lot of areas of the lake. Nothing has changed in that regard..
There are other species of fish in Falcon and right now all of them are active.. The crappie have been going nuts and the white bass have appeared in the Veleno and limits of both have been easy around the Veleno bridge.
Yesterday Tony Coatney caught some magnum crappie.. 2.5 in his right hand, and a 3.60 in his left.. Yep. Woulda been a lake record..
And the catfish are also biting good on rod and reel. I saw a boat on Sunday whacking the shit out of them while tied to a tree in a creek channel.. And last week Randy Roselle caught this sixty pounder on rod and reel here in the Veleno.. Chicken Liver..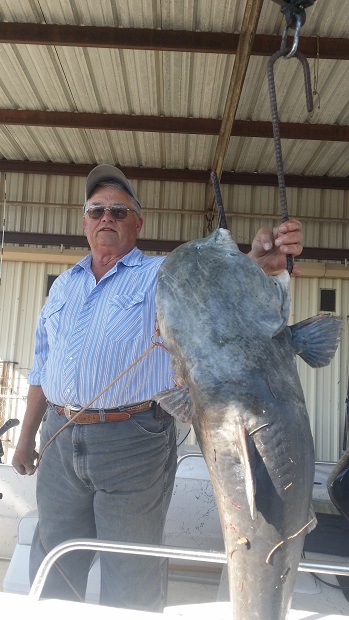 In any case it's a fisherman's paradise down here right now.. Whatever fish you are chasing.. And it is January..
Thank you Lord for putting me here..
I'm really excited about the coming months and years.. No, not just because we're getting rid of Obamma.. But that's some of it.. Don't let the door hit ya where the good Lord split ya..
And I look at the Democratic candidates and I just have to laugh.. One lying, uncaring, unqualified broom rider with zero credentials of any consequence.. Running against a Communist that would all but shut down American businesses.. And then there's that other guy.. Who can't get a minutes time.. Although of the three he's the most sane and probably best qualified..
But he is just not bat shit crazy enough to appease the democrats.. They have to have a total maniac to appease the party.. I find it comical..
I tried to watch some of the Demoncratic debate the other night.. But it was hard for anyone with at least a fifth grade education to watch.. Even my intelligence can be insuled just so long..
But they were speaking to their base. A low info voter that really has no idea of what they are even talking about.. But then neither do they..
Of course the tit suckers heard a lot of what they wanted to hear.. How wonderful it will be with all the free goodies they will be getting once they were elected..
For the most part they were speaking to people who are sucking the life out of this country. And the money.. And certainly to the youth of this country.. The ones that don't know shit who they are trying to indoctrinate to the democratic party's way of life..
For the life of me I still have no idea why we let eighteen year olds vote.. It is retarded..
There is a reason that we put child proof caps on medicine.. To keep out those that are not smart enough or strong enough to open the bottle.
I think we need something similar that would prevent dumb fucks from voting..
Maybe a six question intelligence test.
What side of the faucet is the hot water handle on, if properly installed?
Have you ever changed a flat tire? (A no answer would automatically disqualify you.)
What year was the war of 1812? (No. Not a trick question...)
Who was the first president of the United States" (Ah.. They're getting harder..)
Who's ass did we kick to gain our independence..
And lastly, what are the three branches of our US government? (That's gonna send a lot of em to the showers..)
I know what you are thinking..
James.. You're just an asshole.. You lived a life of white privilege and what you have was given to you; you didn't earn it..
You are right..
I grew up with one pair of shoes, no air conditioning all the way through high school, and had to go to mass every day thru fifth grade.
My folks whipped me when I needed it and praised me when I deserved it.. And were not afraid to do either.. Without the threat of government telling them what was right or wrong for their children.
They taught me right from wrong, what charity really is, and a love and respect for nature and the outdoors..
They taught me the value of hard work, which in turn has provided for me and my family.. Not the life of Riley..
But I spent a lot of time fishing and hunting when I could have been working..
But I got no trouble with the trade..
If we as a society are considered to be evolving, then I got a problem with the definition..
I'm sure there will come a time when those of us who think like I do will have our day.. I'm just not sure when its a commin..
But make no mistake.. It is..
See you on the water!
January 14, 2015: I have been looking at the long term forecast, and I'll have to admit that I like what I see.. Of course I am sitting here reminding myself that these predictions are being made by weathermen.. The most inaccurate humans that ever stood in front of a camera..
Why in the hell would I ever believe anything they have to say.. I must have had too much tequila last night..
But let's say that for once the bastards are right.. Next weekend could be awesome.. Your shallow water game plan may not have to be discarded just yet..
The last few days have had water temps right around sixty.. A bit higher when the sun pops out.. I was in the back of the windmill creeks last Sunday afternoon and I saw some 61.5° water.. Unfortunately it was devoid of fish.. But it looked awesome..
I have not been back out this week as we have a project going on around here, but tomorrow just looks to good to stay in the shop so I am planning on hitting it in the morning.. And I am heading south..
I have heard a lot of stuff this week about deeper fish, from twelve to twenty five feet. And it sounds like most plastics and a few jigs will catch some fish off of those deeper rocks.. We've had this conversation before..
There have been a decent number of boys down here prefishing for Bass Champs, and while some say they are catching a few fish, I am not sure I am getting the whole story. Nothing unusual..
It intrigues me though, to look at the possibilities of what an extended stretch of unseasonably warm weather might do.
Our water was down in the middle fifties a couple of weeks ago, and maybe more recently than that. Now we do have a cool front coming on Saturday but it looks to be short lived, and I don't think it will knock the water temps back too bad.. And after that we have a weeklong stretch of seventies and upper seventies predicted..
And maybe eighties after next weekend..
I certainly don't know what the bass are thinking, but I know what I am thinking.. And I think that if the water gets up to 65 and stays there for a few days, the shit is gonna hit the fan.. And I hope to get it all over me..
Yes James' time of year is just around the bend when the fish get up in the skinny water and the females are easy to get into bed. And you won't need no blacklight to figure out what is going on..
There is going to be a lot of squirmin and spermin.. And I just want to be there when it happens.. At my age at least I can witness sex..
And I just want to extract a few of the participants for a quick interview about what is going on down there..
I know it is the same every year.. Always wanting the cold to be over and the bite to be on.. We'll see what happens..
Did you watch the state of the union speech the other night?
Me neither.. But I did see some highlights..
That guy should have been a doctor a lot of years back when they actually blew smoke up peoples ass.. He wouldn't have needed any of the equipment..
He has painted such a rosy picture of what is going on in the world that evidently someone else has blown some smoke up his ass.
One more year..
I have a lot to say about current events, but I want to be drinking when I go to write about it.. So I don't feel so inhibited..
But in any case, if you ain't doing anything, you might want to look at the weather next week and maybe sneak down here.. I'll let you know if them fishies start getting frisky..
See you soon..
January 10, 2016: The first ten days of the year have been an interesting mix of weather.. Mostly shitty.. But we did finally see the sun yesterday. The only bad thing was that it was accompanied by gale force winds rendering any open water virtually unfishable..
Welcome to January..
I have fished twice since I last wrote, and neither day was worth the price of admission.. But I went inside the tent anyway. And it was basically a three ring circus the first time I went as I had Gary Harlan and Jim Edwards with me..
Last Tuesday we fished the Salanaias, and where I had whacked the fish a week before there was just a lot of water.. With damn few fish in it.. Oh I reckon they were still there.. But they weren't biting.. Mostly due to the fact that the water temperature had dropped ten degrees since my last visit. Due to some of the shitty weather I was talking about..
We moved out to some deeper rocks and managed to keep ourselves entertained, but it was mostly a midget show..
Edwards got lucky and caught the big fish of the the trip, and it was a four pounder that fought like a six.. These fish are mean.
We caught fish on a lot of stuff but a plum soft plastic worked as good as anything. A jig also produced a good number of bites, but a lot of the fish would just knock the crap out of it and drop it.. They did the same to a worm but not quite as bad..
We caught em on a Texas rig, and I caught a lot of em on a Carolina rig, and a lot of other folks have been doing well on a C-rig as well..
It was a lot of fun and it had been a long time since all three of us were in the same boat.. We used to do it all the time and we need to do it more often.. Note to self.. There was just a little bit of BS being spread..
I am not much of a Carolina rig fisherman, and I missed a good number of fish on it. And I really hate rigging one but I will put up with it if I think it will get me more bites..
It's kinda like having a high maintenance girlfriend.. There are a lot of details you can't overlook, and operating the damn thing takes patience and lot of money.. But occasionally it performs as desired so you are willing to eat a lot of shit in hopes that you can make it all come together.. And sometimes it will..
But a lot of times you find yourself wedged and tangled up and only getting back half of what you wanted and you have to break it off.. Happens all the time..
But I'll take me the Ol Country Girl, Texas rig 99% of the time.. Something you can get right in the middle of the bush with.. And she likes it.. Goes down and usually will come back up, but only when you're through probing the area..
Tom Haralson has been whacking the crappie down the lake and I talked him into taking me with him on Thursday.. The weather was predicted to be great, with eight to ten MPH winds, albeit out of the north. And sunshine..
My happy ass..
What was supposed to be a fairly calm day had four foot waves and no sunshine, and after trying to fish some deeper rocks we looked at each other and said, "What in the hell are we doing here?"
We had launched at the state park, and we put it on the trailer and headed for the Veleno.. Where it was windy, but a lot more protected than what we came from. And we fooled around and managed to catch about eighteen crappie off some deep ledges, which took some doing..
If you did not have your bait right on the edge, you just were not going to get bit.. It took me a while to catch on but I managed to make it respectable by the time we quit.. We also caught a good number of throwbacks. Some of the fish we caught were beautiful fatties.. And fairly tasty as well..
Most folks around here are catching their fish on soft plastics and in the last week the fish have really moved a bit deeper.. Or at least if they are in the shallows they have really slowed down..
I have seen pics of some really nice fish as of late and there are a few guys that are really on some good fish.
The common denominator as usual is rocks.. From old rock houses to chunk rock on points and ledges. They ain't everywhere..
Depths from ten to twenty five feet have been commonly reported as hangouts for bigger fish. And If I was fishing a tournament today I would fish nothing else..
If the sun comes out and warms this water back up in the mid sixties I recommend that you hit the spawning flats cause a lot of these fish are ready.. I mean egged up fatties that are just waiting for the flag to drop..
There are a few folks down this weekend pre-fishing for the Bass Champs tourney that is happening in a couple of weeks. And they should actually get a cool but decent day to fish today. I think I'll join em..
You might be surprised by the weights brought in come the BC tourney if we get a good day. I'm not talking 2010 numbers but I am telling you that some good fish are starting to show up.. And catching a limit should be no ordeal..
We'll see pretty damn quick.. I'd make some reservations for February and March now.. It is gonna be on..
I have been working on the tournament schedule page and if your club has a schedule for the upcoming year I'd appreciate it if you would let me know when you are headed to Falcon. I'll add you to our page and we'll all have an idea about what is going on when. And in turn it will help me prepare for your arrival..
We got 1.85 inches of rain to start off the new year. That was on the second and third I believe..
Here's hoping for a wet and wonderful new year..
See yall soon.. Hopefully on the water.. And it won't be ten days till I post again.. I promise..